Best Video Player For Mac OS With Video Downloader | Elmedia Player Review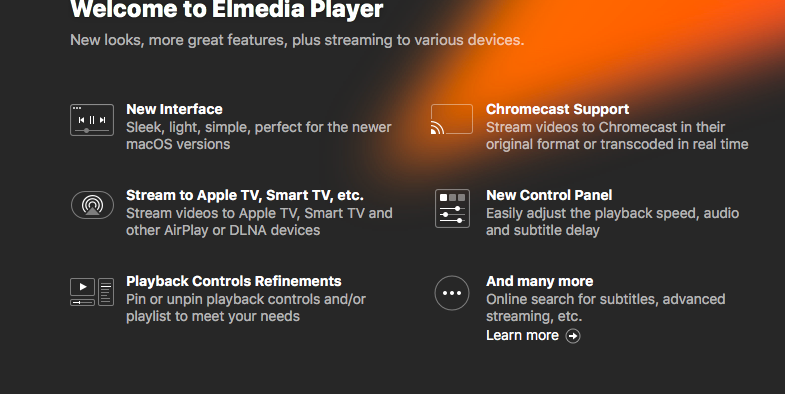 Every Mac user likes to have the best of apps to entertain them in their free time. Most people love to watch movies and TV Series on their Mac systems. To get the best of entertainment, your Mac must have a compatible Video Player installed in it.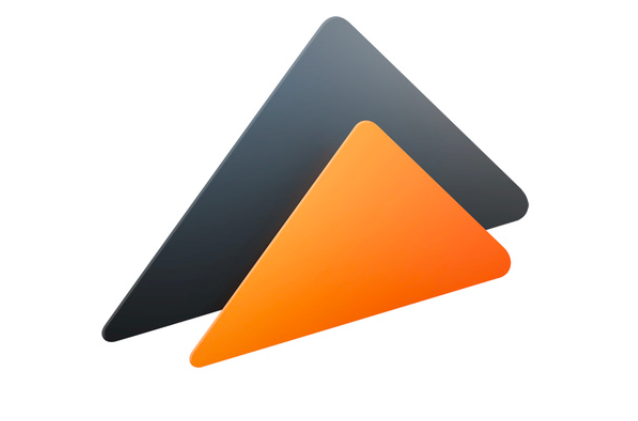 Elmedia Video Player is the most advanced Video Player for Mac which is packed a dozen of extraordinary features. If you are searching for a new Video Player for your Mac system, then here are the details about the Elmedia Video Player which is also the best solution in the list.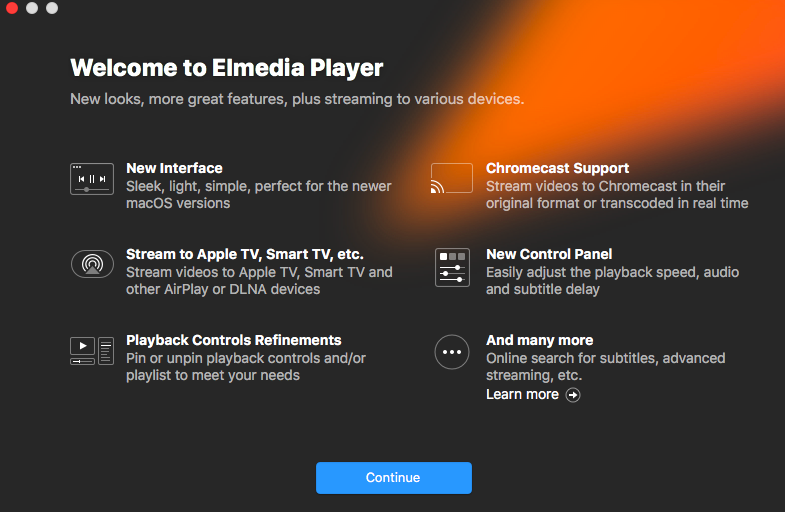 Elmedia Video Player for Mac
User Interface
Being an advanced Media Player, Elmedia Player serves a decent interface which is designed for all types of Mac users. It doesn't feature any complicated functions; everything is pretty simple and anyone can make use of its features and functions right away.
The navigation of the app to explore its features is way simpler than any other Media Player of the current time.
Personalized Playlist
The player lets you create and personalize your own Playlist. There is a special Playlist button available at the right corner of the Media player. You can simply drag and drop files to create a new Playlist.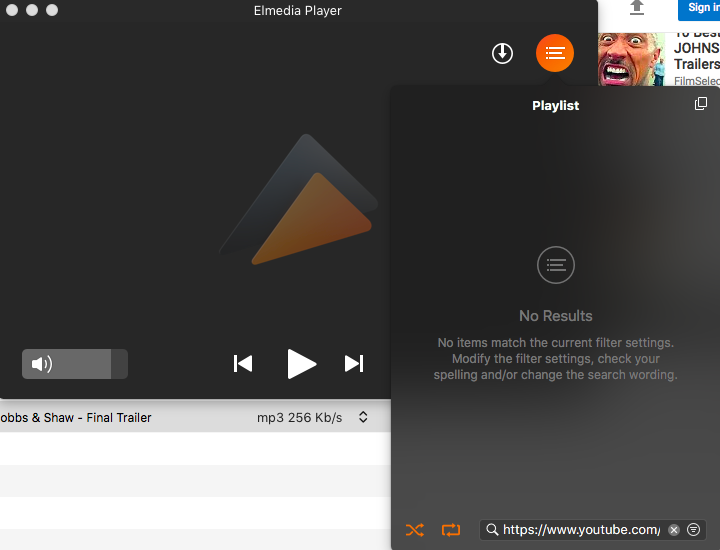 You can manage the Playlist of both, Video and Audio files. This built-in Playlist management feature is very easy to use. It also comes with a search bar allowing users to search for their desired songs within the Playlist.
Controls
To control your Playlist, Video Output, Audio Output and other things, there is a separate control page available on the Player. You can click on to the Settings button which is given at the lower right corner of the Media Player. This lets you control the Playback speed, Audio Delay, Subtitles Delay, Video Tuner, Equalizer etc.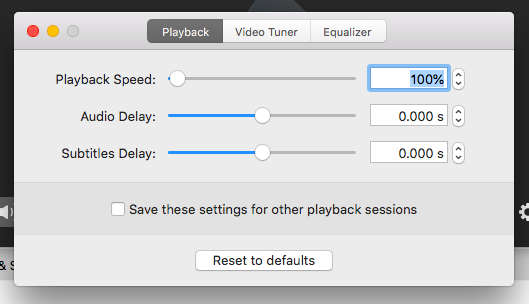 If you have made changes and you want to go with the default one, there is a special Reset to defaults button available on the Media Player. You can click this button to reset all the settings that you have recently made.
Support for Other Multi-Media Platforms
Elmedia Video Player comes with built-in Support for Apple's AirPlay, Google's Chromecast and DLNA. There is a special streaming button available at the lower right corner. Click this button and it lets you stream the content wherever you want. You just need to select the active platform and it will start streaming over there.
It's an all-in-one Media Player app for your different devices and different entertainment needs. Everything is right there on your Mac's screen under one app.
Support for Multiple Media Files
Being the latest Media Player App, Elmedia Player supports almost every format of Audio and Video files. Fortunately, this Media Player also supports 4K Videos. Yes, you can stream out 4K videos on this player without any interruptions as it comes with a built-in 4K Player compatibility.
Apart from this, on this player, you can play files with different formats such as AVI, FLV, SWF, MP4, WMV, MOV, MP3, DAT, FLAC, M4V, MPG, DivX, and MKV.
Online Streaming
What makes this Media Player unique from others is it lets you watch and stream videos directly from YouTube, Vimeo and Dailymotion. Yes, this media player comes with a browser allowing users to explore whatever they want. You can open any video streaming platform and can start streaming it on Elmedia Player directly.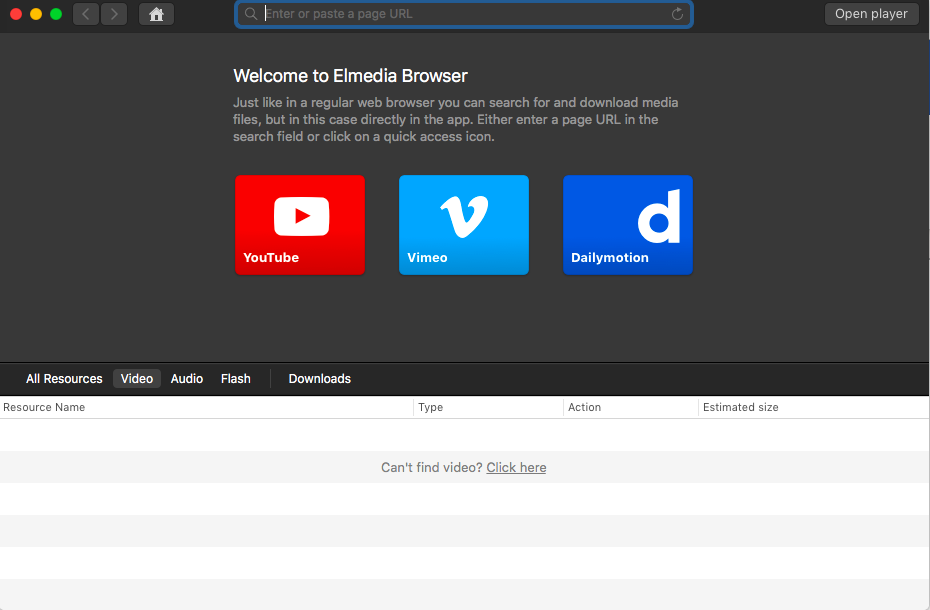 Download
Video Downloading feature is only available with Elmedia Player's Pro users. This feature is not just let you watch or stream your favorite videos from YouTube and other platforms, but it also lets you download those videos from the player itself.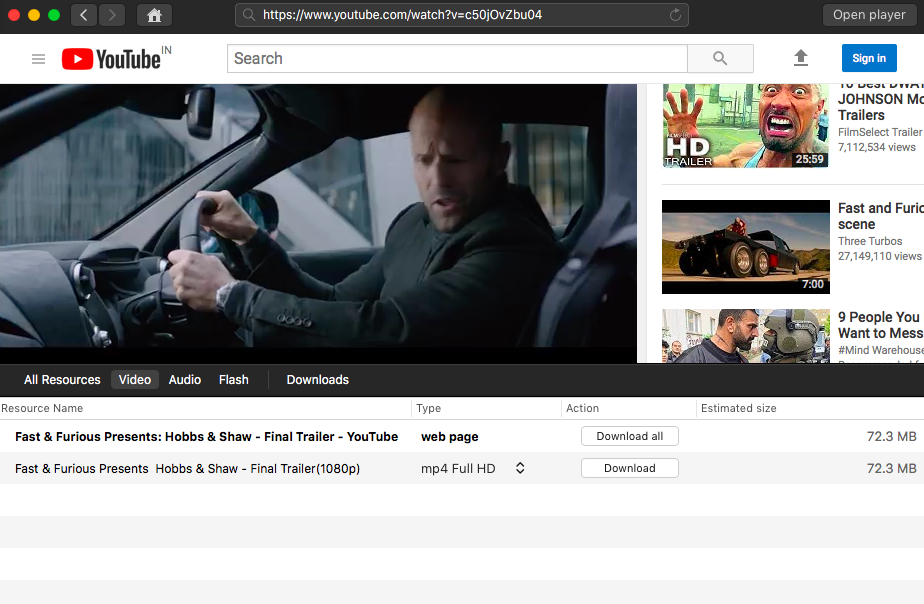 Yes, you can download any of your favorite videos from YouTube, DailyMotion, Vimeo Player within this Media Player. When you start streaming a video on this player, it will show you the Download option. By clicking on to this option, you will be asked the quality of the file that you want to download. Select the suitable video quality and download the video using this Media Player.
Pricing:
Elmedia Video Player is available with its two versions, a free version and a Pro version. The Pro version of this app is available for $9.99.
Final Words:
Elmedia Video Player is the most advanced Video Player app for Mac platform. It comes with features such as Online Streaming, Video Downloading, Support for AirPlay, Chromecast and DLNA and more. It's an all-in-one video player app for entertainment seekers. Go for this app now!