5 Best Adblock Browsers for Android in 2019 to Browse Faster! & Save Data Usage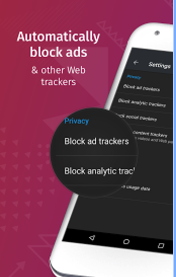 With the growing number of Android smartphone users, the internet usage on Smartphone is on the rise. One bad aspect of Google's Android Operating System is that the default browser chrome doesn't block ads and this causes a lot of issues such as slow speeds, website pop-ups with adult ads, phone vibrations etc. Thus, these ads not only hinder your browsing experience but also can steal sensitive information using tracking cookies. In this article, we bring you the Best 5 Free Adblock browsers for Android which will not only enhance your browsing experience by not loading ads-making browsing faster but also protect your data and keep you more secure.
Top 5 Best Free Adblock Browsers for Android Phones and Tablets –
Browser # 1 – Firefox Focus
Firefox is our favourite browser when it comes to PCs and considering it has an Android version available that too with inbuilt ad-block it made sense to test it out. We have kept Firefox Focus on the first position due to the host of features it has viz –
Inbuilt ad block and tracking protection
Ability to clear history each time you exit
Its a privacy focussed browser so no data is sent about your previous visits.
Completely open-source and comes from Mozilla!
Besides, it has so much privacy options that we couldn't even take a screenshot so this is the most secure browser ever we tested on Android that too with Adblock
Click here to Download Firefox Focus from Google Play Store
Browser # 2 – Orbitum
Though, we love firefox and Chrome. We have purposely kept Orbitum browser before Chrome-based Brave just due to the sheer functionalities it has.
Orbitum is not a popular browser but its a neat browser which surely deserves a space in your phone due to its salient features such as –
Inbuilt Adblocker
Desktop View Support
Ability to change the color and themes!
And the best part is Torrent Downloading support! . Yes , Orbitum comes with an in-built torrent downloader so that you do not need to download a separate torrent client for downloading p2p files. Saving not just data , but also disk space too!
Click here to Download Orbitum Browser for Android from Play Store
Browser # 3 – Brave
Incase you are a Google Chrome user and using any other browser is inconvenient for you, then you can use Brave Browser.
Brave browser is based on Google Chrome engine with the same User interface and comes inbuilt with a "Brave Shield" which can –
Block Ads and Trackers
Block External Scripts such as Anti-adblockers
Block 3rd Party cookies
Also, you can use force HTTPS , which will force open the https version of any site you're visiting to ensure you're data cannot be seized and tracked by any other hijackers. (Very Useful for Online Payments & transactions)
Click here to Download Brave Browser with Adblock for Android from Google Play
Browser # 4 – Adblock Browser
Adblock the de-facto Ad blocker for Chrome has a standard alone browser for Android users. The Adblock browser is developed by the same company that has built the Adblock extension and is also speedy to use.
Though, it has less features as compared to other browsers featured in this article. It does what it says and blocks those annoying vibrating ads on your Android.
Click here to Download Adblock Browser from Google Play
Browser # 5 – Opera Mini
It is for the 5th position in this list that we really had to stretch and select a particular browser as there was a healthy competition between Maxthon, Ghostery, Opera Mini, Dolphin, Halo etc just to name a few.
We selected Opera Mini purely based on the way it transformed browsing by its Server and its lightning speed on 2g Networks.
Combined with the compression, and Adblock Opera Mini does blocks ads and help you really save data and loads page faster.
But the revamped news section, does take away the old charm of Opera Mini which now has a bit of commercial money making touch. But still Opera mini, is the browser which can be used on any 2g or 3g networks where speeds are low.
Click here to Download Opera Mini from Google Play Store
Thus, these are the Best Adblock Browsers which are Free. We have tested over 16 Different browsers before finalising on these. Still, if you face any issues or would like to recommend any other browser feel free to comment below!