How to Change or Remove Startup App Programs in Mac OS X [Remove Items from Startup]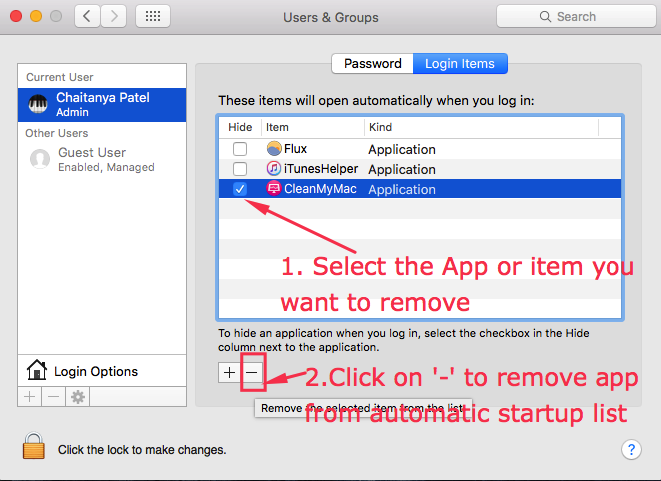 Many apps or softwares upon installing automatically start-up each time when you restart & login or reboot into your Mac OS X. Some of these apps simply increase the loading time or startup time of your Mac system. Here's a simple tutorial which will help you to change or remove apps which start up automatically in Mac OS X, read on below for method to change or remove items while starting Mac OS X.
Tutorial – How to Change or Remove Start up Apps & Programs in Mac OS X –
Inorder to remove or prevent apps or programs from automatically starting up, we need to remove them from Settings or System Preferences, so first of all launch the "System Preferences" from Spotlight or from the bottom dock bar of your Mac system as shown below –

Now, the System Preferences window will open up as shown below , Please click on the "Users & Groups" icon as highlighted –

Once you enter Users & Groups section, it will now show a list of all users registered on your Macbook / iMac mini system as shown below –

Here, select the user for which you want to change the startup items or apps.

In the next stem, besides the highlighted "password" option, select the "Login items" option –

It will now, show a list of all currently present Startup apps or programs which automatically start up when you log on to your Mac.

To Remove or Change any app from automatically starting up from your next login, select the name of the app by clicking in the "checkmark" box , and then Click on the Minus sign button below the app list window as shown –

That's it ! the app will now disappear from the list and won't start up automatically from your next log-in to your Mac OS X.
The method works fine on all newer Mac OS X versions Mavericks, Yosemite , Mountain Lion, Snow leopard, El Capitan and even Mac OS X Sierra too. Incase if it doesn't work for you feel free to comment in the article.