How to Officially Use 2 WhatsApp Numbers on One Android Phone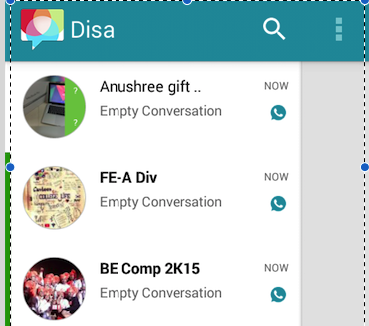 Recently, One of my friends who owns a dual-sim Android devices asked me How to Run two WhatsApp numnbers on his Single Android phone. Now, considering the phone was dual-sim it made real sense. So, here's a Simple tutorial which will show you how to use two 2 WhatsApp Numbers on a single Android Phone . This method works for single sim devices too and is completely official as we would be using apps present only on Google Play Store only.
Also, if incase you want two versions of same app e.g Hike, WeChat , WhatsApp in a single android phone
You can use Parallel Space to install 2 variants of same app in Android which is equivalent to using two separate accounts simultaneously!
Method to Officially use Two WhatsApp numbers on a single Android device –
First of all Download & Configure the Original WhatsApp app from Google Play from the link below –
Click here to Download Official WhatsApp from Google Play Store.

Note – For Registering on Official WhatsApp – use the Primary Sim number if you are on a double sim android phone or if you are on a single sim android phone register using the mobile number sim which is currently present inside the Android phone.
Method to Add & Register Second WhatsApp number –
Download  and Install Disa.im : Unified messaging app from Google Play Store from the link below –
Click here to Download Disa.im App from Google Play.
After you have installed Disa.im it will ask you to add a Service, Click on "Add Service" as shown in the image below –

Now after you tap on "Add Service", it will show the list of Services available as shown below –

Once you tap on "WhatsApp Plugin" in Plugin manager, it will now download & install the WhatsApp plugin from the Disa servers. After the plugin is installed, it will ask you to Restart Disa App as shown in the next image. Tap on "Restart Disa".

The Disa App on Restart would look like below  – It will display the message "WhatsApp Settings Needed" now tap on the display message as shown in the image below to get WhatsApp settings –

Now you will be on the WhatsApp Setup Wizard Screen, It will now ask you to uninstall your original WhatsApp–but please do not uninstall the original WhatsApp on your mobile and Click on"Skip" as shown below –

Now it will ask you for your Basic information as shown in the image below , Here in Enter your name and Type in your secondary mobile number along with + sign & country code which you want to use for whatsapp as shown below –

Now tap on "Next".

After you tap on Next , It will ask you for your Verfication method either by "via SMS" or by "via Phone call" .  Select your verification method by tapping on it –

Now, you will be redirected to "Code" tab as shown in the below image. Here enter the Verification code which you received on the second number which you want to use on WhatsApp and click on "Submit".

That's it! After successfull code verification, You will now be able to use WhatsApp on Disa app too! , Thus whenever you intend to use First Primary number WhatsApp – Use Official WhatsApp version, and for the Second number – Use Disa! –
Congratulations! You are now Officially using Dual WhatsApp on your Android Phone . You might want to check out these Other WhatsApp tricks below –
Click here to Know on How to Create & Use Fake WhatsApp Account.
Click here to Know How to Hide Blue ticks on WhatsApp.
Click here for tutorial to Send any filetype .zip / .rar / .apk files on WhatsApp