Tutorial – How to [show older]/fake "last seen on" in Whatsapp [Hide your online status]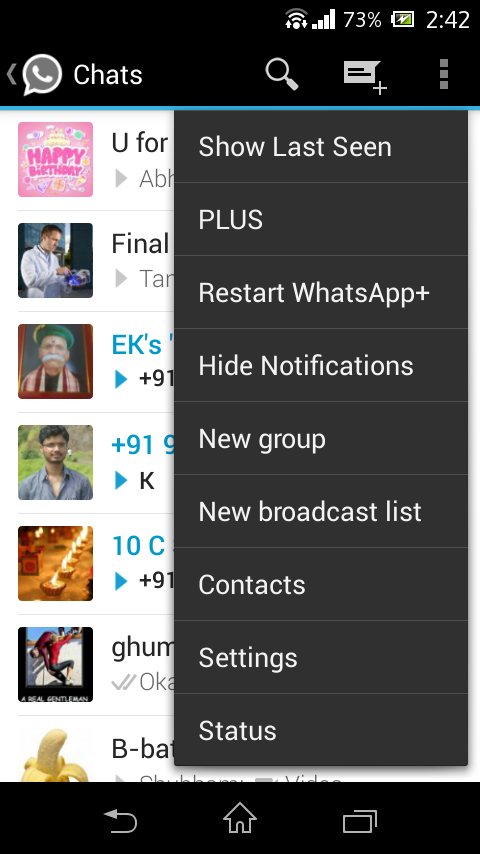 Hey Guys,  many of you guys must be familiar with the "blue ticks" update of whatsapp , though its a welcome feature for some,its not too good for others . same is the case with "last seen on" in whatsapp  , what if we can simultaneously fake last seen whatsapp/show an older last seen on coupled with an option to see blue ticks of others while at the same time hiding ours , sounds interesting isn't it ? and its easy too! 🙂 with WhatsApp+ , read on the article for the complete easy tutorial to do the same 🙂
Prerequisites / Requirements –
Messages Backup for use in newer WhatsApp and its quite easy too ( Just Go to Settings – > Chat Settings -> Backup Conversations) and that's it .
WhatsApp+ Apk (You can download it by clicking here ).
Now, as you might have understood this is a different apk of whatsapp, so let's check out some differences between the WhatsApp normal version and WhatsApp+ version –
 Hide Last Seen
 Apply and make themes of your choice
 Upload PHOTOS and VIDEOS without any compression (High Quality)
 Maximum upload size to 30 MB
 Change notification bar.
We can tabularize the differences as below –
| WhatsApp+'s HIDING Last Seen | WhatsApp's Turning Off Last Seen |
| --- | --- |
| Others Can See your Last Seen (older day and time) | Others Can't see anything in your last seen |
| You Can See others last seen (LS) | You Can't see other's last seen |
| Others won't know if you hide last seen | They will know that you've turned off your LS |
| you can go Online/Offline via Widgets | No Such awesomeness available |
| Has Much More Other Awesome Features | Simple old UI & Features are there |
| Hide Last Seen button on main screen | Settings/account/privacy/turn off lastseen |
Method / Procedure to Use WhatsApp+
Backup your Conversations by  Settings – > Chat Settings -> Backup Conversations) and that's it .
Uninstall your existing WhatsApp.
Download and install WhatsApp+ Application. (I have linked to an older version, if it doesn't work you can download the latest whatsapp+ from osmdroid.net)
While installation, you'll get an option to restore, don't worry it may take time for some users depending upon the chat backup) .
Once the installation is finished , Open Whatsapp+ ,To hide last seen and disable blue ticks click on the menu at the right-hand-side top corner and select "Hide last seen" option and yo!  (Check the image alongside)
You're now online in

incognito mode in WhatsApp

! you can see other's last seen and chat without the fear of anyone as others will only see the last seen time as the time when you had disabled it in WhatsApp+ 😛 🙂
Do the same menu-step to show/reveal your online status if you want to :).
I've myself tested it and using it , hence in the image its showing "show last seen" instead of "hide last seen"
Recommended : You can even use Two WhatsApp accounts on a single Android – Click here for tutorial to Officially use 2 WhatsApp numbers on a Single Android.
Click here to Know on How to Create & Use Fake WhatsApp Account.
Click here for tutorial to Send any filetype .zip / .rar / .apk files on WhatsApp

If you face any problems while using it, feel free to ask we will be happy to help 🙂