Get 12 Months Gourmet Passport for FREE! [1+1 on Drinks & Food] | Unlimited Unlocks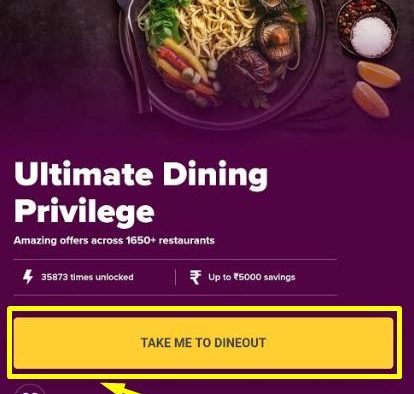 DineOut Gourmet Passport is a great service for people who love to eat out. Similar to Zomato Gold, it lets you get 1+1 on Food , Drinks , and Buffet too. But the Best part is all 3 can be combined , and there are no Unlock restrictions! .
Thus, you can avail 1+1 on food, Drinks, Buffet in a single bill at any restaurant by Gourmet Passport as shown in the screenshot below. In this article, we show you the exclusive Dineout gourmet passport promocode method to get Free Gourmet Passport subscription for 12 Months (1 Year)! .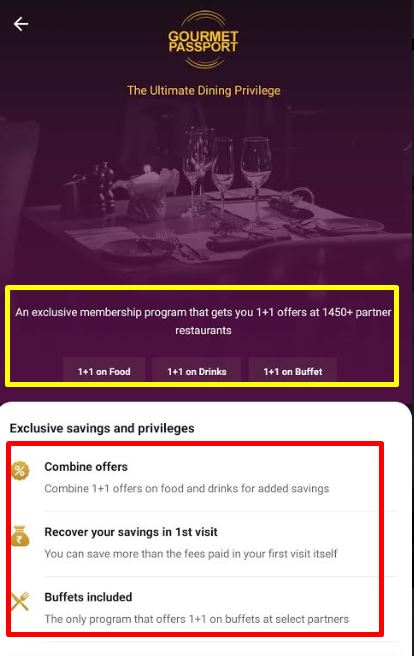 How to Get Gourmet Passport for Free in 2019 ?
We will be using the app ET Money to activate Times Prime Lite, which in turn can be used to get Gourmet Passport for Free.
Please read on below for more details on the procedure to be followed to avail the offer –
What is Times Prime Lite ?
Times Prime Lite is a feature of ET Money which lets your save upto Rs.10,000 each month.
It includes subscriptions to Dineout Gourmet Passport, Swiggy Super, and even bigBasket daily .
How do I get TimesPrime Lite for free ?
When you download ET Money app from our link, you will get free access to Time Prime Lite for Lifetime.
However, this won't be applicable if you directly download the app without using our link.
Click here to Download ET Money (Times Prime Lite Link)
Tutorial to get Free 12 Month Subscription to Gourmet Passport!
Download & sign-up on DineOut app (using your mobile number) from the link given below if you haven't installed it yet –
Click here to Download DineOut App from App Store. (Android & iPhones)
Part – I : Activating Times Prime Lite Service
Since, we would be using Times Prime lite feature of ET Money to activate Gourmet Passport, please install and sign-up

(using the same Dineout mobile number)

on the ET Money app from the link given below –
Click here to Download ET Money App from App Store
Now once you have installed the ET Money app, –> PLEASE Register using the same number you have signed up on DineOut app. (Else the benefits won't be able to be credited)
Tap and activate the Monthly Saver option, which appears in the "Spends" section as shown below –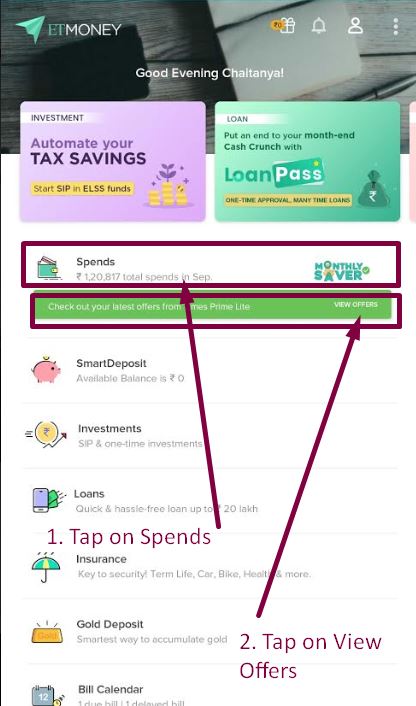 Once you activate Spends tracking it will show a "Monthly Saver Active" icon as shown in the screenshot below –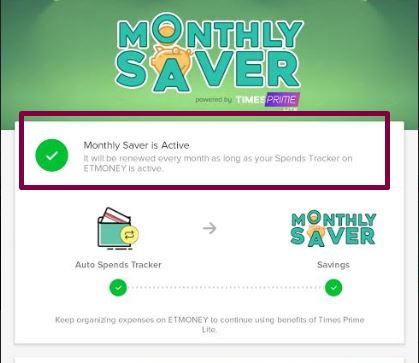 Congratulations! You have now successfully activated the Times Prime Lite service. You're now eligible for activation of Swiggy Super, Gourmet Passport for Free by following the method below .
Part – II : Activating the Gourmet Passport on DineOut App
Now , inside the ET Money App – Spends section – please tap on the "View Offers" pane as shown below –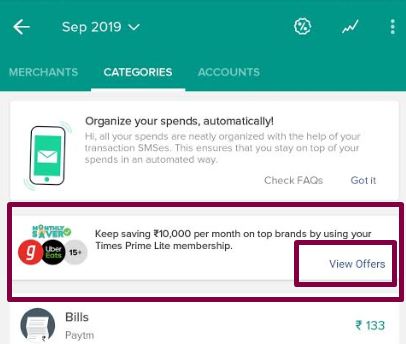 Now on the View offers page, tap on the Gourmet Passport icon as shown below –
In the pop-up box, which appears – Please select the "View Offer" option as shown below –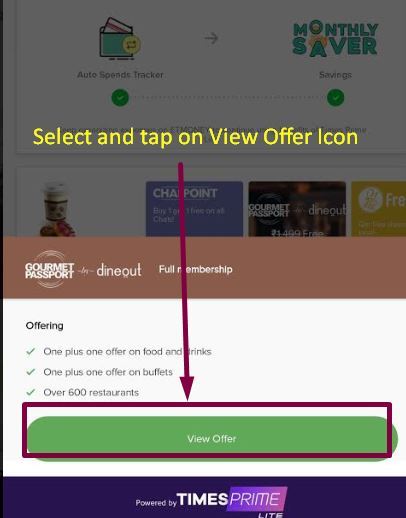 Here on the offer page, please tap on "Take Me to Dineout" option as shown below .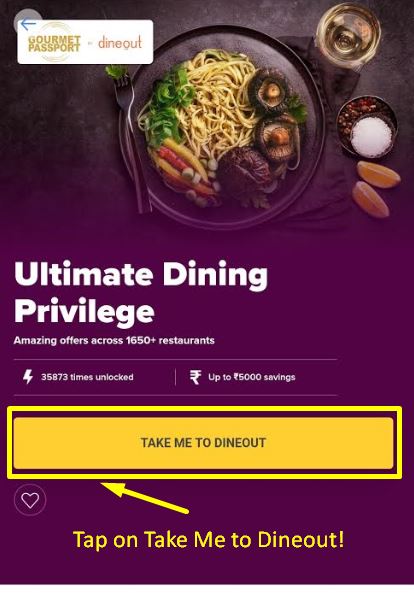 Congratulations! Now your 12 month Dineout Gourmet Passport service will be activated for free!
Enjoy 1+1 on Food , Buffet meals, Drinks in a single bill in many restaurants in Delhi, Mumbai, Bangalore, Chennai, Hyderabad, Pune, Kolkata, Ahmedabad, Chandigarh, Goa, Jaipur, Lucknow, Indore, Nagpur, Kochi, Surat, Ludhiana by our DineOut Gourmet Passport promo code as shown below –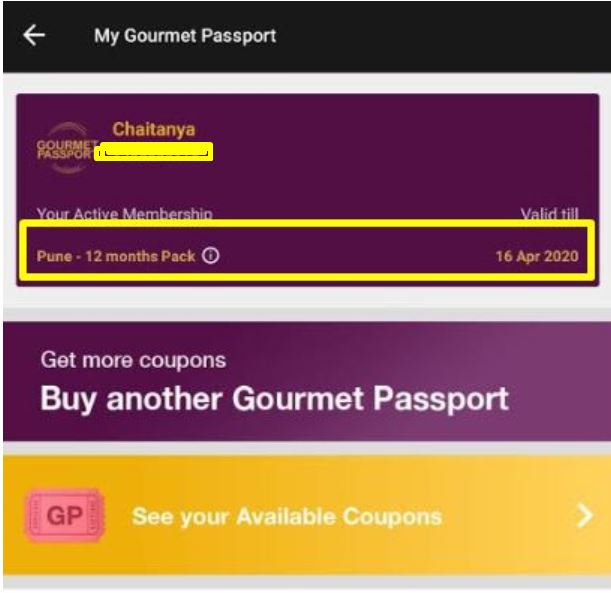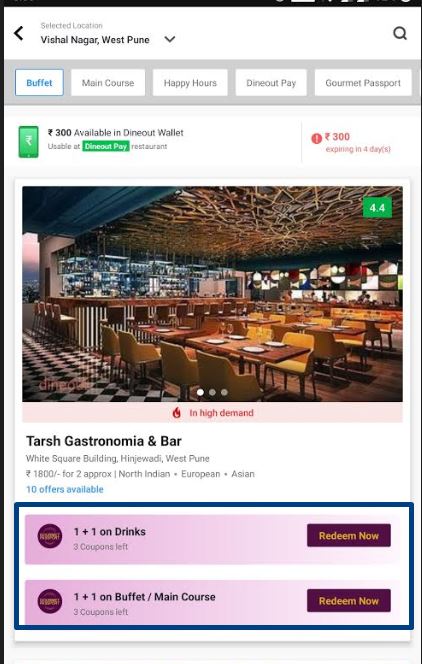 Note – You may need to select City in Dineout app, while activating the Gourmet Passport. The Offer is valid only for single city Gourmet Passport plans. Incase of any queries, please feel free to let us know in the comments section.