Rainmeter tutorial – customize desktop in Windows 7/8/8.1/10 with Rainmeter! flaunt your geeky desktop even more!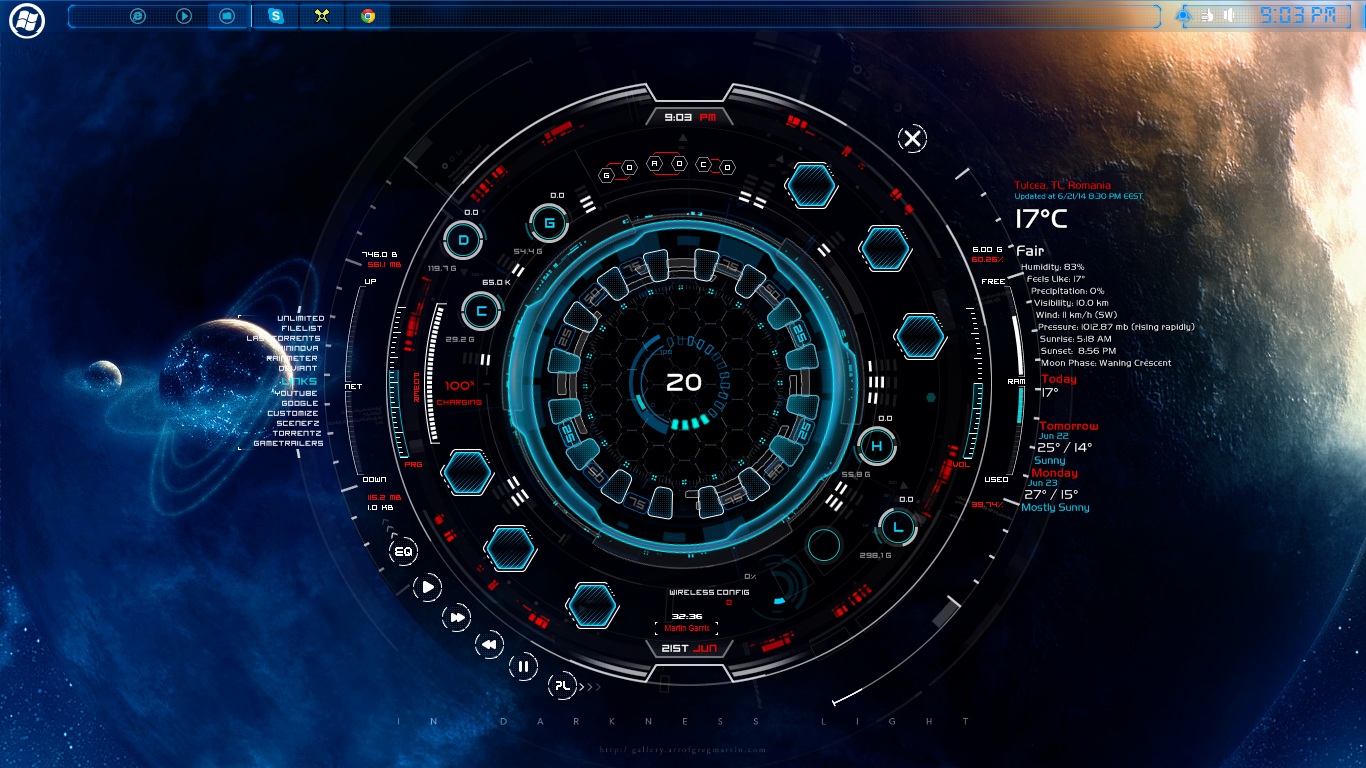 Recently I wrote about the simplest and safest way to apply custom themes in Windows 7/8/8.1 , taking the desktop customisation to next level is Rainmeter . Rainmeter simply takes desktop customization to the jarvis level (Ironman reference 😛 ) , below is an easy tutorial to Customize desktop in Windows 7/8/8.1/10 using Rainmeter !
Before i go onto the tutorial I'll like to flaunt what Rainmeter can actually do , Simply check out the image below –
Isn't it looking cool ? Click here to view the larger image (higher resolution) , all this is possible by Rainmeter – A simple desktop customisation software which can customise your desktop/laptop like never before!
Features of Rainmeter –
Simple, and light Desktop Customisation software with widgets support!. (Just 2 Mb size)
Very,very light on CPU and RAM .
Easily install customised Rainmeter skins (.rmskins)
CPU Usage, RAM, Media player, battery, Network status, Shortcuts and a wide number of widgets are inbuilt.
Real-time updation and display of widget data!
Tutorial to install and use Rainmeter and customise your Windows –
First of all download and install Rainmeter , Rainmeter unlike other customisation tools is common for all Windows versions .
Click here to download Rainmeter v 3,1 Stable,
Click here to download Rainmeter v 3,2 Beta.
While installing Rainmeter do keep an eye to install the normal one and not the Portable versionm there's no need of configuring anything just keep on clicking "next".
Once you're done with installing, run Rainmeter, if not automatically opened by the system.
Now, you'll see the default rainmeter skin "illustro" and some gadgets on your desktop , here simply right-click on the widget and check/uncheck the widgets you want to see as shown in the alongside figure –
Tutorial to install custom skins in Rainmeter – 
This was all about installing Rainmeter, but you'll like your desktop to look much like the images shown earlier in this post  – here's how you can do it –
Download any of the Rainmeter skins or .rmskin files from the following sites (I'm only mentioning a few there are many sites like these –
1. Deviantart – Rainmeter monitored.
2. Deviantart – All Rainmeter compatible. 
3. Customize.org
Once you have downloaded the .rmskin file from the above site,all you have to do is double-click on the .rmskin file.
Rainmeter will then notify you of installing the skin & its associated plugins, simply click on install and yo!
If your desired skin doesn't get applied you can still manually apply it by the check marking its widgets as shown in the figure below –
That's it for this article , there will be an advanced customization article if the readers demand for it 🙂 , By the way here's how my Desktop looks like now – http://prntscr.com/5df2fd  (You too can flauntyour desktop in comments 🙂 )