10 Useful Ways to Record Powerpoint Presentation [Official]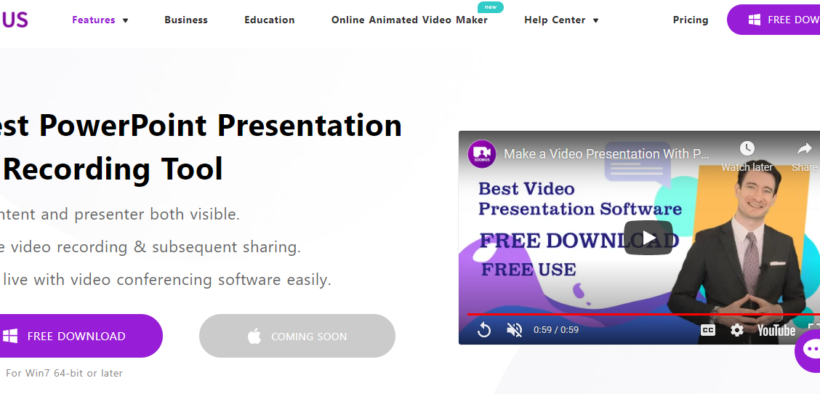 10 Useful Ways to Record Powerpoint Presentation [Official]
An excellent Powerpoint Presentation is the difference between making a lasting impression with your presentation or becoming a time killer who bores their audience from the onset.
Using the right video PowerPoint presentation and recording tool gives you the direct ticket to creating a memorable and better overall experience from presentations.
A quick web search for the best video presentation software produces various options. However, most of them are complex and won't provide the right environment to create a professional and polished presentation.
This guide gives you an update of the ten useful ways to record your next Powerpoint Presentation effectively.
1. SOOMUS- The Best Method for Recording PPT presentation
While Microsoft Powerpoint can help you create your presentations, it is not available in all versions of the software. Since Microsoft Powerpoint is insufficient, using a third-party app like our powerful SOOMUS video recording tool is a great way to record stunning Powerpoint presentations that help you communicate your ideas effectively. It is compatible with Powerpoint to ensure you cut down on time otherwise wasted when switching between different apps.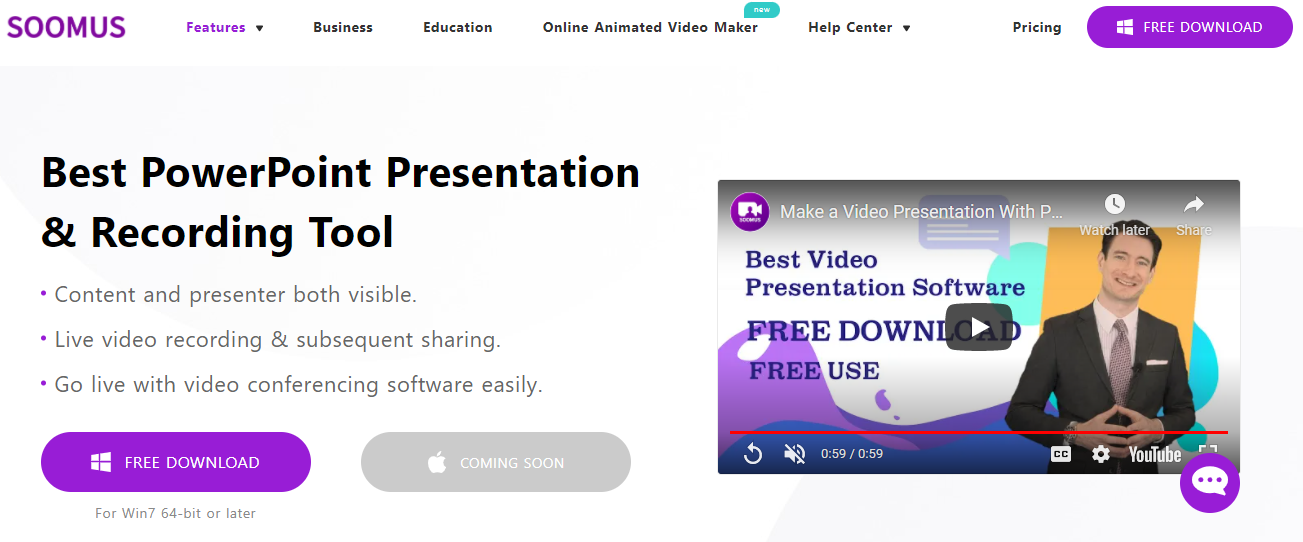 Despite how powerful SOOMUS is, it's incredibly simple to use. Most of its features are easily accessible with one click to help users record the audio and video PPT presentation in seconds. Once you understand how SOOMUS features work, everything will be straightforward, and you won't be stuck manually adjusting settings to achieve a remarkable presentation.
How does it work?
SOOMUS is a video recorder application program. You are required to download the app, set up, and create a SOOMUS account using your email address and password. Alternatively, you can sign in directly to SOOMUS with your Facebook or Google account.
Import your MS PowerPoint slides into SOOMUS main interface to record audio and add other video effects. To import the PPT files is simple. First, go back to the main interface.
Then click Import PowerPoint>locate> select your powerpoint file> import with *.ppt extension to SOOMUS.
Alternatively, you can import PPT files while in editing mode. Navigate to the top-right side of the panel and click Add. Under the Add visuals section, click PPT to import the PowerPoint presentation.
Once done, set your microphone and click Start Now to record the presentation or start a conference meeting. When you're done recording your presentation, just click Stop and save.
Suppose you wish to customize your presentation, record a PowerPoint presentation by SOOMUS and use the visual features to add texts, pictures, annotations, arrows to highlight key information and enhance the video presentation experience for your viewers. That's something that MS PowerPoint fails to provide.
SOOMUS Key Features
You still don't believe it. Let me show you how great and exciting SOOMUS is.
Great collection of Templates: SOOMUS offers numerous templates to choose from and customize presentations to fit your corporate colors by creating yours or using the built-in color. It's a quick way to record the video and audio presentation.
Robust Effects: A great diversity of editing options is another perk of the SOOMUS video recording tool to help keep your audience focused and fascinated. From manipulating visual properties to adding annotation, graphics, animation, callouts, captions, and quizzes.
Virtual background: If you import your PowerPoint presentation into SOOMUS, you can easily add virtual background with one click on camera settings without a green screen.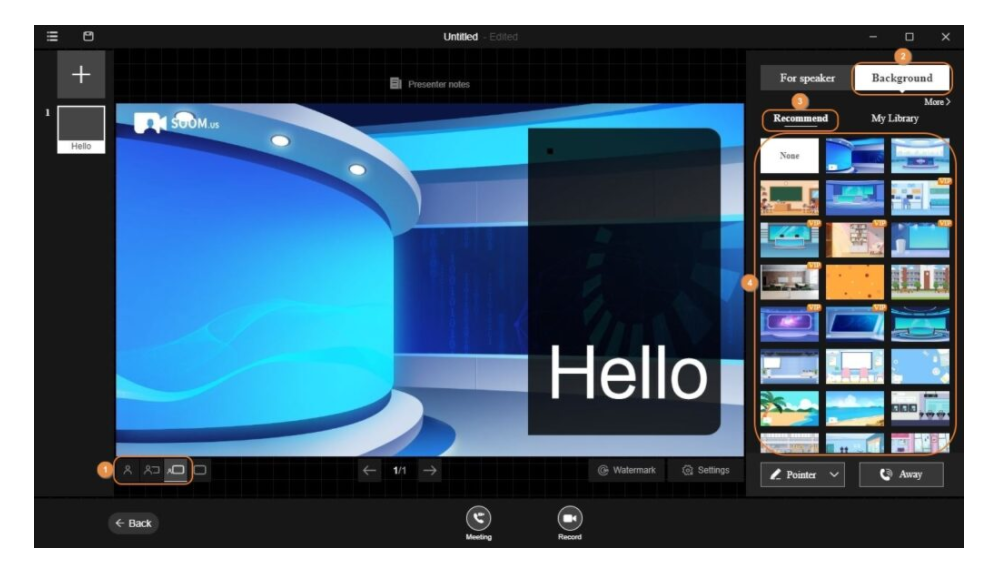 Various upload platforms: SOOMUS supports many destination channels for uploading the presentation and sharing it with your audience easily. They include Youtube, GoogleDrive, and other social media platforms.
Transition: SOOMUS's dynamic transitions improve the flow of your presentation, producing a more engaging video. To have a consistent presentation flow, apply various transitions between slides.
Flexible screen settings: Add multiple video sources and capture multiple screens at the same time with SOOMUS. For better engagement, share your screen to walk through your slides using another screen.
Usability: If you lack PPT recording skills, SOOMU's simple drag and drop functionality can help users customize their video presentation and screen without frills or a timeline. Choose one platform that suits your needs and have a brand new conference presentation experience.
These are just a couple of SOOMUS amazing features. Trust me! The creative possibilities are endless.
Types of PowerPoint Presentation to Record with SOOMUS Application
Over 30 million PowerPoint presentations are recorded daily. From boardrooms to classrooms, PowerPoint presentation is ultimately the best way to capture announcements, interviews, policy updates, sales, speeches, etc. PowerPoint slides are a powerful medium to share content that captures the audience's attention and connects with the concept of the presentation.
You can record different types of presentations with SOOMUS, including:
Class lectures
Product demos
Student assignments
Employee training and tutorials
Recruitment presentations
Brand marketing and sales presentations
Corporate communications
2. Camtasia
Camtasia is another handy alternative video recorder in the industry. It's easy to use and understand, first customize the settings, identify the section of the screen you want to capture, then press the Record button. There is a good selection of visual effects, from annotations to adding text boxes, and PowerPoint Add-In Toolbar is useful for those who record PowerPoint presentations frequently. However, it has limited PPT file-sharing options, and the packages are quite expensive.
3. iSpring Presenter
iSpring Presenter offers an easy solution to transform PowerPoint slides into a video presentation. It has extended LMS support and easily integrates all PowerPoint effects, animations, transitions, etc. You can record audio, add quizzes and later convert it to HTML5 files.
However, it's worth noting that the iSpring Presenter video presentation recorder requires MS PowerPoint to use, lacks advanced video editing features, and is pretty pricey ($470/year) compared to some competitors.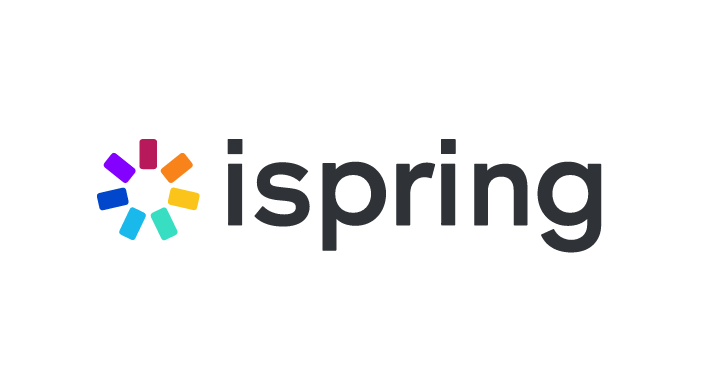 4. Adobe Presenter
Adobe Presenter is a well-known video presentation program that allows you to turn slides into interactive eLearning content. Teachers will like the ability to add quizzes to their video presentations, making them more interactive and interesting. This tool makes creating HD videos simple, and it also features screen recording capabilities that allow users to shoot video directly from their desktop. You may also use your webcam to make videos and can be adapted to mobile devices.
Considering Adobe Presenter's average functionality, the subscription package is quite an affordable price. It is compatible with mobile devices. However, they need to improve their support for PowerPoint desired effects, animations, and other PowerPoint features. When publishing in HTML5, text, and images convert into images and lose the essential highlight of the presentation.
5. Bandicam PowerPoint Recorder
Another screen recording tool is Bandicam, which has all the necessary tools for recording a PowerPoint presentation, including 4K ultra HD recording up to 3840*2160, system and microphone audio capture, screen annotations, direct Youtube uploading, and more. The software is extremely popular and has been available for quite some time. Bandicam guarantees up to 24 hours of continuous recording so that users can capture PowerPoint videos for an extended period.
Although Bandicam is a great screen recording tool, there are a few drawbacks. The app has a recording timeline of 10 minutes mark and no watermark-free recording in a free plan. This is a major disadvantage since most PowerPoint presentation videos last more than 10-minute. Also, you can only purchase a lifetime license and not a monthly/yearly basis.
6. ShareX
Image annotation, adding image effects/watermarks, and uploading images to the host are just a few of ShareX's automated after-recording tasks. This open-source video presentation recorder has excellent file-sharing options from Google Drive to Dropbox and other destinations. Bear in mind that ShareX only has basic video editing features, so if you want to edit your presentation slides or add transitions, you'll need to use third-party video editing software. However, if all you need is a tool to capture a computer's screen and webcam footage simultaneously, ShareX is still a good choice.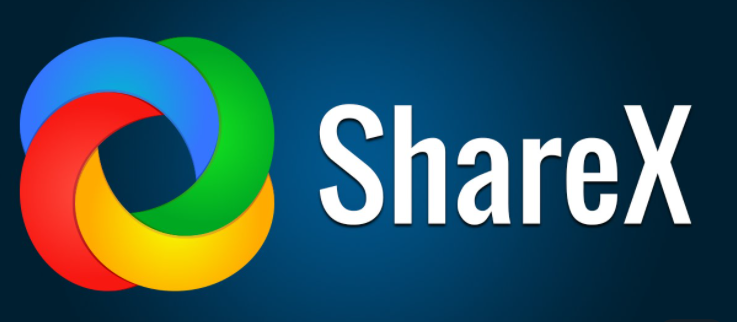 7. Panapto PowerPoint recorder
Panapto screen recording tool comes sixth in our list of 10 useful ways to record PowerPoint presentations. It's a more advanced PPT recording solution with a unified library, and powerful search engine features ideal for presentations for businesses, schools, and institutions. Panapto features 4K HD recording, the ability to add several video streaming choices, and a unique background for a high-quality and intuitive PowerPoint video recording. If you're looking for software to record your PowerPoint video presentations easily, Panopto sophisticated features might not be a suitable solution.
8. Filmora Video Editor
Filmora video editor is another useful way to record PowerPoint presentations. It's equipped with a diverse range of video editing tools and produces excellent image quality. Besides editing videos, Filmora can capture all of your on-screen activities. Just choose the specific window you want to record or select the specific part of the screen. Although Filmora has some of the best Video recorder features, the free versions' presentations are watermarked and can only add annotations after recording.
9. MS PowerPoint
Sure, PowerPoint has a built-in recorder. To activate, just click the record button, and start recording your presentation. It's that simple, and the basic features are quite quick to master. But it's not the best tool. You only get one shot to live to record your presentation, so avoid stumbling since you can't edit mistakes or verbal flubs.
10. Screenr
This is an online application that allows you to create PPT video presentations across various operating systems. To start recording your desktop, all you have to do is go to the Screenr website. Once the presentation is recorded and encoded, you can download and upload it online. Other screencasting features include on-screen recordings, screenshots, annotations, effects, and editing tools. It's worth noting, though, that this web app is only compatible with Java-enabled devices.
Conclusion
We highly recommend the SOOMUS Powerpoint presentation and recording tool. It's extremely simple to use and can easily import PowerPoint slides! Although it is simple to record a presentation directly from MS PowerPoint, its capability is not accessible in all software versions. Using SOOMUS, users can edit the presentation before delivering it to viewers, in addition to recording it.