How to Convert DVD to MP4 with Handbrake or WinX DVD Ripper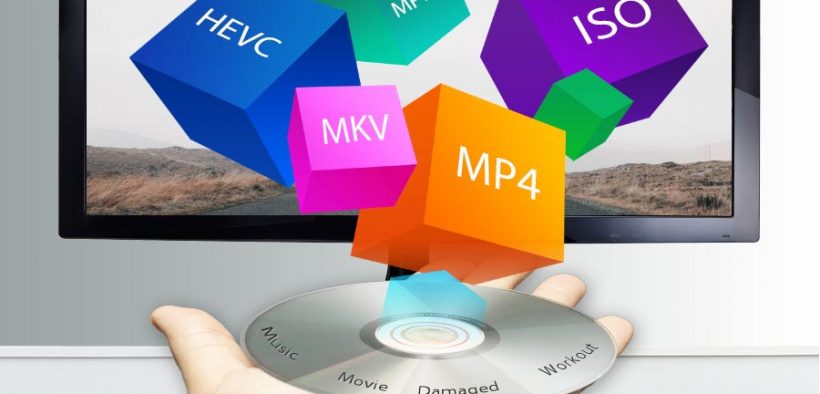 In this digital world, we have plenty of computer software available to convert digital files into the desired formats. If you have numerous DVDs carrying digital data of yours, then you should convert the data into digital format to take a backup of them. You don't need to carry the DVDs or no need to keep them handy, just convert data stored in the DVD to the desired file format and keep it stored in your computer.
To Convert DVD to MP4 files or any other format, you can use WinX DVD Ripper which is the best DVD ripper software available in the web-world. The software comes with a bundle of tools to convert DVDs into the desired file format. It works smoothly on your system so you won't have any issues with the converted digital files. Let's see why you should convert DVD to MP4 or any other formats.
Advantages of DVD to Digital
We all use smartphones, tablets and computers. When you have DVDs, you can't watch videos and other files stored in the DVDs. When you convert DVD to digital files, you can simply watch videos and other files on any Smartphone, Tablet or Laptop/ computers.
You can easily transfer or store files on any computer or tablet devices, while in the DVD, you can't do so.
To run a DVD, you have to use a proper DVD player. When you have a digital copy of those files, you can quickly transfer it to your smartphones, Pen drives etc. It's quick and more reliable in this modern world. And many other more…
If you are searching for a reliable Software which can convert DVD to MP4 or other digital file formats, then Handbrake and WinX DVD ripper are the best options available for you. Handbrake rip DVD is a great option to convert your general DVDs into digital formats. If your DVD carries protected files, then WinX DVD Ripper is there for you. This software runs smoothly and converts your DVDs into digital formats quickly. Let's check out how you can convert DVDs using these software.
How to Rip General DVDs with Handbrake?
Step 1:
First, you have to download and install the latest version of Handbrake Software for the desired PC system. The software is available for Windows and Mac systems.
Step 2:
Once the software is installed, insert the DVD in your optical drive and then launch the Handbrake software.
Step 3:
The software will show you the inserted DVD there. Click on to the DVD option from the list. If the DVD carries multiple files, you need to select each file manually right from the DVD itself. You will get to see all the details of all files stored in the DVD.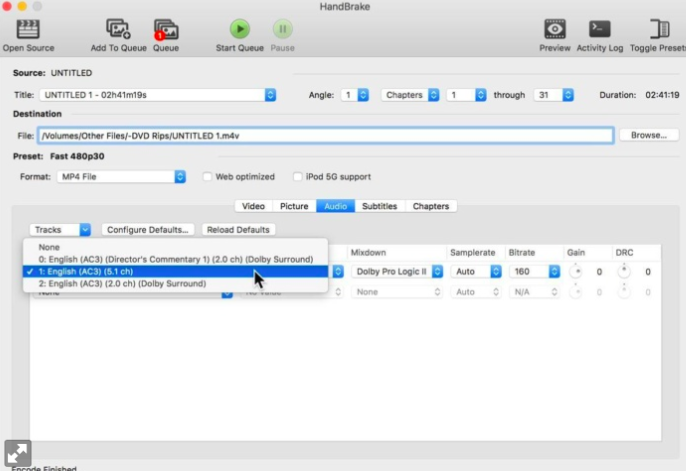 Step 4:
In the given options, you can select the file format, the file length, output format, output folder and pretty much all the options. Make sure to select the desired options from the list given on the desktop.
Step 5:
Once done, select Start button. The Handbrake software will start the process of converting your DVD files into MP4 or any other desired formats.
This is how you can convert a general DVD to MP4 file using Handbrake software. The software is available for Windows and Mac systems. You can get it from their official websites. You can get DVD Ripper for any PC system to convert DVDs into digital copy. Now, if you have some secured and protected DVD files, then you can get it converted using even more advanced software called WinX Free DVD Ripper. Let's see how this software works on your system.
How to rip the protected DVD with WinX DVD Ripper?
Step 1:
Go ahead and download the latest version of WinX DVD Ripper software for your PC system. You can get more information from WinXDVD Homepage.
Note: You can also load different ISO images and Videos of different folders from this single software.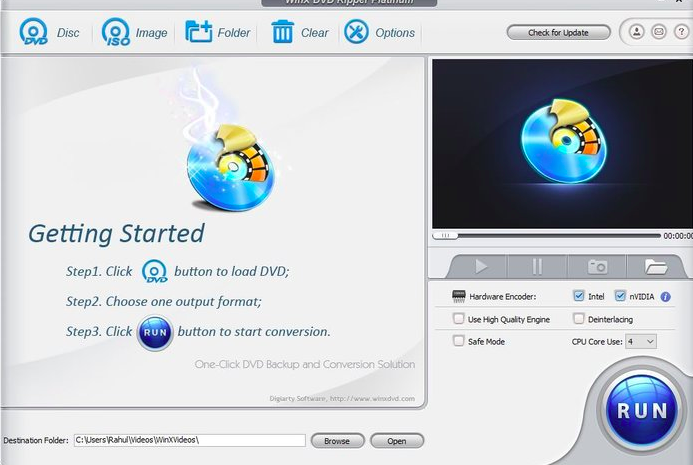 Step 2:
On the top, you could see four different options from which you need to select Options.
Step 3:
Now, you need to select an Output profile. Select the option and you will be presented with a list of available options. Select the desired output profile from here.
Step 4:
Once you select the desired Output Profile, just click the Run button.
Step 5:
The process will begin itself and you can see the progress of the file on your desktop. It will take a few minutes to complete the process.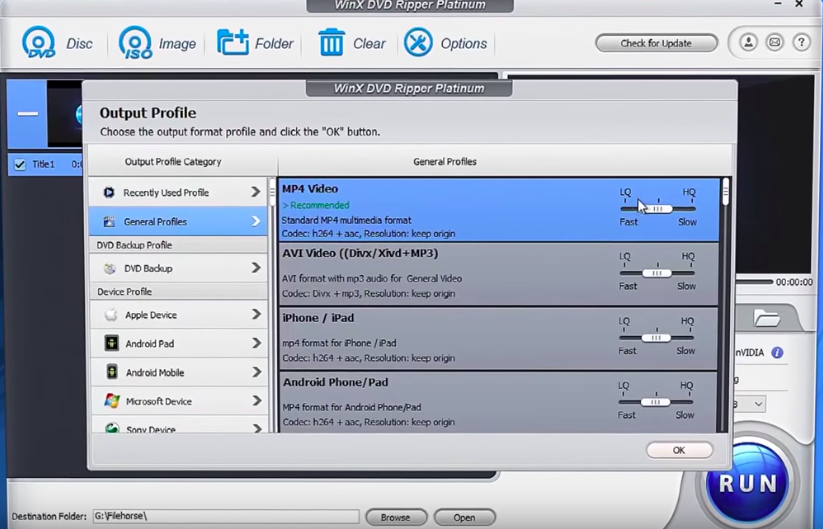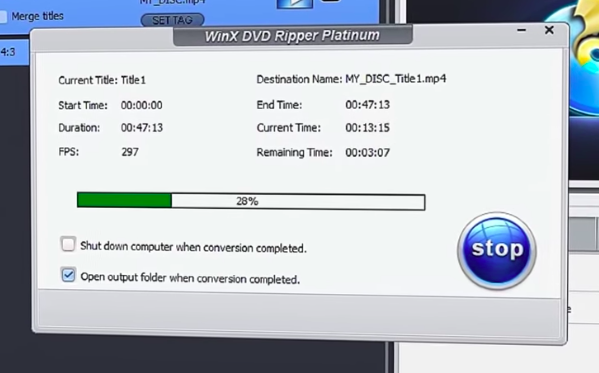 You're done! The selected file will be converted to the desired folder and you will be able to watch or transfer the converted video into the desired folder.
Additionally, you can also explore different options for the file which you are going to convert. Just go ahead and select the Option menu and you will be able to convert, crop, codec etc. for your DVD.
This is the simplest way of converting your DVDs to MP4 or other file formats. You can get DVD Ripper Free for a respective PC system, and can start converting your DVDs into digital copies. For more information about how this software works in real life, just check out the below-mentioned link now!
WinX DVD Ripper- Key Features
Easy to use functions with user-friendly interface
The software supports all types of DVDs such as General and non-encrypted DVDs and Protected DVDs.
Doesn't compromise with the quality of the Video and Audio files. It keeps the audio and video outputs as it is.
Built-in GPU acceleration tool to boost the conversation process of the DVD files.
Supports all types of File formats and profiles
99-title DVD Support which is the most secured way of converting DVD files
Supports Scratched DVDs also
Support for most-widely used file formats General and Protected DVDs
Comes with a built-in Audio and Video improvement features
Frame correction option with video editing tools
Conclusion:
WinX DVD Ripper is the best software/ tool available to convert your DVDs into MP4 and other supported file formats for your Smartphones, Tablets, Computers and other devices. You can easily watch DVD files in your Mobile phones, and can even transfer them to the desired device quickly.