How to AirPlay or Mirror Screen Mac to Mac /Windows 10/7/8.1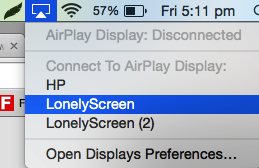 AirPlay allows streaming of your Mac OS device's screen directly to an Apple TV. But sometimes we may want to mirror our Mac OS Screen to another Mac or a Windows computer or a Laptop. So, here's a small tutorial on How to AirPlay or Mirror your screen from Mac to Mac or a Windows PC / Laptop.
Tutorial to Mirror Display from Mac to Mac OS Device –
Pre-Requisites –
Method to Start AirPlay or Mirror Mac display to Mac/Windows –
First of all on your sender machine, launch the AirPlay receiver app. (In our example we will use LonelyScreen app).
Now on your Mac OS topbar, lookout for the AirPlay icon as shown in the alongside image.
Now inside the drop-down menu, select "LonelyScreen".
That's it your Apple Mac's screen will now be mirrored onto your Windows or another Mac System running Lonely Screen as shown in the image below –

Note – We used LonelyScreen as our AirPlay receiver to convert our Windows or Mac OS into Apple TV compatible Receiver, you can even use 5kPlayer or any other AirPlay receiver for the same purpose. –
Enjoy AirPlay streaming your Presentations, Movies & Music Videos from your Mac!