How to Turn On Blue Light Reduction on iPhone & iPad for reducing eye Strain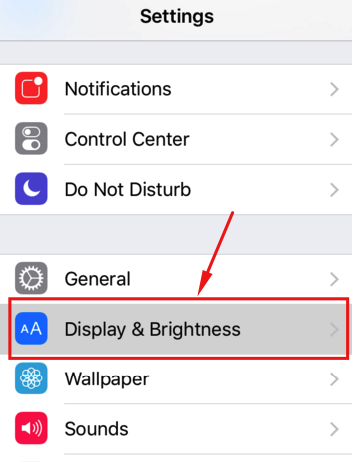 Blue Light Reduction is one of the unique features of the latest iOS 9.3 Night Shift component. The Blue Light Reduction mode filters out blue light which makes it easier to use your iPod , iPhone & iPad at night or bed-time. Thus, making it soothing for your eyes to use your iOS device at night. Here's a simple tutorial which will help you to turn on Blue Light Reduction mode on iPhone & iPad devices –
Note-  iOS 9.3 Update is only for 64-bit devices, and hence you will be able to activate & use Night Shift only on iPhone 5S, iPhone 6 Plus, and iPhone 6S Plus, iPhone 7, 8 and iPhone X series.
Method to turn on & activate Blue Light Reduction on iPod touch, iPhone & iPad –
Make sure your device is updated and you are on the iOS 9.3 and later version.
Now navigate to "Settings".
Inside "Settings" option, tap & navigate to the "Display & Brightness" option as shown in the image below.
Now under the brightness bar you will notice a "Blue Light Reduction" toggle it to turn it "on" as shown in the image below – .

Now, once you have toggled it on , you will notice that a bar appears with the ends "cooler" to "warmer".

Cooler colors are recommended to be used during day-time, and during bedtime using "warm colors" are real eye-savers!. Slide on the bar towards "warmer" side during night time.
That's it,  you have successfully activated Night Shift's Blue Light Reduction mode on your device.
Besides, this you can even "Schedule" the Blue Light Reduction according to your convenient timings as well –

Note –  If the  you cannot see the "From Sunset to Sunrise" option under schedule types, please enable automatic time zone under your privacy settings to get it working and enabled.
Also, if you want to use a Dark Black theme on your iPhone or iPad, we have a tutorial for the same as well . Check on How to enable Dark theme mode on iPhone & iPad
For Android phone users –  Click here for tutorial to Enable / Activate Blue Light Reduction Mode on Android