Use WhatsApp on web browser online – WhatsApp Web client launched officially! | Official WhatsApp web client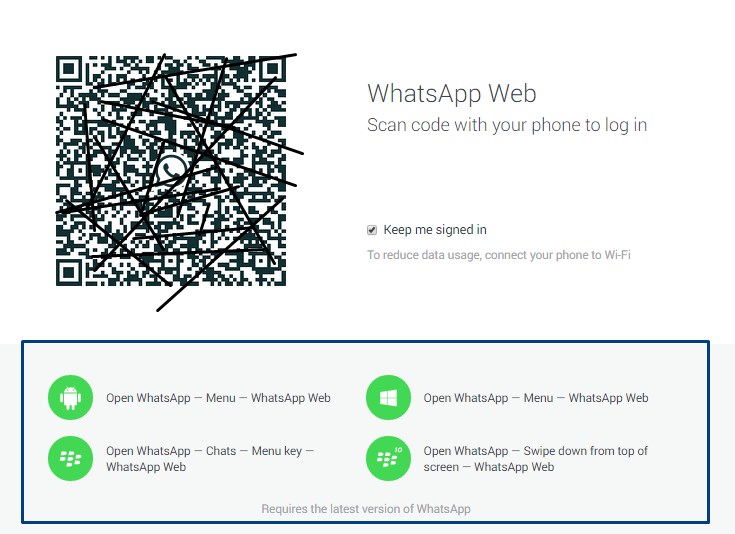 Using WhatsApp on Web browser / Internet browser is now a dream come true! . WhatsApp has now officially launched its Web version for using online on your browser. Now you can easily chat with your WhatsApp account/buddies online directly through your Google Chrome, Mozilla Firefox , Safari or any other Web Browser . (Sadly, As of now its only working on Google Chrome )
The Official WhatsApp Web Client is now live at the URL – http://web.whatsapp.com

Note – This is a Beta version and may not be available for all WhatsApp users!
Procedure/Tutorial for using the WhatsApp Web Version –
WhatsApp web version will authenticate your mobile device and will then load the chat in the opened window. The procedure to use Official WhatsApp client is as follows –
Open the URL http://web.whatsapp.com in your browser.
Now, you'll be shown a QR code on the WhatsApp web client page as shown in the alongside image.
Now, Open the WhatsApp App on your phone and depending upon your Phone's Operating System , you can use the below methods to scan the QR code –
For  Android phones/devices —-    Open WhatsApp – > Tap on Menu – > Select "WhatsApp Web".
For Windows Phones / Lumia —   Open WhatsApp – > Tap on Menu – > Select "WhatsApp Web".
For Blackberry 10 and Blackberry users follow the instructions in the alongside imageFor iPhone/iOS users — Wait for official update from WhatsApp.Note – Make sure you're using the latest WhatsApp app on your Mobile Phone.
WhatsApp web is a welcome addition to the already existing huge popularity of WhatsApp , overall I found the User-Interface of WhatsApp Official Web Client pretty smooth but not matching the mobile experience .
Also its necessary for the Phone to always remain connected to the Internet even while using the WhatsApp Web client.
 Another thing which hit me was viewing received media wasn't that great ,(Photos/Videos were being auto-downloaded in the Web version) hopefully they'll resolve the issue soon.
The Web-User interface also doesn't allow you  to change your WhatsApp DP , or changing your status. But the Chats really do work very fine and with speed! and allow you to upload and send photos/media at good speeds.
If you encounter any problems, or are unable to use the Official Web version feel free to comment, also do share your views on the Official WhatsApp Web Version for Web Browsers.
Recommended : You can even use Two WhatsApp accounts on a single Android – Click here for tutorial to Officially use 2 WhatsApp numbers on a Single Android.
 Or if you're an Android phone user you can even use Parallel space to use 2 or multiple whatsapp, Facebook accounts in the same device – Click here for tutorial to use Parallel Space on android to use multiple Paytm, Facebook messenger accounts.