How I got my Free iPhone 6- Thank you Ladooo! and AirLoyal | Secret Revealed!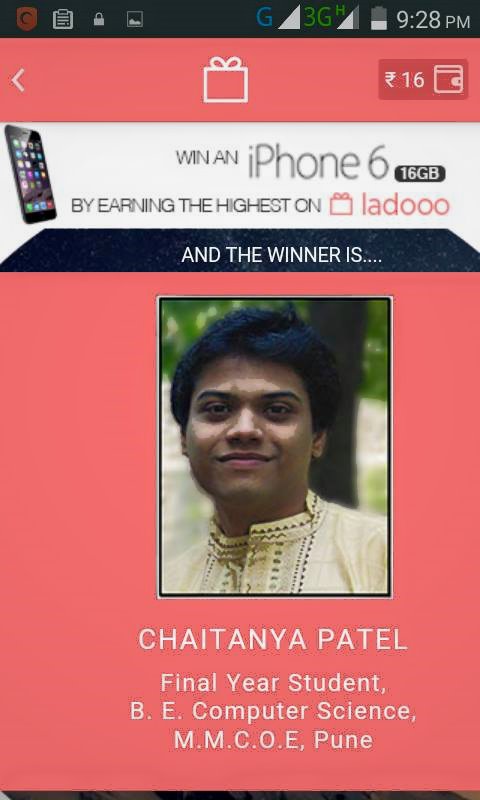 Most of the readers of this blog – TechApple might be familiar with the free recharge giving apps , and must be using it to get the Free Recharge for their mobiles. One of such free recharge app which is simply awesome – Ladooo! gave me an iPhone 6 for FREE! , yes an iPhone 6 for Free! , not only just an iPhone 6 but i also ended up earning Rs.1717 for Recharging in the process . I am going to cover the story in detail , but i will also like to mention that this is the 150th Article on TechApple, and in my 100th article, i had shared how i had earned Rs.9000 (9K) Balance.
My Story on how i got iPhone 6 for Free!
First of all, i would like to Thank – Ladooo! app of AirLoyal ,  and AirLoyal Ltd, who had organised such an awesome contest. A Big big Thank you to you Ladooo! You changed my life!
Now, about the contest – Between the period 17th – 24th December 2014 , AirLoyal & Ladooo app had organised a contest "

Highest earner of the week wins an iPhone 6 for Free!

" . Naturally, I decided to participate as it didn't had an entry fee and i wasn't losing anything but infact giving me a slight chance.
In the contest to win a user had to earn highest within the week by downloading apps, referring friends and complete some very easy offers provided by Ladooo!.
 I started downloading some apps through it and personally i felt i had no chance of winning the contest, as it was a Pan-India one, still i decided to give a shot and wrote an article on Ladooo! which proved to be a masterstroke! ( I planned to write an article as Ladoo provides money on referring friends too! and i thought i had a better chance by referring online, besides having an article for a really good app – Ladooo on my blog).
How i earned so much ? This question was the one which many people asked me after the winners were announced , so here's the secret revealed! –
1.

The article I wrote proved to be the main source

– It gave me many and maximum referrals amongst all the participants to edge me ahead than others and get me the iPhone!
2. You can still check out its on the first page of Google for the keyword "ladooo app" the article name is – "Get Free DTH & Mobile Recharge by Ladooo App" .
3. I also referred all my friends at college to download the app , sometimes i received reactions like "Ye ladooo kya hain ?" , "Free me kuch nahi milega, faltu me mehnat mat kar" ,  "kuch nai milega re, ladooo milega khali" , though some were encouraging ones, but i Kept trying..
And Finally , I won as i had referred many many many friends !
My reactions when I came to know I was the Winner!
I was in the college canteen eating samose when i received the call from AirLoyal – Pandurang Sir , they started inquiring me some basic info of mine about my name, number and have i participated etc.. I knew the results of the contest were nearby and as I thought that I had no chance of winning whatsoever, so i happily answered all of them thinking it might be for the verification and records.
As i was answering them, I casually inquired them about whether the winner or who the winner was or has it been announced ? and they answered "You're the Winner!" I was shell-shocked…

For sometime, i didn't knew where i was , I didn't believe that I had actually Won! 🙂 , But when assured by the Pandurang Sir, I was wished and congratulated by the entire AirLoyal Team! , I felt very much warmth and homeliness in the wish! . I simply cannot write that feeling as it simply cannot be described! I felt i was right there in the AirLoyal office!
Suddenly , My friend shook-me and i was back at the college canteen, with a phone in my hand a samosa in the other,

the samosa too was looking like an iPhone to me

😉  .
The further conversations between me and Sir took place on E-Mail , Pandurang Sir and the entire Airloyal team supported me and answered all of my queries.
iPhone delivery and other Details –
Now, regarding the iPhone delivery and etc . The Phone was ordered on the Same day the result of the contest was announced! , and I expected the delivery within a week or 15 days… But to my surprise Airloyal ordered a brand new iPhone 6 from Flipkart with One-day delivery!!! 
My happiness knew no bounds, and i was waiting for it to come, i couldn't even sleep the other night as I was impatiently waiting for the Wonderful Gift by Ladooo!
I am also going to publish a Video of the delivery time, my reactions and everything in detail! Keep watching this space for updates 🙂 .
Once again a big THANK YOU! to Airloyal and Ladooo! and

last but not the least

a Big Really BIG… THANK YOU to all you readers cum friends who made this possible!  You make this blog active, you make me! active… I will really try to work even harder and please you with some interesting stuff! 🙂