Droid4X – Free Android simulator for PC Windows & Mac OS X |Best gaming Android emulator for Windows 7/8.1/10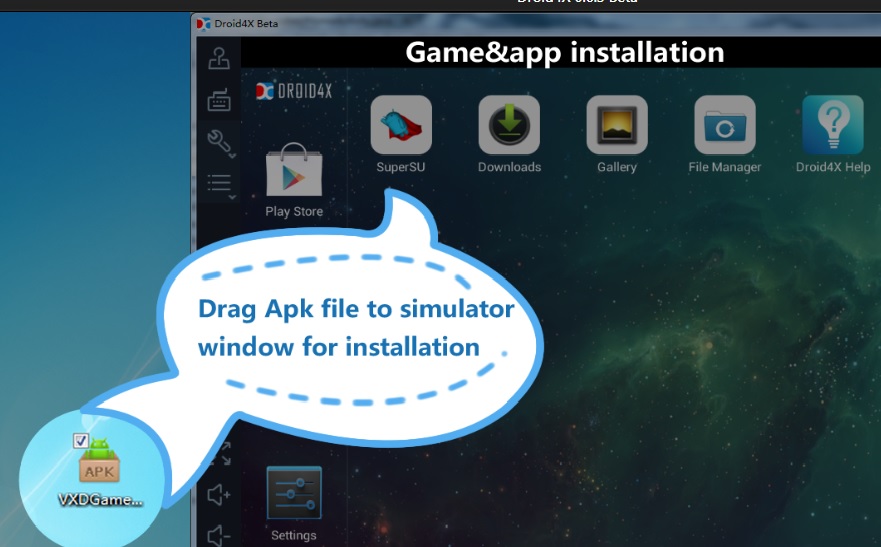 There was a dearth of good android emulators when it came to Mac OS , and Windows too had limited options when it came to free good android emulators & simulators. Fortunately, the scene is changing with some new entries and one of them is – Droid4X!. Droid4X is the sort of Android simulator designed for Power! , it provides complete power to the users by virtue of its speed! and things such as Complete Root Access. Also Droid 4X is an ideal android emulator for Windows Tablet esp(Lix Tablet PCs) Let's have a peek onto some features.
Salient features of Droid4X-
Google Play Store comes pre-installed, very few android emulators barely support it without modifications,let alone coming bundled with Google Play. Droid 4X Android emulator support Google Play.
 Supports

Ctrl + C, Ctrl +V text support

between the host Operating System and the guest Android installation (emulator).
Zoom In- Out supported through Central mouse – wheel (Scrollbar Zoom-in/out).
Best Android emulator when it comes to Gaming!, personally i've never encountered an emulator which supports Gaming to such an extent, you can use keyboard as a controller for Android games.
Provides in-built app for keyboard  mapping, you can map your screen area, actions, touch-gestures etc to your Keyboard keys, which i'll be explaining later in the article.
Click here to download Droid4X Android emulator for Windows 7 /8 / 8.1 / 10.
Click here to download Droid4X for Mac OS X.
Here's a Small Screen-shot tutorial on configuring the Droid4X Keyboard Conrtroller – Mapper
That's it , I personally loved the Droid 4X Android emulator, do comment problems encountered while installation and any such good emulator which you might be knowing!