3 Websites to get hidden Alexa Pro Stats & features for Free! without subscription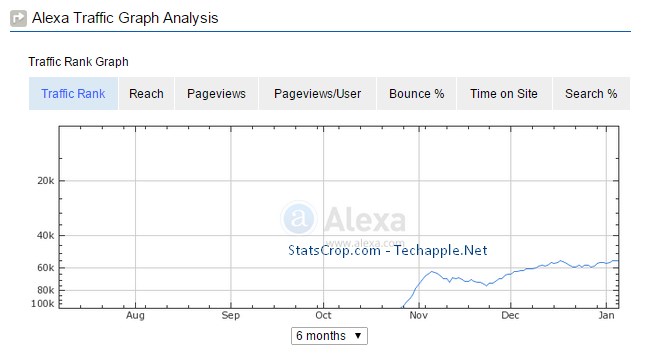 There are only a few reliable sites when it comes to comparing the traffic and overall ranking , statistics of a website like alexa,similarweb,quantcast etc. Alexa.com is perhaps the most widely used one as its more widely used, and provides the basic ranking stats of a website for free!. But Alexa free account doesn't provides deep stats such as Pageviews stats, worldwide trends etc. But you can get those deep stats provided with Alexa Pro Subsciption for Free! by using the following three Websites –
Website # 1 – StatsCrop.com
Nothing comes close to StatsCrop when it comes to tracking the Alexa Traffic data ! . It also provides the SEO Score and optimisation score of the website , Thus the features and services provided by StatsCrop can be summarised as –
Alexa Traffic
Website Load Time
How to optimize website
Website SEO Score
Website Daily Pageviews
Tips to view hidden Alexa Pro Stats –
Once you have entered the URL into the StatsCrop navigate through the different tabs present in the Traffic Rank Graph to check out your site's
1. Traffic Rank with custom time period setting (The custom time setting/interval feature is absent for Alexa free users)
2.Your website's Reach.
3.PageViews and Pageviews/user graph of your website.
4.Bounce % and Time on Site.
5.The traffic graph of traffic referred by Organic Search.
Click here to visit StatsCrop.com and get all the mentioned Alexa Pro features for Free!
Website # 2 – AttentionMeter.com
AttentionMeter.com is yet another website which allows comparison of websites as well as Alexa stats, Quantcast stats, as well as compete stats. Though the primary purpose of AttentionMeter is comparison, but it works with a single website too! . You can view the following Alexa Pro stats for free
Daily Reach.
Daily Global Rank trend.
Daily Pageviews.
Click here to visit AttentionMeter.com
Website # 3 –  Who.is
Now who.is is very popular amongst webmasters to track and identify the ownership details of any given/specific domain.but indirectly it provides a peek to the hidden Alexa pro features too! . With details such as Page Visits per one month ,Page Visits for Last three months in addition to the whois details, makes it a very handy website to feature in this list!
These were some of my findings, if you know of any such Website stats website feel free to comment