Top 5 Free PDF Editors for iPhone & iPad to Edit PDF Files easily on iOS [iPhones & iPads]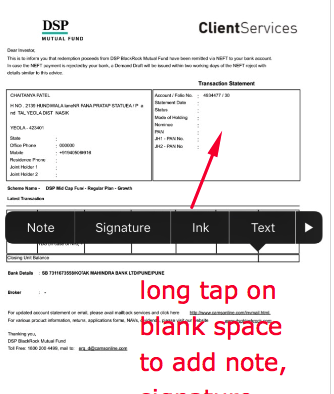 PDF Files are the standard when it comes to sharing documents online. Many times, we receive forms or documents where we need to add data or sign them but are in PDF format. Now, there is a wide misconception that PDF files are uneditable, but it is wrong. PDF Files are editable via PDF editors. The PDF Editors make it easier to edit, sign or annotate the PDF Files. Thus, In this post we compare 5 Best Free PDF Editors for iPhone and iPad , which will let you edit PDF on your iPhones & iPads (iOS Devices).
Top 5 Free PDF Editor Apps for iOS (iPhone & iPads) –
1. Xodo PDF Editor 
Xodo PDF Editor is perhaps the most easiest to use and feature rich PDF Editor for iOS devices. The Best thing we liked about Xodo PDF is its User Interface.
To Edit PDF inside Xodo PDF Editor all you need to do is,
Open the PDF
long tap on any blank area you want to edit 
select the type of content to add (signature, text, note)
Start writing and editing. Easy!
Besides being a PDF editor Xodo also lets you –
Open & convert Office documents (ppt, xls, docx, xlsx) into PDF Files
Create and edit blank PDFs
Annotate content, Sign and fill forms
Click here to Download Xodo PDF Pro from Apple iTunes App Store
2. ZoomNotes Lite
"Looks can be deceiving" that's what ZoomNotes lite proves with its feature rich app. The first look of the app might suggest you that its being shabbily designed, but in the end it is one of the best and easiest to use PDF Editors for iPhone & iPad. Infact, using it on iPad is very quick and smoother than Xodo PDF.
To edit PDF inside ZoomNotes lite all you need to do is tap "A" icon from left hand side pane, then simply tap on blank area to start adding text, signature, annotations etc.
Besides, these it also has a unique easy to use formatting bar which we liked a lot as it enables to change the font face, bold, italic or underline any text you are trying to add.
Also, the basic icons help to reduce the load making it easier to use on all iPhone models such as iPhone 5, 5S, SE, 6 , iPhone 6 Plus, 6S, 7 , 8 or even iPhone X.
Click here to Download ZoomNotes Lite PDF Editor for iPhone & iPad from Apple App Store
3. PDF Max 5
PDF Max 5 is the next best when it comes to being the Free PDF Editor for iOS Devices. Its a good alternative to PDF Element, which sadly has gone so bad that its not there in our article anymore.
To edit PDF inside PDF Max 5, all you need to do is
tap the "yellow" icon we highlighted in the above screenshot
select the type of edit you want to make (Sign, Comment, Annotate, Text, Note)
Then simply tap on that section of PDF where you want to add it, and done!
Click here to Download PDF Max 5 from iTunes App Store
4. Foxit MobilePDF 
Foxit PDF for iOS is a bit disappointing especially comparing it to its Mac or Windows version. Though, Foxit PDF for iOS lets you easily edit the PDF and the User Interface looks attractive, we found the icon based UI a bit confusing.
But, besides that it has some features which are really useful –
Ability to Open and convert PDFs to Office formats (ppt, docx, xls) and vice versa
Open PDF files and other documents directly from Zip files, or export them to zip files
Connected PDFs cPDFs are supported
Click here to Download Foxit MobilePDF from Apple iTunes Store
5. MarkUp – Annotation Expert
Markup as the name suggests is great for adding annotations, comments, notes to the PDFs . But full fledged PDF editing is where MarkUp lacks. You can add text to PDF from Markup but you cannot remove existing data from PDF, which other apps are capable e.g Xodo.
Anyways, incase you are looking for quick annotations, and easy to use light weight app- Markup is just that. However, for full PDF editing experience and removing existing text & image from PDFs we recommend Xodo.
Click here to Download Markup from iTunes App Store
Thus, these are currently the Best PDF Editors for iPad and iPhones. These work on almost all older and newer models as well as iOS versions 8 and later. Incase, if you face any issues or have queries feel free to let us know in the comments section below.