How to Enable Dark Mode Theme on iPhone & iPads [iOS 10 & Later Supported]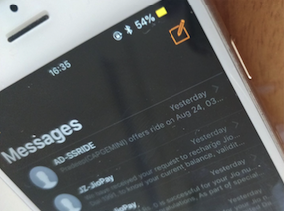 While using our iPhones and iPads at night we strain our eyes, effecting our sleeping behaviour. Though, most of the iPhones come with "Night Shift" which blunts down the blue color to more warmer colors for Night. The Night Shift still isn't enough to reduce the strain on our eyes. Hence, in this article we will cover How to enable Dark Mode on iPhones and iPad which will use black color instead of white thus giving a Dark theme on iPhone and iPads.
Tutorial to enable Dark Theme / Dark Mode on iPhone & iPad –
We will be using the "Smart Invert" of invert colors feature to accomplish the dark mode. The Dark theme will be applied throughout the device, including all apps such as Photos, Safari, Messaging, WhatsApp, Facebook etc. Also, this mode works on all iOS versions later than iOS 10 . Thus, you can use it on iPhone 5S, SE, 6, 6S Plus, 7, 8, and even iPhone X too.
You may even want to check how to apply Blue Light filter on your iPhone for Night Reading
Step by Step Method for using Smart Invert – 
Fist of all navigate to "Settings" option on your iPhone and iPad.
In the Settings, please navigate and tap on "General"  option as shown in the screenshot below –

Inside the General settings, Tap and select "Accessibility" options as shown below –

We need to select "Display Accommodations" here , this setting is here which will adjust our Display for the Dark mode theme. Please select Display Accommodations as shown below –

Now the Display Accomodations has various settings like Invert Colors, Auto Brighntness. We will be using "Smart Invert" option inside the Invert colors to change our theme. Hence, Click on "Invert Colors" option here –

Now, inside the Invert Colors settings. Please find the "Smart Invert" option and turn it On. The Smart Invert option automatically inverts bright colors such as white in apps with black, without changing the real image colors. Toggle the "Smart Invert" option to turn it on as shown below –

Congratulations! You have now enabled the Dark Mode theme on your iPhone or iPad. The Smart Invert is a handy optionWhich results in a beautiful Dark theme mode in iPhone and iPads by managing screen display colours with AI , resulting in a great dark theme as shown below.

Thus, you can now use your iPhone and iPads even at night without damaging the eyes. The only con will be that the screenshots you take will be again converted to normal colors when you transfer or upload them. Hence, i had to take the screenshot with my other phone.