How to add Face Unlock in any Android Phone | Use FaceID unlock on Android apps & lock screen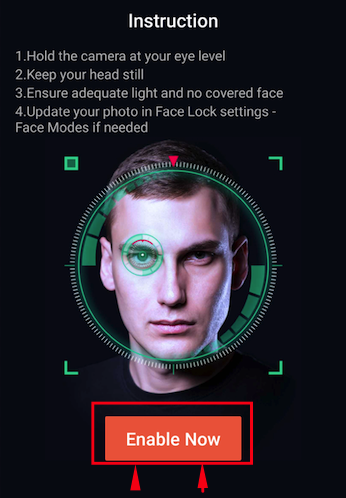 With iPhone X Apple made the face unlock or FaceID popular. While, the touch id or finger print unlock is now easily integrated into most Android phones, the face unlock feature isn't. Only a few flagship smartphones have the face unlock feature. Hence, in this tutorial we will cover How to add and use Face ID lock & unlock on any Android phone or tablet. This method works on older android versions such as KitKat, lollipop, marshmallow and Nougat too.
Tutorial to Add and use Face Unlock on all Android phones and Tablets.
Now, since Face ID lock & unlock algorithms are not present in the default lockscreen security or default app locker. We need to install Iobit Applock app which will allow us to use Facelock on Android . Please use the below link to download IoBit face unlock app –
Click here to Download IObit Applock : Facelock app for Android from Google Play Store
Once, you have downloaded the app launch it for the first use. Now, we will configure the face scan and unlock step by step as mentioned below –
Step . 1 – Set up a Default Pattern or Pin for Unlock
After, launching the app for first time. IObit will ask you to set up a default pattern or Pin for unlock. This step is important as it helps to improve the security of lock. Hence, please set up the default pin or pattern to unlock the phone as shown in the screenshot below –
Step . 2 – Adding Apps & Lockscreen lock-unlock permissions to IObit
Now, in order to lock or unlock your phone IObit app locker needs to have control over the launcher and other apps. So, that it is launched first before opening the other apps.
Hence, we will need to add app to be locked under the IObit face lock. Tap on the "Open lock" beside the Screen lock app, and other apps you want to lock with your pin,pattern or face. Once they are locked with Iobit then we can use all the three methods.
Note – Open lock  will turn to Close lock once the app is linked to IObit as shown in the above screenshot. Please enable screen lock and other app lock for Iobit.
If it asks for usage access, please toggle it on as shown in the below figure –
Step . 3 – Enabling Face Unlock Feature –
Here, we will enable the face unlock feature of the IObit app. To do so, navigate to menu by tapping the "3 horizontal lines" at top left hand side corner as shown below –

Now, from the drop-down menu select "Face lock" feature as shown in the following screenshot –

It will now start downloading AI database for face lock as shown. Please wait until the bar reaches 100% and complete data is downloaded.
Step . 4 – Enabling the Face Unlock Feature and Adding a Scanned Trusted Face – 
Once, it has downloaded the database, it will now ask you to move to a well-lighted area for face scan. Here tap on the "Enable Now" button as shown below –

Now, your face scan screen will open. Here, place your face in the circle highlighted in the screenshot below. It will automatically scan and save your face –

That's it! After scanning your face in the circle it will redirect you to the "Face lock" screen.

Here simply tap on the "Grey face box" to enable face lock for the corresponding app. If the face is

grey = face unlock disabled

, if face is coloured = face unlock enabled. It can be easily toggled on or off by tapping as shown in the figure below –

That's it!. It will now ask you to scan your face to unlock the screen or the added apps.

Congratulations! you have now successfully integrated iPhone X like Face ID unlock on your Android phone. Incase, if you face any problems or difficulties feel free to comment.