How to Post & Upload 360 Photos to Facebook from Mobile [Android & iOS]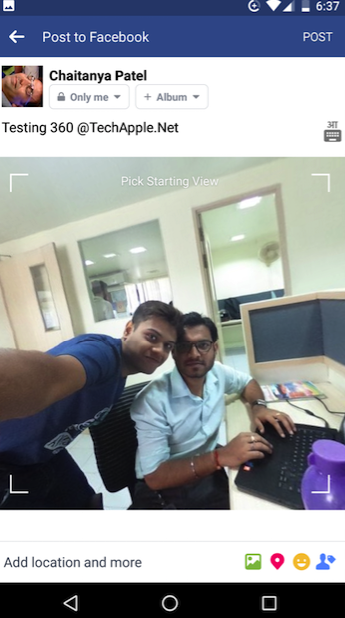 360 Degree photos or Full Panoramas is the new trend in the Market. 360 Photos capture the complete view of you, and your surroundings and thus make a good post of sharing your location and photo gang on Social Media. The good news is Facebook does support 360 Photos and has an inbuilt 360 photo viewer through which your friends can view the complete photo by either moving fingers or by rotating their phone. Here's a tutorial which will let you Upload 360 Photos to Facebook from your mobile [Android as well as iPhone (iOS) ] so that you can reveal the complete beauty and scenario of the Photo –
Tutorial on How to Upload 360 Photos to Facebook –
Pre-Requisites :
A 360 Degree Photo (Panorama Photo), Copy the Photo from your Camera to your Phone Storage (This step is necessary , for example, I copied my 360 Photo to Phone Storage via WiFi (Theta S 360 Camera).
Facebook App (Installed on your Phone). You can even upload photo without Facebook app, but it won't let you select the Start Screen of the photo hence, using app is highly recommended.
Since, we are using the Facebook App, the procedure is common for both Android and iPhone (we will be using Android in our tutorial)
Tutorial –
Once, you have copied the Photo to your Phone Storage. Open the Facebook App, and navigate to Profile.
Here, Select "Photo" option as shown in the image below –

It will now open all the Photos in your Phone Gallery, as shown in the image below –

Now, check for the presence of circular "globe" icon inside the thumbnails of the photo (the 360 degree photo you intend to upload – As Facebook automatically detects photo type – Globe icon in thumbnail indicates 360 photo)

Now, if you can see the globe icon in thumbnail, its very easy. Simply select the 360 photos you want to upload (Photos with Globe icon) and click on "Done".
The photos will now be uploaded onto the Facebook server , and it will now ask you to swipe to select the sharing or first screen Starting View as shown in the following image –

Note – First Screen or Starting View is the first thumbnail which is shown in your profile, so make sure you select the best view inside the 360 Photo, so that your friends will be interested in viewing it!!

(Swipe using your finger inside the photo up, down , left, right to select the best view as first screen.

I swiped around the photo and selected the first screen as shown below –

Now, type in any caption, text for the photo and tag location and your friends inside it and Once everything is done, we are ready to post.

To Upload or Post it on to Facebook, simply tap on the "Post" button in top right hand side corner.
Phew! You have successfully uploaded, tagged people and location in a 360 Degree photo on Facebook!.
Here's how it looks like – Check out the below embedded snippet from our Facebook Page and get a feel of our workplace! 🙂
Note – Currently Facebook Embed doesn't has a 360 support, click on the post to go to page and view the complete 360 Photo and browse our workplace. Feel free to comment below incase of any problems or difficulties while uploading 360 degree content to Facebook!