Top 5 Free Personal Finance Apps in India to Increase Money & Bank Balance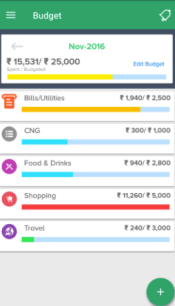 Managing personal finance or money is perhaps one tedious task which all of us do, Considering the fact that we have to keep an eye on the incoming money, salary, expenses, bills, insurance, tax, investments, and now even offers & deals becoming a big part of transactions the task has become even more tricky. But not anymore, In this article, we present you the Best 5 Personal Finance Apps in India which will help you to manage your money more efficiently and even increase & grow it.
Top 5 Personal Finance Apps in India to manage & grow Money!
App # 1 – Walnut
In order to manage money & personal finances, we must first know how much money do we have in our wallet or bank accounts. This is exactly where Walnut comes to the rescue.
Walnut analyses your transactional SMS and gives you valuable insights such as –
Bank account balances of all your bank accounts.
Majority spending areas of your spends for last month/week/year e.g., food, travel, bills, etc
Besides, it even lets you pay your Credit card bills & find out Cash ATMs
Click here to Download Walnut App from Google Play.
App # 2 -mTrakr
Budgeting is one of the most important components of managing your personal finances, and the best app we found out for budgeting for Indians was mTrakr.
mTrakr lets you plan your budget for the future period and helps you follow it.
It does so by automatically categorizing your online purchases by their Transactional SMS, and also it helps you keep track of your cash spends by asking you to input cash spends.
Besides, mTrakr even lets you plan for your Tax, by helping you by notifying spends which can be claimed as tax exemptions or income as reimbursements.
Click here to Download mTrakr from Google Play Store.
App # 3 -Money Control
Money Control is the best portfolio manager for Indian Markets and Citizens. It helps you to create your portfolio of your Income & Investments and helps you to monitor your daily ups & downs.
You can Specify your fixed income sources such as Fixed Deposits, Salary, as well as the investments done in the Stock Market & Mutual funds along with the quantity, price & date, units purchased of securities.
The App automatically then adjusts your investments and income against the present stock value and helps you to get an Idea of how quickly your money is growing or its stagnancy.
Money Control also gives you news about the financial markets and tips on investing and managing the money and hence is a good app to keep on the Cell phone.
Click here to Download Money Control App from Play Store.
App # 4 –  ET Money
We have covered Apps which helps you to track incoming money, investments, outgoing money as well budgeting. We didn't cover any app for investing money and here it comes- ET money.
ET Money lets you easily invest in top-performing mutual funds in one-click and without any paperwork!
Thus, the money which was ideal in your account gets active and starts growing.
Besides, helping you invest money. ET Money also analysis your most spending areas and comes up with exclusive offers which will help you to save money by spending smarter. E.g., Special Uber rides credit card
Click here to Download ET Money App from Google Play Store
App # 5 – Qykly
Qykly is an expense manager app which will help you to manage your expenses daily/monthly included.
It helps you manage your expenses by setting up automated bill reminders, also it predicts your after bill payment bank balances, by analyzing the bills set up and the current bills.
Besides, Qykly also provides some handy features such as automatically tracking PNR from your PNR Status, auto tracking & reminder of the arrival time of your online purchases. Thus, saving your time to manually checking these.
Click here to Download Qykly App from Google Play.
Thus, these are the Best Personal Finance Apps for Indian users which will help you to save, invest and grow money too.