WhatsCall Review : Free Worldwide calls without Sim Card via App over WiFi Internet Connection to any phone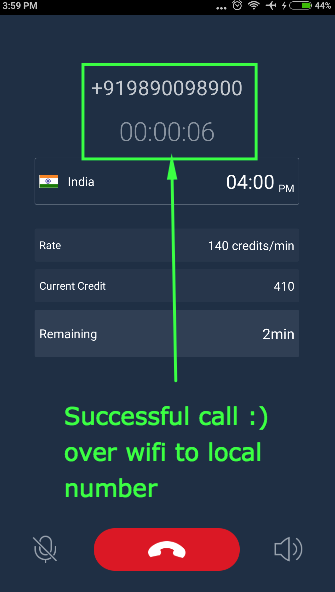 Recently I was in International roaming, and had to call the roaming country's phone number but my sim didn't had any outgoing over there in the foreign country. But still I was able to call over the Hotel Wifi only because of WhatsCall App, I had it verified and it was neatly able to call a local number over Wifi for me. So, here comes the WhatsCall review -an app which gives Free Worldwide calls over wifi to any phone or mobile number.
Salient Features of WhatsCall – 
WhatsCall lets you call any landline or mobile number over your WiFi or internet connection totally for free!.

It does so by charging you on WhatsCall credits which can be earned easily by using the WhatsCall app itself no money required!.
There are lots of easy ways to earn Free WhatsCall credits –

You get Free 1000 Credits on Signing-up & downloading the app –
Free 300 Credits to complete your profile.
You even get credits to Download apps, from the "Credits" section.
Watching Video ads gives you 50 credits.
and many more…

Thus, its really one app which will be really handy, as it will help you to call online to offline phone incase you run out of balance / talktime.
Review & Pre-requisites –
First of all download & install the WhatsCall app from the link below –
Click here to Download WhatsCall app.
Now, since it requires mobile number verification, Please enter your mobile number and verify using the verification code sent on it.
WhatsCall is ready!
How to place a free call via WhatsCall ?
Since, I didn't had the screenshots ready on my foreign trip, i tried to simulate and create the same scenario –  Local offline phone calls over internet using WiFi with Airplane mode on!
Now, since AirPlane mode ensured my phone won't be receiving any signals, I connected to WhatsCall over Internet using Wifi and then started calling from the dialling screen as shown below –
On the dial screen, as shown in the above image – Select the Country which you want to call.
Type in the mobile number whom you want to call.
Press the call button.
That's it ! now wait for some time, until your call is magically connected over the internet connection to non-internet number , as shown in the below image –

Call Quality of the app is awesome : Infact the normal mobile calls over Wifi sometimes show distortion on Docomo, Jio but WhatsCall did a good job!. The Clasrity depends on your internet connection though, it requires a decent internet connection.