How to Access & open YouTube website in Material Design view!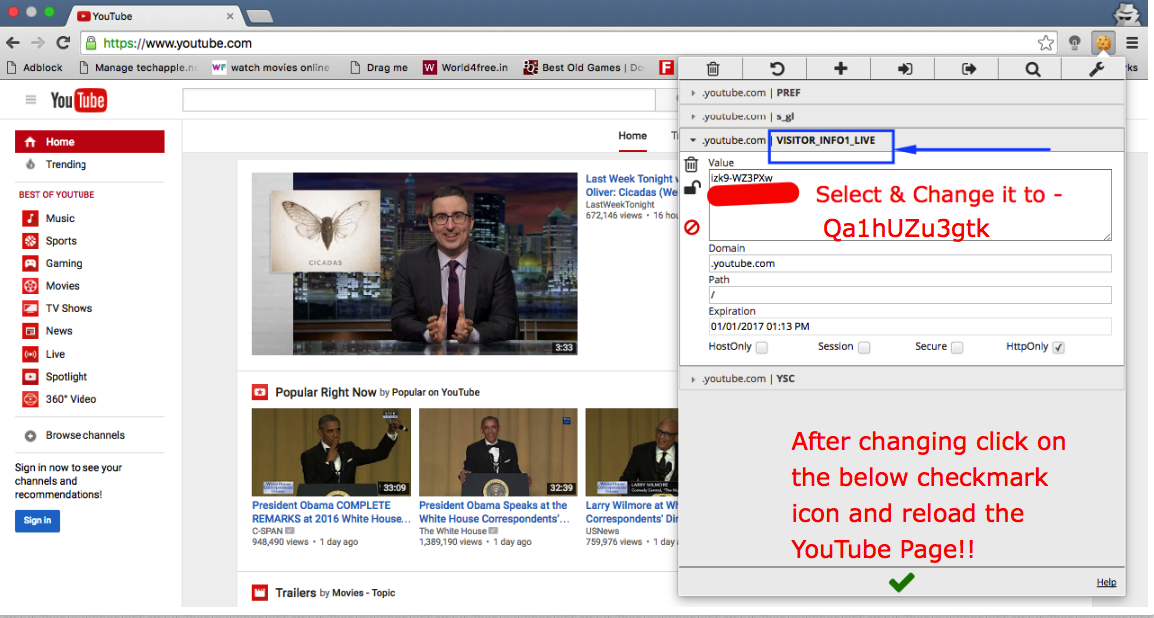 Google has confirmed that its testing the material design on YouTube. This re-designing of YouTube layout took almost 2 years to come and is currently in Beta. However, You can access this Beta version on your PC or Windows Computer and even Mac OS as well by a few tweaks. Here's a small guide which will enable you to Access & Open YouTube website in Material Design View .
Pre-Requisites –
Preferably Google Chrome Browser , although We tried and it worked on Chrome & Mozilla Firefox as well.
A Simple Extension for editing the Cookies , We recommend Edit this Cookie extension.
Method to Access YouTube Material Design Website –
First of all Download & Install the "Edit This Cookie" extension from Google Chrome Store / Opera Store / Mozilla Add-ons repository from the links below –
Click here to Download Edit This Cookie extension for Google Chrome
Click here to Download Edit This Cookie Add-on for Opera.
Once you have installed the extension , it will add a cookie icon in the address bar of your browser.
Now, either sign-out of all your Google Accounts on your browser, or simply Open a New Incognito Tab.
In the incognito window or once signed-out of your account, Navigate to the below YouTube USA URL by clicking the link below.. (The Material design view tweak currently only works on the US URL Below) –
https://www.youtube.com/?gl=US – Click here to Open the YouTube USA URL
Here comes the Main Part.. Once you have opened the YouTube USA Link in incognito window – Click on the "Cookie" button in the right-hand top corner and look for the option labelled "VISITOR_INFO1_LIVE" as shown in the image below –

Here expand the "VISITOR_INFO1_LIVE" option and delete the existing text inside the "Value" box, Replace the text with "Qa1hUZu3gtk" without quotes. It should look like shown in the following image –

That's it ! Now simply "Click on the Checkmark button" at the bottom and reload the YouTube USA Page!

Voila! .. You'll see the New Material Design of YouTube loaded right in your browser.. as shown in the below image –

You can even use options search as search and view the redesigned Channel Pages .. They look absolutely stunning – For example below is the screenshot of IPL 2016 YouTube channel –
I Personally, liked the new YouTube design 🙂 , Did you like it ? What are your views ? Do let us know if you face any problems while accessing the new layout.