CrownIt App – Get Cashback on all Online & Offline Spends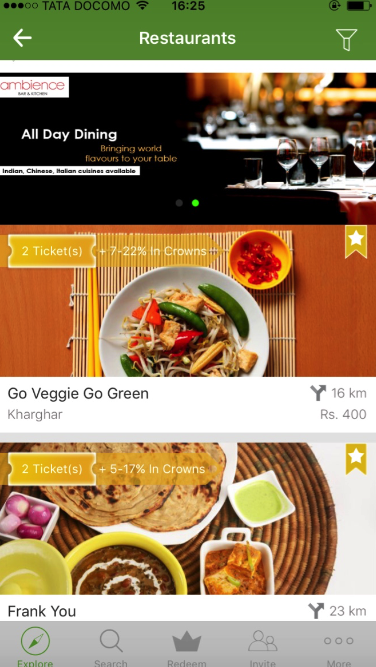 There are loads of Android apps which give Cashback on online purchases, but very few when it comes to getting good discounts and cashbacks when it comes to local deals. But not anymore, CrownIt is an awesome app which will get your Cashback on swiping your hotel bills, cafes, spa bills and even pharmacy bills!. This makes spending a bit sweeter after all your desert after a meal becomes free due to the cashback!
Steps to Earn Cashback from CrownIt App –
First of all , Download & Sign-up on CrownIt app from the link below –
Click here to Download CrownIt App from Google Play or Apple iTunes Store.
After the app has been downloaded, Open the app, now the app will automatically search the nearby stores according to the category selected as shown in the image below –

Now after tapping on the restaurant/cafe name, it will open the restaurant menu.

Now simply tap on "Tap to Open wheel" option as shown in the image below , it will help us to determine the cashback rate for the cafe as shown in the image below –

Now, after opening the wheel Tap it again to "Tap to Spin it" as shown below –

Now the wheel will spin, itself and the cashback rate will be shown. Now simply scan your Restaurant bill within 3-6 hours from the spin, and bill generation to get your desired cashback in your CrownIt wallet!
Very Simple, isn't it?
Where can I redeem my CrownIt Credits ?
Well, Now getting CrownIt coins was an easy-task but we might want to redeem our earned cashback too.. , Steps to redeem your CrownIt cashback too is very simple.
There are loads of options such as Mobile Recharge and even online shopping vouchers for stores such as Flipkart, Amazon, Paytm and even Pizza Hut & Dominos! .
Thus, makes even more sense as you can earn yourself a free treat just for snapping small bills in restaurants as shown in the alongside image.
Do let us know your views on Crown It app in comments, also do let us know if you face any problems while using the app.