How to Compress Videos on Android by Video Compressor App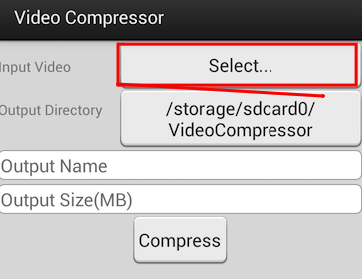 The Size & Quality of Videos are increasing at a rapid rate as compared to the Phone Storage. Thus, Videos now take up a good size of disk space on our Android phones . This imbalance in increase of Video quality doesn't match the speed of increase of Storage on Android which leads to lesser phone memory available for apps, and internal phone memory becoming full. So, In this tutorial we will cover How you can Compress Videos without losing quality on your Android Phones to free-up more storage.
Tutorial to Compress Videos on Android without losing Quality –
First of all download & install the Video Compressor App from the link below –
Click here to Download Video Compressor App from Google Play.

Launch the Video Compressor App from Menu, Not to be confused by its User Interface, the light user-interface elements of the app actually make it function faster as compared to other Video compressing Android apps.
Once you launch the app, In the label named as "Input Video" tap on "Select" as shown in the alongside image.
After you Tap on Select you will be asked to enter the source of the video from where you want to select the video file (We will be using "Gallery" as shown below –

Browse through the gallery and select the video you want to compress, Once you select a video a "Play" icon will appear on the video as shown below –

Now, click on the Play icon to select the Video.

 Once you have selected the Video, you will be redirected to the App with the File location as shown below –

Now simply tap the "Compress" button.

That's it! your video will start Compressing to the size you specified 🙂 , depending upon your phone hardware this step may take some time.
Now, Once your compression is finished, Please delete the original Video to free-up more space.
You can easily compress Videos from 10mb to 2mb & thus gain extra 8mb each time you delete the original video file!
For More such tips to increase and free-up Phone Storage – Click here for 7 Best tips to free up internal Phone Storage.