How to Access & Open Flipkart Lite Version on your Mobile Phones! (Android / Windows Phones)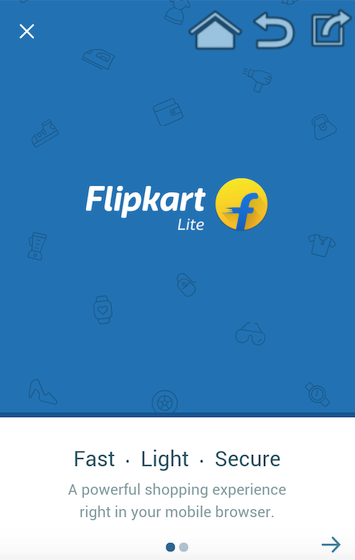 Flipkart has recently launched its "Flipkart Lite" version which is basically a Web App which let's you access , open & shop on Flipkart without installing its App! . Thus, Now you will be able to access Flipkart directly by using the Flipkart Lite URL. Not only this, Flipkart's lite version also works when we are offline, thus allowing us to use Flipkart even if we are offline!. Following are the steps to use the Flipkart Lite URL Version.
Pre-Requisites – 
Steps to Use Flipkart Lite Version –
Now, considering you have latest Updated Google Chrome or Opera Browser, Open the Below Link URL of Flipkart Lite Version on your latest updated browser.

Click this Flipkart Lite Link URL Here to Launch the Flipkart Lite Version. 
The URL won't work if your Mobile browser (Chrome / Opera isn't updated one) If you access the Version on your PC it will redirect you to PC version.
You can Bookmark the following link for Faster Access – > goo.gl/Pe1DJb
Woah! You will now be navigated to Flipkart Lite web app that too without the app! . Check the alongside Screenshot of Flipkart Lite website.
All in all Flipkart Lite Version is a complete interface for Flipkart including log-in support, category browsing and even Payment as shown below –

So, Now there's now no need to keep Flipkart app at all as the Flipkart lite version itself is capable of remembering your account, your cart contents and even your wishlist.

Thus, We highly advise uninstalling the Flipkart app & start using the Flipkart Lite app instead to save even more space on your Mobile device.
A Sample Browse Page on Flipkart Lite Version –

Not to forget, you can even get Notification of offers & discount deals via Chrome API , So literally you miss out on Nothing!