How to Block Ads on Safari iOS: iPhone or iPad using Presto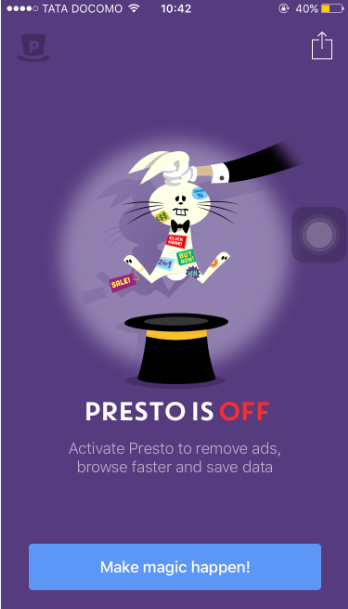 Our browsing activities are constantly tracked and so is our privacy breached , this is done by malicious scripts which run in your web browser while browsing low-quality websites. Now, in order to save users from such tracking Apple included Content Blocker support in Safari browser from its iOS 9 series update. Here's a tutorial explaining How you can use Presto –  A Free Content Blocker app to block ads on Safari browser for iPhone & iPad .
Before we move onto tutorial to use Presto, let us point out some salient features of Presto App –
Presto is able to block ads on Safari Browser and works on iPhone & iPad (iOS 9 or later required).
Lock all banners, pop-ups and video ads . (Blocks YouTube ads on iPhone)
Reduces Data usage consumed while serving ads, thus helps in Saving money.
Get the best privacy protection built with anti-tracking
Block Lists specific language.
So, Presto is a really a good free-feature rich Ad Blocker for iOS, here's a tutorial on How to configure Presto Content Blocker – 
First of all download & install Presto app from the iTunes App Store by clicking below –
Click here to download Presto Content Blocker from AppStore.
Now, Open the Presto app and tap on "Make Magic Happen" button, as shown in the alongside image.
After tappin on the button you will be shown a tutorial on how to Activate Presto, Here simply tap on the "Go to Settings" button as highlighted below –

When you tap on "Go to Settings" you will be redirected to the Safari Settings on your iOS Device.

Now Scroll down until you find "Content Blockers" in general tab.Now Tap on Content Blocker as shown below –

Now, when you tap on Content Blockers, You will find the "Presto" togggle, simply toggle it to right side to activate the Presto app –

That's it, Now simply launch Safari directly or through the Presto app to enjoy ad-free , tracking free and a pleasing smooth browsing experience in Safari browser on your iPhone or iPad!.