Top 5 Nes Emulators to Play Nes Games on Windows 10 / 8.1 /7 (PC /Computer/Laptop)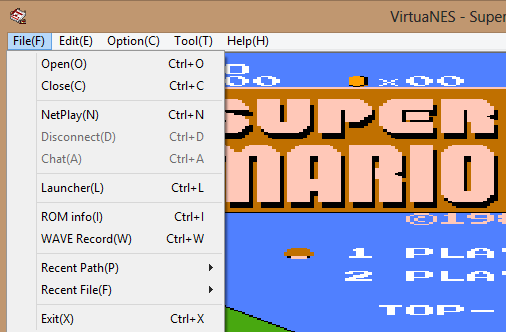 The Nintendo Entertainment System (NES Console) was perhaps the Best source of Joy & Happiness for a 90's Kid, it was atleast for me and some of the greatest games such as Super Mario Bro's , Super Contra , Tanks 1990 and many others were available very easily. These NES Games though lack in Graphics, Gameplay as compared to Today's games but when it comes to giving a competition to the new Games they give a good punch to them be it in Competity Level, or be it Fun & Adventures. So, In this article we bring you the Top 5 Best Free NES Emulators for Windows 7 & 10, so as you can Play NES Games on your Computer without the need of having a NES Console. And ya , not to forget all NES Games are actually 8-bit ROM's (or max kB's)  and these emulators size anywhere between (1 mB- 5 mB) so in a few mB's you can get 100's of games where a typical new game would easily cost few GB's .
Note : These emulators don't come in with in-built NES games (ROMs) , so if you need to play any game of your choice , you may need to download ROM for playing on the emulator . NES games roms are freely available on the following  links – RomHustler.Net , FreeRoms.Com and you can search on google too for Nintendo or NES roms.
Top 5 Free NES Emulators for Windows 10 / 8.1 / 7  to play Nes Games on PC / Computer
FCEUX Nes Emulator comes with a lot of exciting features, makes your gaming Fun! . FCEUX is pre-loaded with features such as hex editor , Debugging mode, Video recording , Full Screen view, Joy Stick support and so on..
Some Salient Features of FCEUX Emulator are
FCEUX  can load files of NES, UNF, NSF, FDS, RAR, ZIP and GZ formats.
Support for various Gamepad , And Joystick controllers.
Input Configuration is provided to set up controllers.
Presets for custom controls are available for your preferences.
It can save any game at any point.
Recording option is available both audio and video.
The Emulator works on any Version of Windows XP and later, we ourselves tested the same on WIndows 8, & Windows 10 64-bit.
Click here to Download FCEUX NES Emulator for Windows 7/8.1/10
Nestopia is one emulator which is handy as well as good. Its very light on resources, has ability to custom resize the game video rendering screen as well as an auto-saver as well so that your game status is automatically saved.
Below are some Salient features of Nestopia –
Cheat code support.
Well-organized interface.
Wide range of options.
Customizable controls.
It can connect external devices.
Simulateously Four players can play a single game via keyboard.
It can save games at any anywhere at point.
Click here to Download Nestopia NES Emulator for Windows.
# 3 – VirtuaNES :
The active development of VirtuaNES stopped wayback in 2007, but it still doesn't hamper its compatibility nor it needs active development as it still works flawlessly on Windows 7,8 and even Windows 10 too!. Now coming to the features – VirtuaNES is highly customizable with features such as –
External Gamepad & JoyStick Support.
Active Cheat Code Support.
Support editing memory hex locations so that you can even try out new cheats!.
Supports Full-Screen play as well as resized windows adjustment.
Click here to Download VirtuaNES for Windows 7/8/10 (32 bit & 64 bit)
# 4 – jNES :
Jnes is one of the extensively used NES emulator, It is not only  widely used but is also wuite stable. Jnes comes with pack of features, and is probably the only emulator which has an Android App as well, Thus, the large fan following ensures that you get the best features each time-
It supports NES or NSF format in order to load the game.
jNES allows you to use controllers in order to recreate the gaming experience.
jNES NES Emulator allows you to adjust sound by enabling the sound channels that you want to hear.
Click here to Download jNES Emulator for Windows 7/8.1/10 (32 bit & 64 bit)
# 5 –  : Nintendulator
Now the name of this emulator is really brainy as it conveys what it does in some style. Nintendulator is a NES System emulator written entirely in C++ , which makes the emulation as realistic as possible with great speed! . This emulator impressed us on the following features –
Inbuilt Game Genie support for auto-play.
Inbuilt USB Gamepad support! (Now that's really cool).
Soft-rest & hard-reset as found on the original console.
Click here to Download Latest Nintendulator for Windows 7 / 8.1 /10
So, these are best Nes Emulators because we came across after our trials and choose the best among those. Try them , they all are free to use and go into the past to enjoy those moments!
NOTE : Just in case, If you do not understand any part of the post or tutorial, Do not hesitate to contact us via email or comments.