How to Add Home/Back Soft Button Keys on Android without Root [No Rooting Required]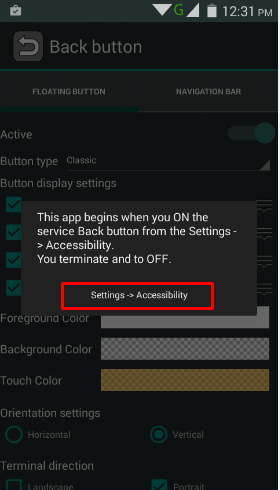 Recently, One of my Android Phone's hard key buttons stopped working – The hardware keys of Menu, Home & Back below the screen were not operating . This left me looking for some alternatives and I found this easy method to Get back or Enable Home, Menu & Back soft keys on Android phone's screen. Thus, saving me the costs required to replace the damaged hardware key's , Here's how you too can do the same on your Android Phone –
Method to bring Soft Menu & Back Soft keys using Back buttton App for Android (No – Root Required)
First of all you need to download the Back Button App for Android from the below link (Its a Free App) –
Click here to Download Back Button App for Android from Google Play.

Once you have Installed the back button app, when you launch the app it will display you a dialog box asking you to enable Back Button from Settings – > Accessibility – > Back button . Enabling the back button option in Accessibility is compulsory to activate the app, Here's how you can do it –
Go to Settings – > scroll down and tap on Accessibility , there you will see an option for Back Button as shown below –

Now , tap on the Back Button Option and turn it "On" as shown below by sliding the off switch to right side to make it display On –

Once you have enabled the back button in accessibility , return to the Back Button app . Now here activate the buttons by sliding the Active toggle to right hand side as shown below –

Now, once you have Activated the App, The Soft Key buttons will instantaneously appear on your screen as shown below –

Now, you can customize these buttons as much as you want, you can drag & move them around, or you can lock them upto a particular location.

You can even change their size, their icons, their transparency and play around. Thus, no longer requiring to change the hardware keys. If the app doesn't work or if you face any issues feel free to comment.