3 Ways to add/install desktop gadgets for Windows 8/8.1/10 | Gadgets in Windows 8/8.1/10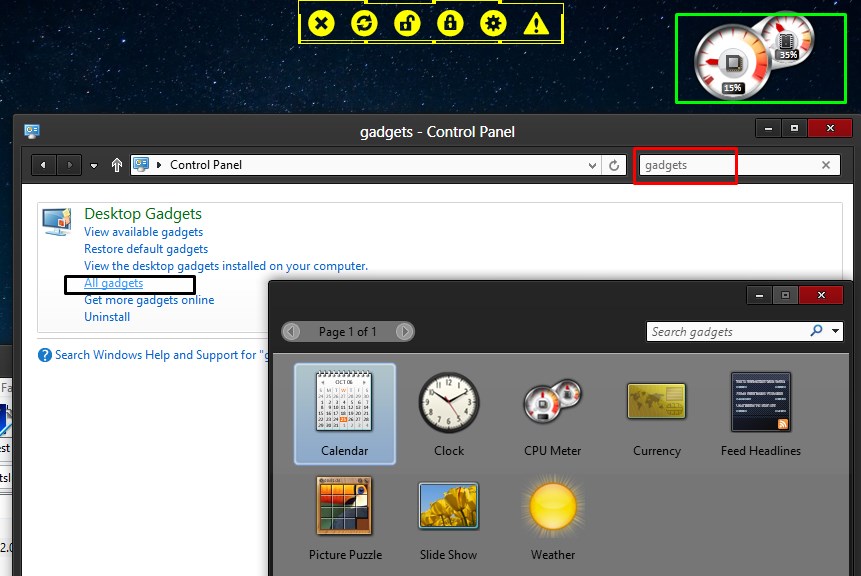 Windows 7 was very cool, and one of the many things of Windows 7 which i liked were – Desktop Gadgets!. They were cool in every way, they showed CPU/Ram Status, News feed, Weather etc and lots of important stuff right on desktop!. So, i tried to add Gadgets in my Windows 8 installation and found these 3 best softwares to install desktop gadgets for windows 8/8.1 or to add gadgets in windows 8/8.1. Though, I have tested them in Windows 10 Technical preview , i hope they'll work in the final release as well.
Way # 1 – Desktop Sidebar/Gadgets installer by Gadgetsrevised.com
This is perhaps the most simple yet safest way to add Gadgets to your Windows 8/8.1 installation . All the Gadgets, sourcefiles are from Microsoft hence assured of being virus-free.
Steps to add Gadgets in Windows 8/8.1/10 through Desktop Sidebar installer
Download and Install the Desktop Gadgets installer by clicking here. (Just 5 MB in Size)
Once, you are done with the installation, go to Control Panel.
In control panel, Search for "Gadgets" .
As shown in the alongside image, Some results for Gadgets will appear – Here select the "All Gadgets" option. (Highlighted in the Black rectangle in the alongside image).
In the dialog-box opened, you'll be shown various Gadgets, Now simply

double-click on the Gadget

you'll like to add and voila! it will be added to your desktop!.(Highlighted in the Green Rectangle in the alongside image).
This is the most-easiest way to install/add Gadgets on your desktop.
Way # 2 – 8GadgetPack
8GadgetPack is yet another freeware which allows easy addition of Gadgets in Windows 8/8.1/10 . besides this you can even install 3rd party Gadgets ( .gadget files) with this software likewise in Windows 7!.
Method to use 8GadgetPack
Download and Install 8GadgetPack from here.
Once you're done with installing, launch the "8GadgetPack" from the Start menu, if not executed/run after the installation.
Now, Click on the Gadgets you want to be shown, they'll appear in the Sidebar!
You can even disable the Sidebar fence by right-clicking in the blank area of the Sidebar and select "close sidebar" option, the Sidebar will be closed but the Gadgets will still be intact!.
Way # 3 – Rainmeter
Rainmeter provides endless Widgets and Gadgets customisability!. There are no limits for the functionality of Rainmeter and customizability provided by it – hence, I have covered them all in this separate – Rainmeter Tutorial – Windows 7/8/8.1/10 .
Providing just a sleek-peek at what Rainmeter can do –
I hope, you too will be able to add your favorite gadgets in windows, If you face any problem feel free to comment 🙂