5 Free iOS – iPad & iPhone File Explorers for Mac/PC (Windows 7/8.1/10) | iPhone to Mac/PC file transfer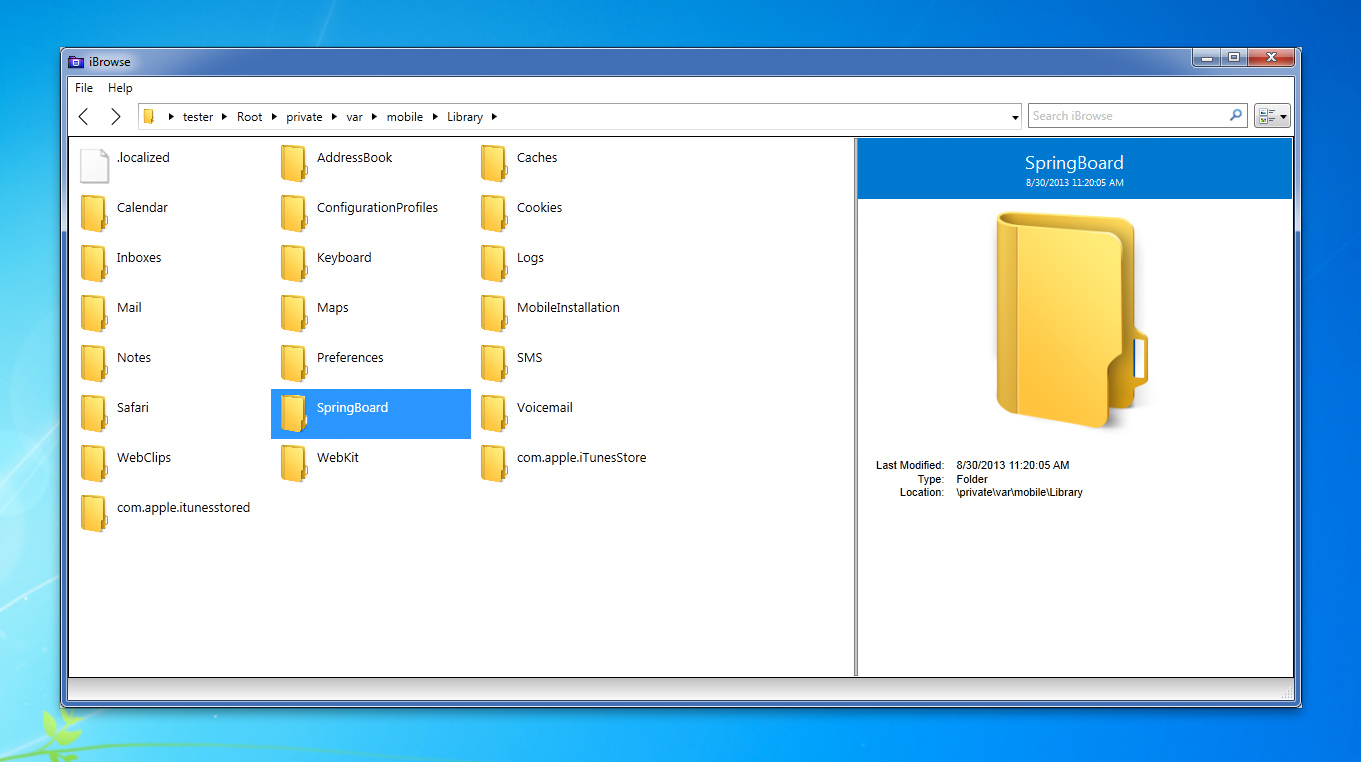 Transferring files from an iOS device iPod, iPhone or iPad to PC is a really cumbersome task as iTunes provides support only for PC to iDevice (iPhone/iPad) and not vice versa. Many times we need to copy the files/data from our iPhone/iPad to PC/Mac and it becomes a difficult task as all iTunes allows us to do is sync/create a backup and its very difficult to explore that backup too. Plus due to lack of native file managers for iPhone & iPad – We bring you 5 Free iOS (iPad/iPhone) iPod File explorers for Mac OS/Windows which will allow to do such Device – iPad/iPhone to PC file transfers! that too without Jailbreaking (No Jailbreak) your device,thus not compromising on your device's warranty. These apps can also be used as default iOS file manager app for iPhone & iPad too –
Software # 1 – iBrowse 
iBrowse was the first software I tried and it worked with a bang even on iOS 8. I was able to browse all iPhone files and folders on my iPhone and explore even the app data files present on my iPhone like whatsapp images,media etc . To export any file (iPhone/iPad to PC file transfer) all you have to do is –
Navigate to the folder/desired file you want to export . ( believe me this is the most daunting task! ).
Now select it by left-clicking on mouse , now right-click on the selected file .
Select the "export" option , select the destination folder where you want to save the file in the popped-up explorer window.
Hit on "OK" and that's it! your file will be exported to PC!
Thus, you have successfully completed your iPhone to PC file transfer!
Requirements –
An iOS device 😛 (iPad/iPhone/iPod)
iTunes 10 or later installed on the system.
Windows XP /Vista/7/8/8.1/10 or Mac
Click here to download iBrowse for Windows (Install iTunes first then only install iBrowse). (Size – 7 MB only)
Software # 2 – iFunBox
iFunBox is yet another smart File Manager cum App Manager for your iOS device. iFunBox may be defined as an alternative to iBrowse but it has additional features such as App Management –
You can uninstall/remove apps present on your iPhone/iPod/iPad.
You can even install apps from .ipa files to your device from your PC. (The installation is safe as the apps are installed in a safe "sandbox").
Also you can batch install apps and manage your device apps and games with ease.
Requiements –
iFunBox is very easy to use with dual function panes, hence its easy to use it!
Software # 3 – iMobie – PhoneBrowse
iMobie's Phone Browse is yet another 100% Free File Explorer and App Manager app for iOS devices .
It provides a free iOS file manager app which allows you to manage files on your device. You can transfer files from PC to iPhone and also vice versa.
It also even allows advanced customisation of your iPod/iPhone/iPad – You can change your apps' icons , text , sounds etc.
Click here to download PhoneBrowse for PC.
Click here to download PhoneBrowse for MAC
Click here for complete tutorial-guide on using PhoneBrowse.
Requirements –
.Net framework 4.0 or higher installed.
iTunes 9 or later.
Windows 7 & later..
Software # 4 – iTools
iTools is yet another awesome software for iOS users, infact it can be said as the best alternative to iTunes. iTools not only just allows you to Browse and copy files of your Apple device, but it also even allows to backup ipa applications as well as install them directly. It also features an inbuilt iPhone ringtone maker as well. To browse files on your iOS device Simply connect your device to Computer , Open iTools and click on the "FileSystem" option as shown in the figure.
Click here to download iTools for Windows 7/8/8.1/10. 
Click here to download iTools for Mac OS.
Software # 5 – iMazing
 iMazing as the name suggests is an amazing piece of Software , actually it would have been on the first position if this list was prepared based upon functionality, but the list is based upon the free features hence this position.
iMazing allows you to browse and view the contents of your phone in a really easy manner. As shown in the iMazing image you can transfer data from iPhone/iPod/iPad to PC by a simple click – "Copy to PC" option presented after right-clicking on the file.
iMazing also offers the ability to copy data from the apps' documents folder the folder where apps store their data on the device.
You can also backup your documents,contacts and messages using iMazing.
Click here to download iMazing for PC- Windows.
Click here to download iMazing for MAC.
If you encounter any problems while using any of these softwares or if you know any of such good software feel free to comment 🙂