5 Free tools to Lower/Dim Screen Brightness even more! Reduce Screen brightness even less than minimum (Mac/Windows 7/8.1/XP/Linux)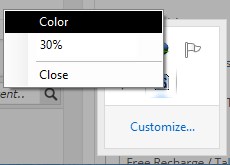 Recently , my laptop had gone under the screws as its LCD screen had been damaged and I duly replaced it from the Service center, but later as I found out it was extra bright and even the minimum brightness of the same was too bright and was hurting eyes . So , I searched for some Software alternatives for the same to reduce the extra brightness to reduce it below minimum! I found 3 screen dimming apps for Android which are mentioned here and found these 5 Free tools to Dim Screen brightness on PC / Computer / Mac – these all are lightweight and work like charm! (absolutely essential for freaks like me who do most of their work during Night saving the eyes! ) , Let's have a look one by one on all of them –
App No 1. Monitor Bright by Jockersoft (Windows 7/XP/8.1/9)
Monitor Bright by Jockersoft is a small tool/utility which does the job as promised! and that too quite efficiently! and for a surprise its just of mere 18 kB size! . The exe requires .Net Framework 2.0 installed which is almost already installed on all recent Windows Systems released after Windows Vista, so its as simple as Download,Extract and Run! . After executing you will see a small icon in the taskbar which can be used for configuring the brightness as shown alongside You  can set your brightness reduction % in any values between (0-100)  [Higher the value you select more dimmer the screen will be ] 🙂
Click here to Download Monitor Bright by Jockersoft.
App No 2. Pangolin Screen Brightness (PangoBright) (Windows XP/Vista/7/8/8.1)
 Pangolin Screen Brightness is another great utility for Reducing Screen Brightness , and it too performs its functions as promised , and the upside is unlike Monitor Bright, Pangolin Screen Brightness doesn't even require the .Net framework and is a simple 118 Kb – Single .exe file with No need of Installation. Simply execute and it will start working! No Configuration and installation hassles 🙂 , after executing it will minimize itself to the taskbar, you can right-click on the "P"  icon and it will show a configuration menu as shown alongside which you can use to configure Screen brightness ! Simple and Easy !
Click here to Download Pangolin Screen Brightness
App No 3. Flux – F.lux (Windows/Linux/Mac OS)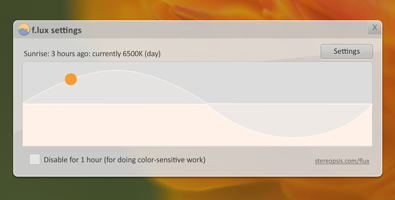 Although, Flux doesn't actually reduce the Screen brightness, but it really does make working at night a full of pleasure and soothing experience! and protects from the harsh brightness! . Flux works in a unique way – Let me explain in short –
Our Screen are somewhat made to light as the sun , but looking at the sun at night would do nothing except harming your eyes 🙁 . Keeping this in mind, flux automatically adjusts the color tone (Colors scchema) of the screen according to the Day time so as to you get the optimum color experience and believe me – The Night experience i got from flux simply mesmerized me 😀 . hence , included it in this list. besides this flux has inbuilt movie mode so as shadows , colors are preserved and you can even customise it according to your conveniences plus its free! A must have for Night – Folks!
Click here to Download Flux for Windows
Click here to get Flux for GNU Linux
Click here to visit the Flux for Mac OS Page
App No 4. Dimmer by NelsonPires.com (Windows XP/Vista/7/8/8.1)
Dimmer was the first app which i used to dim my screen brightness, and it functions well except for the fact that the Taskbar isn't dimmed 🙁 , except this the app is really great as its just 12 kB in size, consumes less resources and is light. Dimmer requires .Net framework to be installed and is simple to use, Just download, Extract and use. Opening the Dimmer.exe automatically dims screen brightness and minimizes itself to the taskbar , you can right-click on the taskbar icon and click on configure – and now manually slide the slider depending upon the level of screen brightness required! and it features live preview so you can watch the opacity level as the slider slides.. thus enhancing the precision :).
Click here to download Dimmer by NelsonPires.com
App No 5. Brightness Control for Mac
Brightness Control for Mac is a freeware app  which can be used to dim the screen brightness without tweaking the system. Besides this, it also provides a slider so as you can see live preview of the Screen brightness which you want to maintain 🙂 , also quitting the app too is quite easy, simply press the 'Esc' button on the keyboar or you can use the Restore button present in the app itself to revert to original settings 🙂 .  Easy and efficient and free too!
Requirements : Mac OS X 10.2 and later
Click here to download the dmg file of Brightness Control for Mac
So, these are the useful apps which can be used to protect the precious eyes from extra brightness and strong colors, if you know of some such awesome apps feel free to comment , you can also ask your doubts/queries in the comments section.