How to Open Facebook Desktop Version Website on Android & iPhone [Full PC view Website on any Mobile]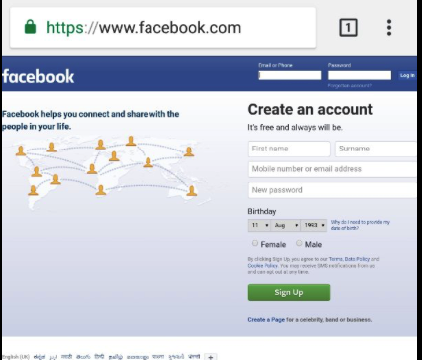 Facebook is the largest Social Networking site in the World. You can access Facebook on your mobile via their own apps such as FB lite, Facebook Zero and the Official app. However, they all require you to install their messenger app to be able to chat with friends.
Though, the Facebook Mobile site lets you chat with your friends without installing messenger, it lacks a lot of features such as Managing groups, pages, ad manager etc. Thus, in this article we will cover How you can Open Facebook full PC site on your mobile. The method works on all Phones & tablets : Android , iPhone , iPad .
Facebook Desktop Versions Pros & Cons –
Pros & Cons of using Facebook Desktop Site on Mobile

| PROS | CONS |
| --- | --- |
| Chat on Facebook without installing messenger app | Consumes More Data compared to mobile website |
| Ability to use the Search function in different places : Groups files | Loads slow as compared to Mobile website |
| Better Management of Groups, Facebook Pages , check page messages in Browser itself without installing Pages app . | Need to Zoom at some sections to prevent accidental touch |
| Saves Space on Mobile as no need to install more apps | |
Method 1 – Simple Method :
Open the default browser on your Mobile – Android or iPhone. (Chrome on Android & Safari on iOS [iPad & iPhone]
Now, simply click the Below URL to open the Facebook Desktop Version on mobile.
Just navigate to this URL on your browser and get facebook in full PC View — "http://www.facebook.com/home.php?m2w"
Now login, and start using Facebook full PC Site on your mobile.
You can even Bookmark the URL, so that it becomes easier to access.
Method 2 – Select Desktop Site in Chrome
In this method, we will select the "Desktop Site" option in Chrome.
Open Google Chrome on your mobile, and navigate to the top-right corner. Click on the "3 dots" as highlighted in the Screenshot below –
Now in the drop-down menu that appears, "Check and enable the Desktop Site" option as shown below –
Now, in the same tab , type in "www.facebook.com" in the address bar.
Congratulations! , you have opened and accessed Facebook Full PC site on your mobile as shown below –

In case of any doubts or queries feel free to let us know in the Comments section below.