Shorthand Mobile SMS – The New Way to Use Social Networking on your Mobile Phone no Need Of GPRS !!!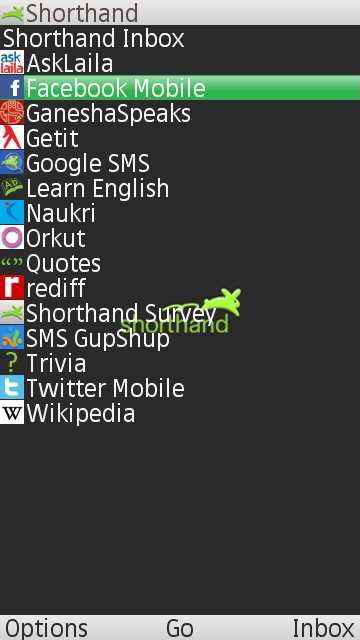 Shorthand SMS Mobile App ..
Its a revolutionary concept in the world of mobiles ..
It Enables users to Use Facebook,Orkut,Twitter,Cricinfo,Cricbuzz,Google SMS and hell lots of apps on mobile Without the Need Of GPRS !! Yeps Without the need of GPRS .. it only Uses SMS Service on Your Mobile Phone To Access these and that too sms are sent to +919223170750 Which is A Tata Telecom Mumbai Circle Number 🙂 Thus Your SMS Costs to Premium Numbers are Saved Plus it works on SMS Packs too 😛
Shorthand is a powerful, mobile app-platform that uses text messaging to provide a rich, branded, graphic, and interactive experience. Shorthand gives you access to a large base of content and services (we call these "TextApps") comprising a diverse set of categories including information, entertainment, social networking, retail, food services, banking & payments, etc. from many of the brands you know and trust. There are no short codes to remember and no keywords or commands to enter.
What are TextApps?
TextApps are mini-applications within Shorthand that use text messaging to send and receive information. Unlike other apps, Shorthand 's TextApps don't use data so you don't need a data plan to use them!
However, downloading TextApps to your phone the first time will use the data channel. Standard rates will apply.
Some Of The Shorthand SMS Apps are
And All this Comes in an Extremely Attractive User Interface !! It looks so Pretty as if it were using GPRS instead of SMS.. but it uses SMS Service to our Benefits 🙂
Here Are Some Snaps Of Shorthand Mobile Taken On My Phone – Nokia 5800 XpressMusic…
All the Above Mentioned Apps Are Free To use on Shorthand SMS Service..
Shorthand SMS Mobile App Can Be Downloaded From
http://www.shorthandmobile.in
Which phones does Shorthand Currently supports?
Shorthand currently supports a multitude of phones across different mobile platforms including java (J2ME) and Windows Mobile. We are actively working to enable many new devices on various operators' networks. Stay tuned or enroll here to be informed when our application is released on new devices. Below are the devices Shorthand currently supports:
AlcatelOT S686
AmoiLevis The Origin
BirdK298
Excluded Phones
Generic WildCard Fallthrough
HTCP3700
Huawei U120
Karbonn K25
LG B2050
LG B2070
LG B2150
LG C2500
LG CE110
LG CU515
LG GB165
LG GB170
LG GB190
LG GB220
LG GB230
LG GD710
LG GM200
LG GU220
LG GU285
LG K800 Chocolate
LG KE590i
LG KE770
LG KF240
LG KF300
LG KP110
LG KP130
LG KP135
LG KP170
LG KP175
LG KU250
LG KU580
LG M4410
LG U8360
LGGB270
LGGD510
LGGS290
LGKM900
LGKP500
MAUI-based GenericMA
MicroMax Q5
MicromaxQ1
MicromaxX225
Motorola A45 Murano
Motorola EM30
Motorola EM330
Motorola KRZR K1
Motorola KRZR K3
Motorola QA1
Motorola Razr V3r
Motorola Razr V3re
Motorola Razr v3x
Motorola Razr V3xx
Motorola Razr V3xxR
Motorola Razr V3xxR_J
Motorola Razr V6
Motorola Razr2 V8
Motorola Razr2 v9
Motorola Razr2 v9x
Motorola RIZR Z3
Motorola ROKR E6
Motorola ROKR E8
Motorola ROKR Z6
Motorola SLVR L9
Motorola U9
Motorola VA76R
Motorola Z9
Motorola ZN200
Motorola ZN5
no support
Nokia 1680 Classic
Nokia 2320 Classic
Nokia 2323
Nokia 2330
Nokia 2600 Classic
Nokia 2660
Nokia 2680 Slide
Nokia 2690
Nokia 2700 Classic
Nokia 2720
Nokia 2730
Nokia 2730 Classic
Nokia 3109
Nokia 3110 Classic
Nokia 3120 Classic
Nokia 3208 Classic
Nokia 3250
Nokia 3500 Classic
Nokia 3600 Slide
Nokia 3610 Fold
Nokia 3720 Classic
Nokia 5000d
Nokia 5130 Xpress Music
Nokia 5200
Nokia 5220 Xpress Music
Nokia 5230
Nokia 5233
Nokia 5300 Xpress Music
Nokia 5310 Xpress Music
Nokia 5320 XpressMusic
Nokia 5530 Xpress Music
Nokia 5610 Xpress Music
Nokia 5630 XpressMusic
Nokia 5700
Nokia 5730XpressMusic
Nokia 6060
Nokia 6085
Nokia 6110 Navigator
Nokia 6111
Nokia 6120
Nokia 6120 Classic
Nokia 6121 Classic
Nokia 6124
Nokia 6125
Nokia 6126
Nokia 6131
Nokia 6136
Nokia 6170
Nokia 6208 Classic
Nokia 6210 Navigator
Nokia 6212 Classic
Nokia 6216 Classic
Nokia 6220 Classic
Nokia 6233
Nokia 6234
Nokia 6267
Nokia 6270
Nokia 6288
Nokia 6290
Nokia 6300
Nokia 6301
Nokia 6303 Classic
Nokia 6350
Nokia 6500 Slide
Nokia 6555
Nokia 6600 Slide
Nokia 6600i Slide
Nokia 6630
Nokia 6650
Nokia 6681
Nokia 6700 Classic
Nokia 6710 Navigator
Nokia 6720
Nokia 6730 Classic
Nokia 6750
Nokia 6760 Slide
Nokia 6790 Slide
Nokia 7020
Nokia 7070 Prism
Nokia 7100 Supernova
Nokia 7210 Supernova
Nokia 7230
Nokia 7270
Nokia 7310 Supernova
Nokia 7370
Nokia 7373
Nokia 7390
Nokia 7500 Prism
Nokia 7510 Supernova
Nokia 7900
Nokia 8600 Luna
Nokia 8800 Arte
Nokia 9300
Nokia E50
Nokia E52
Nokia E55
Nokia E61
Nokia E63
Nokia E65
Nokia E66
Nokia E71x
Nokia E72
Nokia E75
Nokia E90
Nokia N70
Nokia N72
Nokia N73
Nokia N75
Nokia N76
Nokia N78
Nokia N79
Nokia N81
Nokia N86
Nokia N91
Nokia N92
Nokia N93
Nokia N95
Nokia N96
Nokia N97
Nokia X3
Nokia X6
Nokia5800d
Nokia6500
Nokia6680
NokiaC3-00
NokiaC5
NokiaE62
NokiaN80
NokiaX2-00
Other
Samsung B2100
Samsung C3010
Samsung C3050
Samsung C3053
Samsung C5212
Samsung E1210s
Samsung E1410
Samsung E2100
Samsung GT-B3210 Corby Txt
Samsung GT-B3310
Samsung GT-B3313
Samsung GT-B3410 Corby Plus
Samsung GT-B5310 Corby Pro
Samsung GT-B5722
Samsung GT-B7330
Samsung GT-C3110
Samsung GT-C3212
Samsung GT-C3510 Corby Pop
Samsung GT-C5130
Samsung GT-C5510
Samsung GT-C6112
Samsung GT-E2120
Samsung GT-E2120i
Samsung GT-E2130
Samsung GT-I6220
Samsung GT-M5650
Samsung GT-M7500
Samsung GT-M8800
Samsung GT-S3310
Samsung GT-S3600
Samsung GT-S3600C
Samsung GT-S3650 Corby
Samsung GT-S3653 Corby
Samsung GT-S5200
Samsung GT-S5230
Samsung GT-S5233A
Samsung GT-S5233S
Samsung GT-S5233W
Samsung GT-S5350
Samsung GT-S5560
Samsung GT-S5603
Samsung GT-S5620 Monte
Samsung GT-S7330
Samsung M2710
Samsung M3510
Samsung SGH-A237
Samsung SGH-A637
Samsung SGH-A657
Samsung SGH-A707
Samsung SGH-A727
Samsung SGH-A737
Samsung SGH-A747
Samsung SGH-A767
Samsung SGH-A777
Samsung SGH-A827
Samsung SGH-A837
Samsung SGH-B220
Samsung SGH-B310
Samsung SGH-B520
Samsung SGH-C160
Samsung SGH-C520
Samsung SGH-D500
Samsung SGH-D520
Samsung SGH-D600
Samsung SGH-D780
Samsung SGH-D807
Samsung SGH-D820
Samsung SGH-D830
Samsung SGH-D840
Samsung SGH-D880
Samsung SGH-D900
Samsung SGH-D980
Samsung SGH-E200
Samsung SGH-E210
Samsung SGH-E250
Samsung SGH-E251L
Samsung SGH-E360
Samsung SGH-E390
Samsung SGH-E490
Samsung SGH-E570
Samsung SGH-E640
Samsung SGH-E690
Samsung SGH-E730
Samsung SGH-E740
Samsung SGH-E760
Samsung SGH-E830
Samsung SGH-E840
Samsung SGH-E870
Samsung SGH-E900
Samsung SGH-F250
Samsung SGH-F250L
Samsung SGH-F270
Samsung SGH-F300
Samsung SGH-F330
Samsung SGH-F338
Samsung SGH-F400
Samsung SGH-F480 Tocco
Samsung SGH-F500
Samsung SGH-G400
Samsung SGH-G600
Samsung SGH-G800
Samsung SGH-I200
Samsung SGH-J150
Samsung SGH-J210
Samsung SGH-J600
Samsung SGH-J610
Samsung SGH-J800
Samsung SGH-L700
Samsung SGH-L760
Samsung SGH-M120
Samsung SGH-M150
Samsung SGH-M200
Samsung SGH-M300
Samsung SGH-M600
Samsung SGH-M610
Samsung SGH-M620
Samsung SGH-P250
Samsung SGH-T329
Samsung SGH-U600
Samsung SGH-U700
Samsung SGH-U800
Samsung SGH-U900
Samsung SGH-X160
Samsung SGH-X200
Samsung SGH-X210
Samsung SGH-X430
Samsung SGH-X478
Samsung SGH-X500
Samsung SGH-X510
Samsung SGH-X520
Samsung SGH-X540
Samsung SGH-X620
Samsung SGH-X630
Samsung SGH-X640
Samsung SGH-X640c
Samsung SGH-X660
Samsung SGH-X680
Samsung SGH-X700
Samsung SGH-Z230
Samsung SGH-Z300
Samsung SGH-Z400
Samsung SGH-Z500
Samsung SGH-Z540
Samsung SGH-Z560
Samsung SGH-Z720
Sony Ericson C905
Sony Ericsson C510
Sony Ericsson C702
Sony Ericsson C902
Sony Ericsson C903
Sony Ericsson C905a
Sony Ericsson F100
Sony Ericsson F305
Sony Ericsson G502
Sony Ericsson K310i
Sony Ericsson K320i
Sony Ericsson K510i
Sony Ericsson K530i
Sony Ericsson K550i
Sony Ericsson K600
Sony Ericsson K608
Sony Ericsson K610i
Sony Ericsson K660
Sony Ericsson K660i
Sony Ericsson K700c
Sony Ericsson K750i
Sony Ericsson K770i
Sony Ericsson K790c
Sony Ericsson K800
Sony Ericsson K800i
Sony Ericsson K810i
Sony Ericsson K850i
Sony Ericsson S302
Sony Ericsson S500i
Sony Ericsson T650i
Sony Ericsson T700
Sony Ericsson T707
Sony Ericsson W200
Sony Ericsson W205i
Sony Ericsson W300i
Sony Ericsson W302
Sony Ericsson W350
Sony Ericsson W350a
Sony Ericsson W350c
Sony Ericsson W380
Sony Ericsson W380a
Sony Ericsson W380c
Sony Ericsson W380i
Sony Ericsson W395
Sony Ericsson W518a
Sony Ericsson W550
Sony Ericsson W580i
Sony Ericsson W595
Sony Ericsson W610i
Sony Ericsson W700i
Sony Ericsson W705
Sony Ericsson W760a
Sony Ericsson W760i
Sony Ericsson W800i
Sony Ericsson w810i
Sony Ericsson W850i
Sony Ericsson W880i
Sony Ericsson w890i
Sony Ericsson w910i
Sony Ericsson W980i
Sony Ericsson W995
Sony Ericsson Z530i
Sony Ericsson Z550
Sony Ericsson Z555i
Sony Ericsson Z750
Sony Ericsson Z750a
SonyEricsson J105i
SonyEricsson K790i
SonyEricsson S312
SonyEricsson T303
SonyEricsson T715
SonyEricsson W350i
SonyEricsson W660i
Spice M5252
Spice M940
Spice S580
Spice S707
Surrogate Phones
TianyuKTouch V908
Uriver Majestic1
Zen Z77