Disable | Remove Facebook Timeline View From Your Profile !!
Recently Facebook Launched Timeline !! Which Re-Organised Your Facebook Profile In A New Manner.. But Some Loved it 🙂 and some Didn't 🙁
So those who didn't loved it were asking me method to remove / disable Facebook Timeline and while experimenting i found these methods to Remove | Disable Facebook Timeline Feature its as follows :
Method I : Changing The User Agent
Old May Be known but its working, most new versions of site don't support Old Internet Browsers so i tried Changing my Browser's User Agent and Voila !! it worked … here are the steps to do it : – >

1 : First of all open your Firefox Browser navigate to TOOLS menu then browse to Add-ons.
2 : Now you will find Add-on settings and then search for "User Agent Switcher" in search bar.
3 : Install the User Agent Switcher Add-on .
4 : Now, Close and Restart your Firefox Browser .
5 : Again Navigate to Tools Menu .. Now click on Default User Agent Switcher Button and then select User Agent as Internet Explorer 7.
6 : Now Simply Login to Facebook and..
7 : Whoa !! you will see your old profile back !! 🙂
Here is the Screenshot – >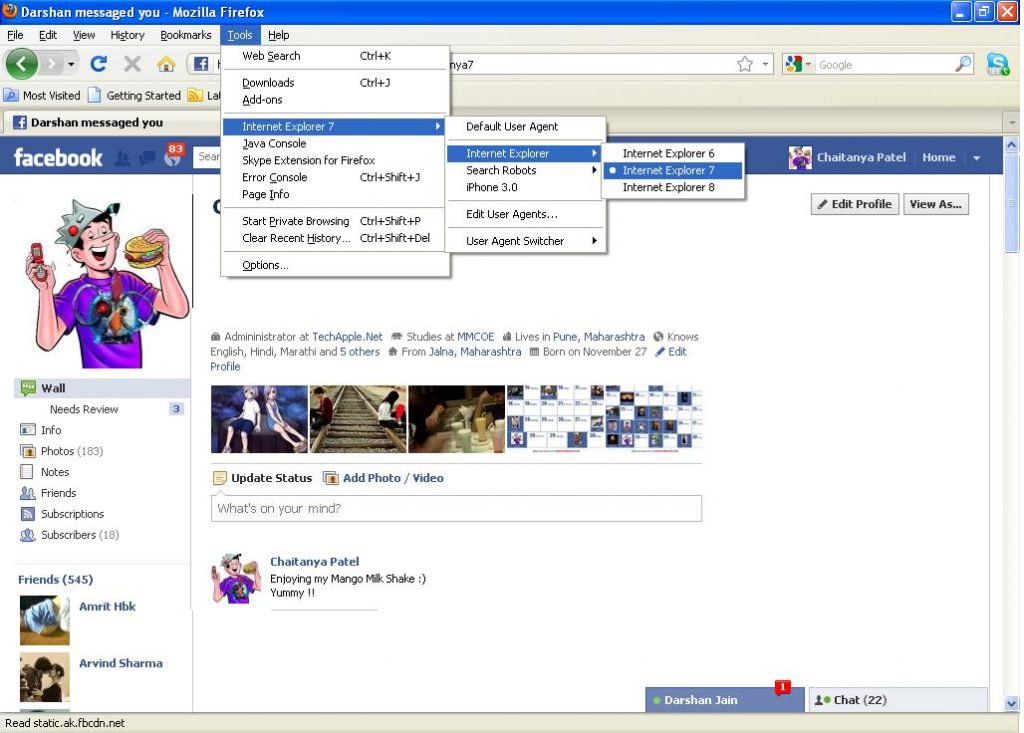 (if you again want your facebook timeline account simply goto TOOLS, click add-ons,set user agent switcher=disable.)
Those who are not Using Firefox but are Using Google Chrome may follow this Procedure :
1 : Before starting the Google Chrome browser, simply right click on the chrome icon and select Properties.
2 : Now Look for the Target box and add the following code after 'chrome.exe'. (leave space after chrome.exe)
–user-agent="Mozilla/4.0 (compatible; MSIE 7.0; Windows NT 6.0)"
3 : Now click 'Apply' and then 'ok'.
4 : Restart Google Chrome.
5 : Now log on to your facebook account and you will see your old Profile back. !! 🙂
(if you want your timeline account again then right click on chrome before opening – goto properties, look for the target box and remove the code after chrome.exe, click apply then ok.)
Method II : Deactivating And Reactivating Facebook Account
1. Deactivate ur account for an hour. (Warning: Don't delete account just deactivate it)
2. Don't login for an hour or 2
3. Login back and see profile..
Its old but u can try it.. Hope You Liked The Article 😛