How to Transfer or Copy Music from iPhone & iPad to Mac OS X for Free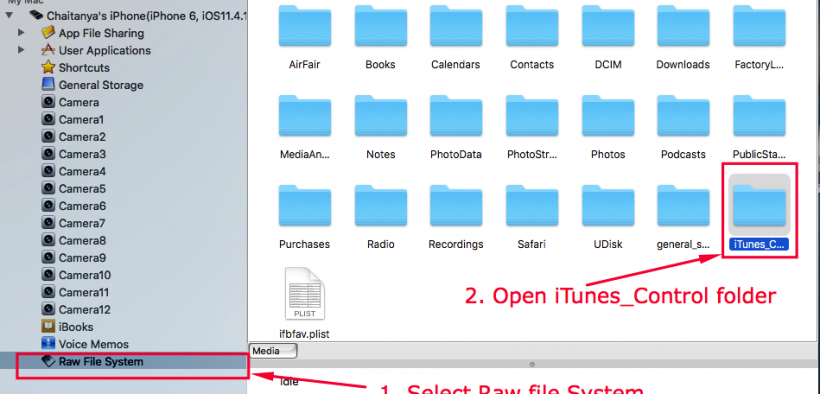 Almost all iOS file explorers for Mac OS X are paid or the free versions have limited functionalities. Thus, its difficult to manually browse your iPhone or iPad files and copy them. But, not anymore In this article we present you the Best Free Method to Backup and Transfer music from your iPhone or iPad to your Mac OS X system. The method works on all Mac OS X versions released after Mavericks so it will work naturally on almost all Macs – MacBook Air / Pro / iMac mini etc.
Tutorial to Copy Files from iPhone , iPad & iPod Touch to Mac OS X –
This tutorial will let you practically copy any file inside your iOS device. This includes the Music from iTunes Music player as well. Besides, you can even copy app data, contacts anything present on your iPhone / iPad or iPod touch. Let's look onto the steps of the tutorial one by one –
1. Download & Install i-Funbox for Mac :
We will be using the free iOS file explorer or manager i-Funbox for the tutorial. Thus, we recommend you to Download & install the iFunbox dmg on your Mac from the link below.
Click here to Download i-FunBox iOS File Explorer for Mac OS X .
Now, open the downloaded dmg file by double clicking on it.
Now, it will show installation screen as below. Here band drag and drop the iFunbox icon to the Applications folder as shown –

Now launch finder and go to "Applications" folder . Or you can simply launch applications folder by pressing the "Shift + Command + A" keys on your keyboard.
Here , Navigate to the iFunbox icon and control + mouse click on the same. Here select the "Open" option from the drop-down menu as shown in the following screenshot.

It may show a dialog box, with warning as that app is downloaded from Internet, etc . Here please click on the "Open" button.
2. Connect iPhone / iPad / iPod Touch to Mac OS X –
Now, connect your iOS device : iPhone , iPad or iPod touch to your Mac OS X with the USB lightning cable. It will now show up in  left hand pane of i-FunBox as shown in the following screenshot –
3. Accessing iOS Files (File System on iPhone / iPad / iPod touch) –
Now on the iFunbox , click on the "Raw File System" option which is at the last as shown in the following screenshot –
Now, in the right hand side pane. Double click and open the "iTunes_Control" folder as shown above.
4. Transferring : Copy Music from iPhone / iPad to Mac
In the next window, you can clearly see the "Music" folder inside the i-FunBox app.
Here, simply drag and drop the Music folder where you want to copy or transfer your music files as shown below –

That's it! iFunBox will now start copying your Music files from iPhone / iPad / iPod to your Mac OS X device. You can also use the same steps to backup and transfer contact, photos, videos, apps from your iOS device.