How to Change Font face in Instagram Bio & Posts on Android – ᔕTᗩᑎᗪ ᗩᑭᗩᖇT on Instagram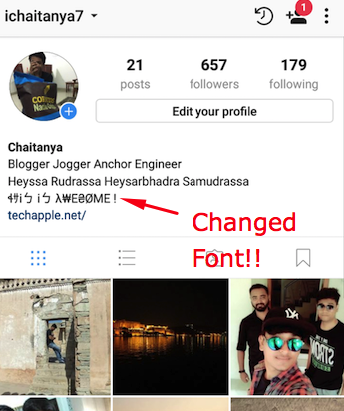 Instagram is a platform to show uniqueness, be it the photos, the caption with it or be your profile bio. Since, the photographs are always good with the various filters, what about the text on the caption or bio ? . Yes , you can style that too.. In this tutorial we will show you how you can change the font face or font style on Instagram profile and posts . The fancy fonts will only increase your style and reach to your followers.
Tutorial to Change Font Style or Font Face on Instagram on Android –
This tutorial currently works only on Android, since the font changer app we use is only available for Android.
First of all, please download and install the Font Changer App from the link below –
Click here to Download Font Changer Pro for Android from Google Play Store
Once you install the app, launch the app and tap on the "Get Started" option as shown in the following image –

Now, once you have tap on "Get Started" it will show a blank space to type and select the font style .

In the blank space , please type the text you want to be in Style or change the font  as shown in the image below –

To change the "Font" tap on the "3 horizontal lines" icon as shown above and select any of the font style as highlighted by the red box in the above image.

Now, once you have typed the bio text or caption text in the Font Changer app. Tap on the "Copy" option as highlighted in the below image –
Now, once we have copied the text, we just need to paste it in Instagram photo caption or Instagram Bio as shown below –
Now, simply post the photo or Save the changes to your profile. And the magic is done! you have now successfully changed the font style on Instagram.
This looks great as visible on my Instagram profile  –

That's it! feel free to comment your creativity or incase of any doubts do let us know them too in the comment section below. We have tested this method on Android lollipop, marshmallow, Nougat and even Oreo phones and tablets.