How to Do Reverse Image Search from your Mobile [ Android & iPhone ] | Perform Google Photo Upload Search Solution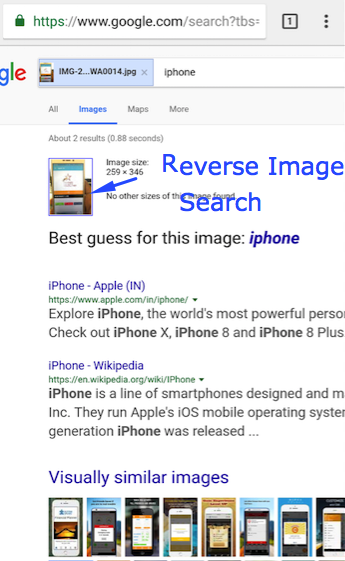 Reverse Image Search is one of the best features of Google Image Search which lets you find the source/origin of photo, or other similar images. The Reverse Image Search option is easily visible on the Google desktop site, but is absent on the mobile site.
There are various third party sites such as http://reverse.photos which let you perform Reverse image search on mobile. But these sites are less secure as they store your photos on their own servers thus vulnerable to misuse. Hence, to keep your search more secure we will cover – How to Perform Google Reverse Image search on Official Google Site on Mobile.
Tutorial to Perform Reverse Image Search on Mobile (Android + iPhone + Tablet)
We will be using Google Chrome Web browser for this purpose as its more speedy while accessing Google Services.
Now , in order to perform reverse image or photo upload search perform the following steps-
First, of all Navigate to the Google Images site on your Chrome browser –
Click here to Open Google Images site in a New tab – http://images.google.com .
Now, after the Site is loaded – Click on the "3 Dot icon" at the top-right hand side corner of your Screen as shown in the image below –

Now, it will open a menu as shown in the following image .

Now , Tap and select the "Request Desktop Site" option as highlighted in the above image.
It , will now load the Google Images website in its full Desktop view as shown below.

Here tap on the "Camera" icon as highlighted in the above image to enter Reverse image search.

Here you can either enter the image URL you want to search or "Upload an Image" by using the "Choose File" button. After clicking on the "Choose file" button it will ask you to upload image from camera/files gallery.
Once you click and select the image , it will be uploaded to Google server and you can access the search results as shown

We hope you found the tutorial easy & useful . Incase of any doubts or difficulties feel free to comment below.