Awario | Helps You To Monitor Your Brand Online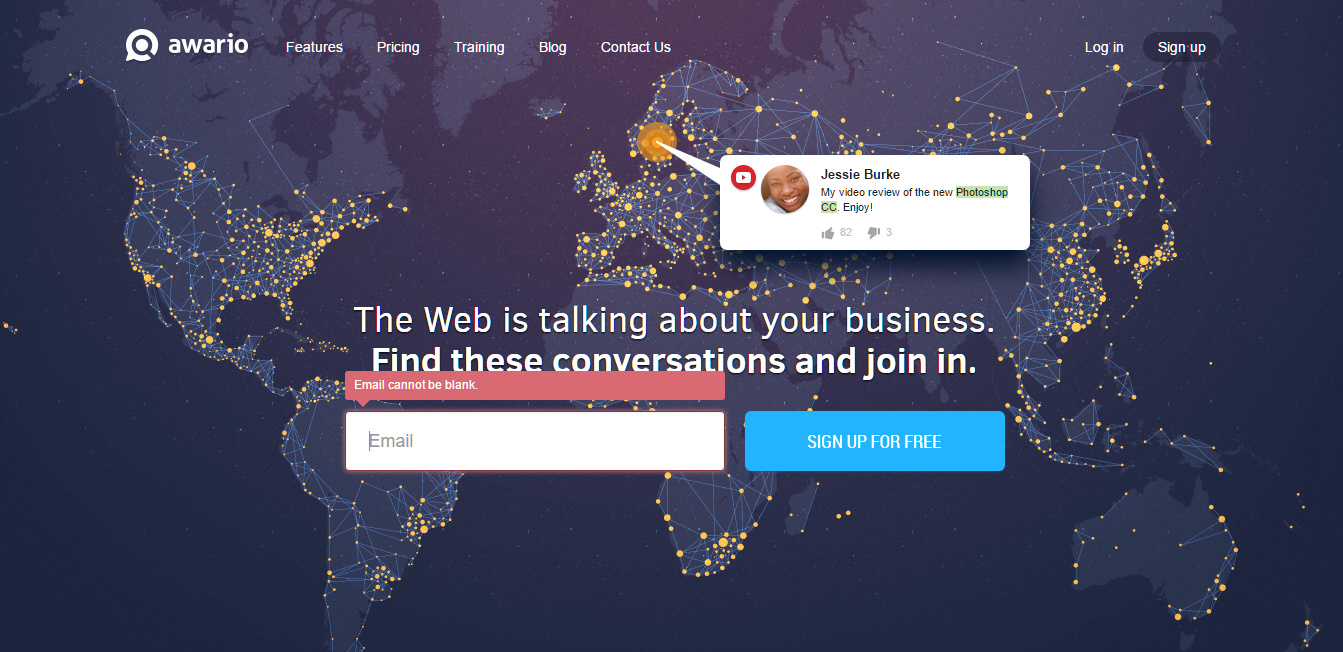 Most of the time almost everyone including you and me find it very difficult to search for the most suitable piece of information related to our search keywords or keyphrase, especially when the phrase or keyword we are searching is of less competition and less value.
Have you ever wished to have a software tool that can help you find the most relevant piece of information for your keyword, no matter how popular it is? Well, then your wish has been granted, thanks to the Awario tool. If you are not aware of the Awario software tool, then today we are here with a detailed review of the same to give more useful insight to the software.
What is Awario?
Awario is a software solution that checks for almost every corner in the web, including social medias and search engines, to find the most relevant information and mentions that relate to your keyword. All of the pieces of information from the web related to your keywords or phrases are gathered in real time, thus ensuring that you always get the most latest and updated information for your searches.
Why Awario?
Awario is best for business and website owners alike as the tools allows you to instantly view the instant reactions on specific keywords thus giving you an edge over competitors by allowing you to reach and adopt to the latest changes around you to reach a more targeted set of audience. All new social media interactions and other related news to the keyword you give as input is displayed by the tool.
Features of Awario:
Brand name monitoring is one of the key features of Awario. This tool, with its super-fast monitoring and tracking algorithms allow you to track the latest updates, releases and other news from almost all the popular brands out there.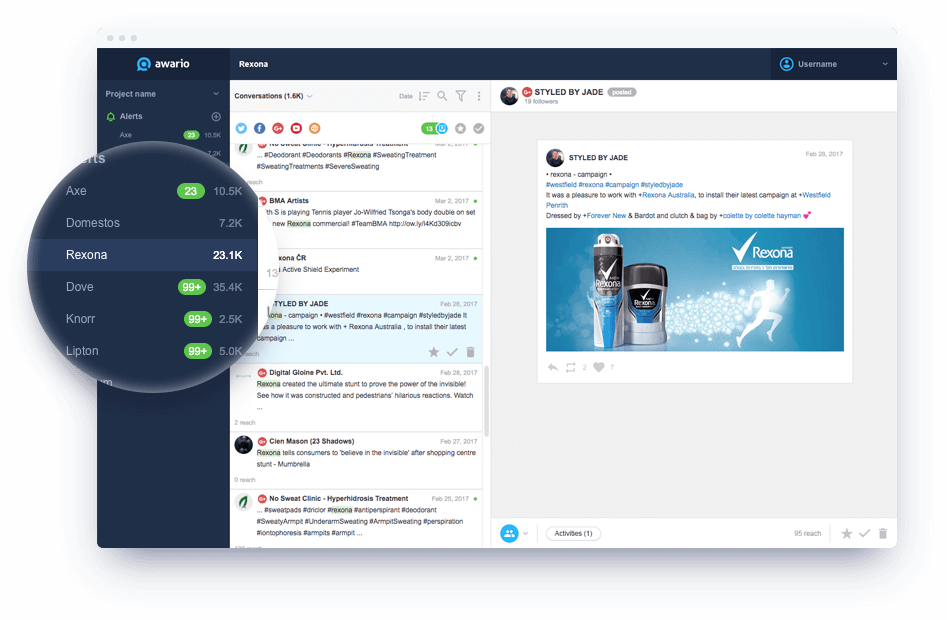 You can track the latest reactions for keywords on any language using this online tool.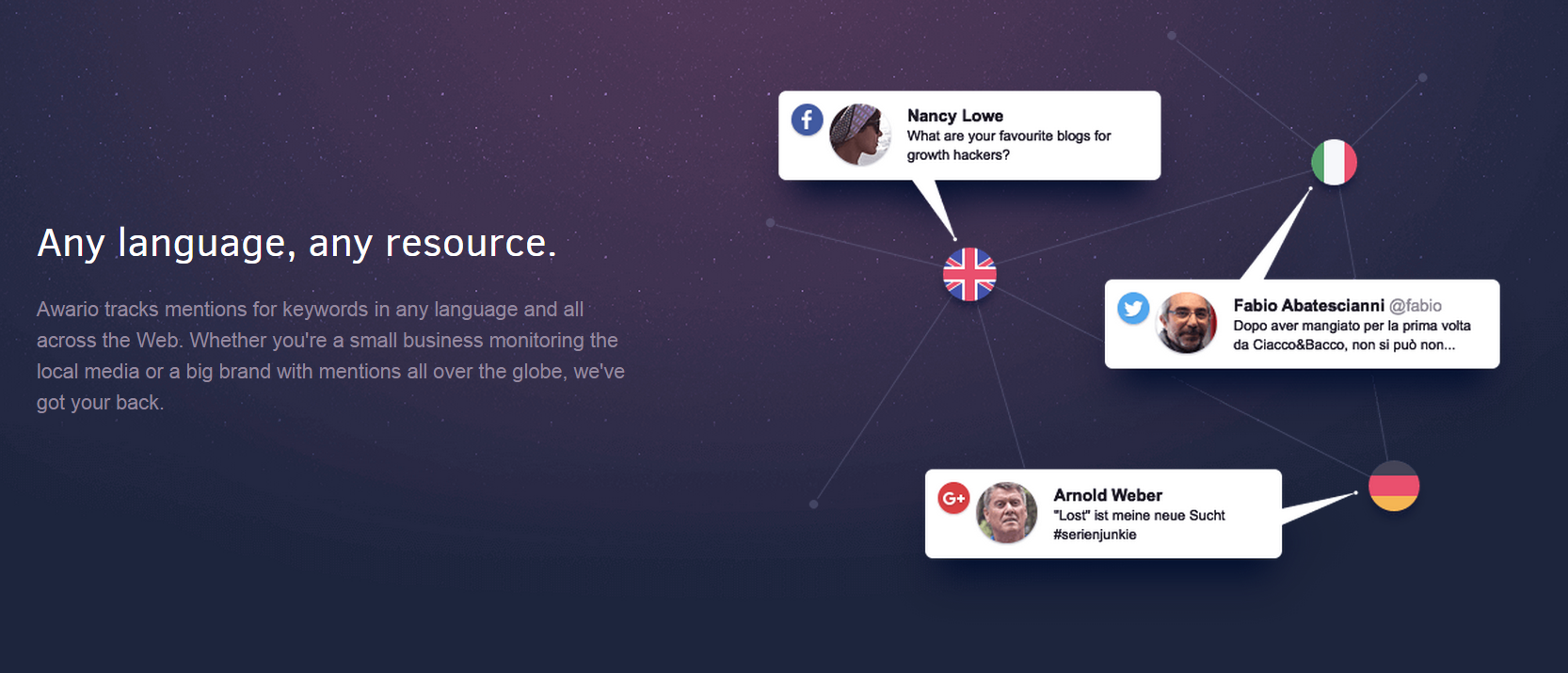 You can also add negative keywords so as to completely focus on the keywords that will bring only positive results for your business or website.
All the data related to all the keywords you search for are grouped as folders so as to give you a more organized view. This helps you in focusing on one keyword at a time and not be confused by all the data from all the keywords you track for at once. You can also mark separate folders for posts or reactions that you would like to view at some later point of time or also for posts that are unread.
The analytics of the the social media tracker tool lets you track the increase/decrease in the reach of the keyword you are searching for.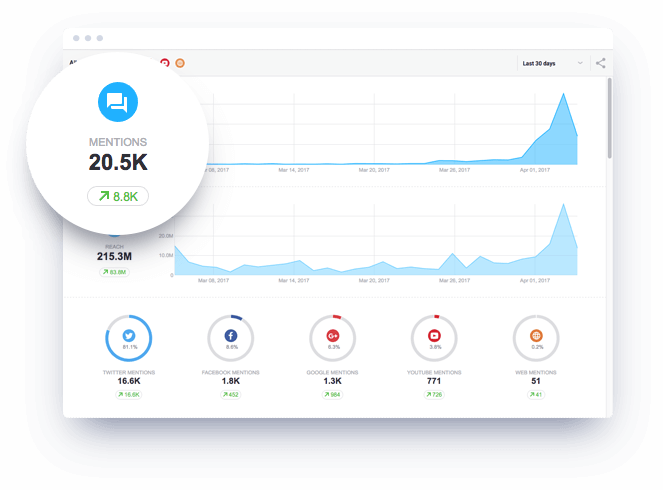 Awario can also let you find the most influential people targeting the keyword on all popular social media networks.
You can also share the stats and reports with your clients or colleagues with the instant share link that can be generated from within the tool itself.
You can manage your account across devices and always focus on the data that matters the most to you, no matter whether you are trying to access the tool from your laptop or Smartphone.
You can also set Awario to send you daily or even weekly email based alerts of summaries on the latest mentions so that you do not lose track anytime.
How to Subscribe and Start Using Awario?
To know about the full potential and the full set of features of the Awario tool, then the best way is to find it out yourself. You can opt anytime to check out the Awario tool for free for 14 days by just registering with your email address and without even having to put your credit card information in.
Once you are satisfied with the product, then you can check for their paid subscription plans that begin at just $19 per month and extends to $299 per month depending on the features you can get. In case you are looking for a customized feature set specific for your business, then you even have the option to get in touch with the Awario team to let them create a plan that suits your need.
Final Words:
Hope this article helped you to know in detail about the Awario online tool. If you found this article interesting, then do share it with your friends to spread the word.