Bitdefender Internet Security 2017 – A Complete Security Suite for your Device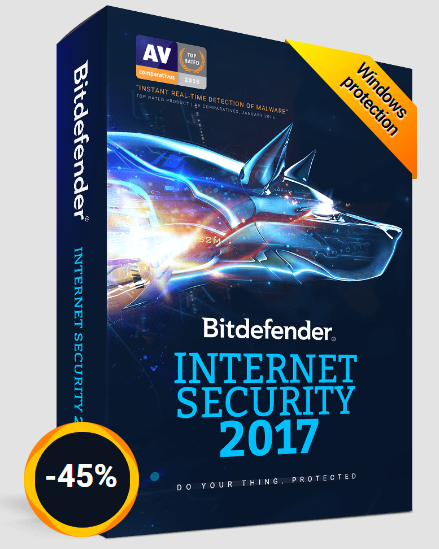 Bitdefender is not a new player in the world of internet security solutions. It has been providing the best security solutions since 2001. If you are in search of the best security suite for your device then Bitdefender Internet Security 2017 is the one to come to your rescue. It is the latest security solution developed by Bitdefender to protect your system against malware, ransomware, and other aggressive attacks by third-party applications. Let us explore more about it below.
About Bitdefender Internet Security 2017
From the antivirus protection and internet security to the total security of multi-devices, Bitdefender has never disappointed its users. It is using the same malware scanning technology, sharing a compact interface, and has a minimal impact on the system's performance. Bitdefender Internet Security 2017 is the latest security suite launched by Bitdefender for its old and new users. It can turn out to be a cost-effective solution for the users looking to aid their devices with a trusted security shield.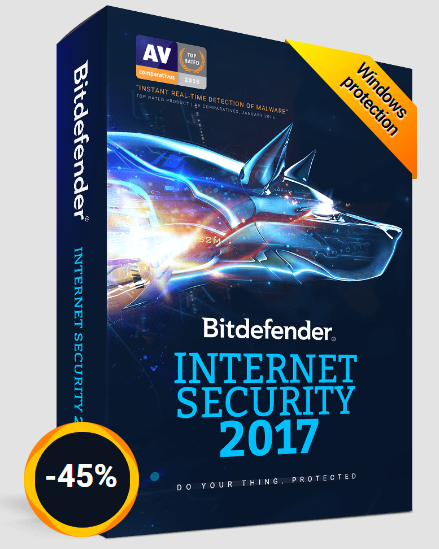 Learning about the Features of Bitdefender Internet Security 2017
You first need to download and install the software on your device to discover what's new in this security solution by Bitdefender.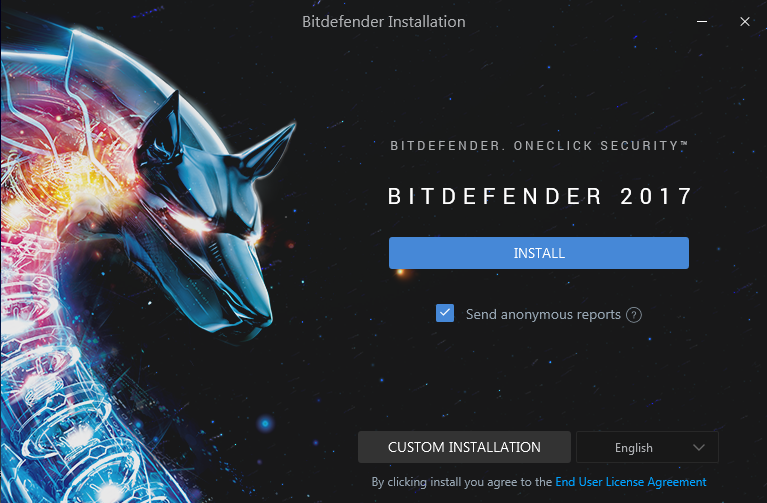 After the installation is completed, you will be asked to create an account with Bitdefender. Fill in the details carefully and signup for the account.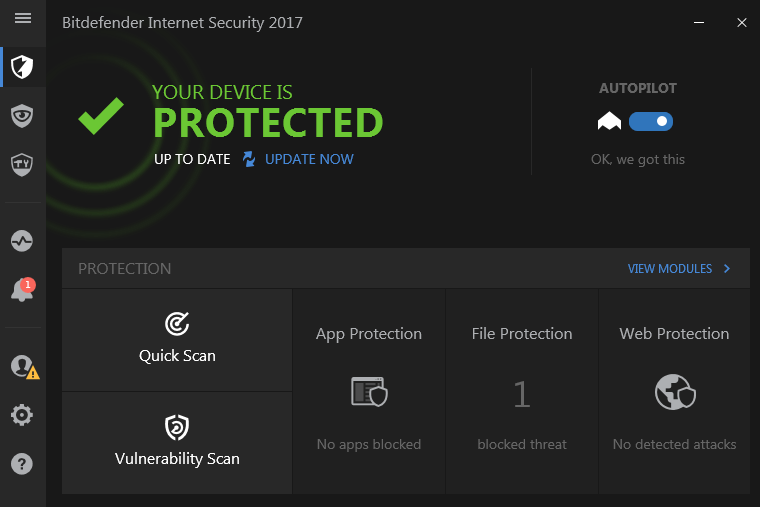 Quick Scan
You can click on the 'Quick Scan' option for scanning your device against any malware quickly. It will detect any active threats and help you in resolving any issues.
Vulnerability Scan
It will find all the vulnerabilities that might let malware to infect your system. It checks for the files that need update and are at risk to be attacked by malware.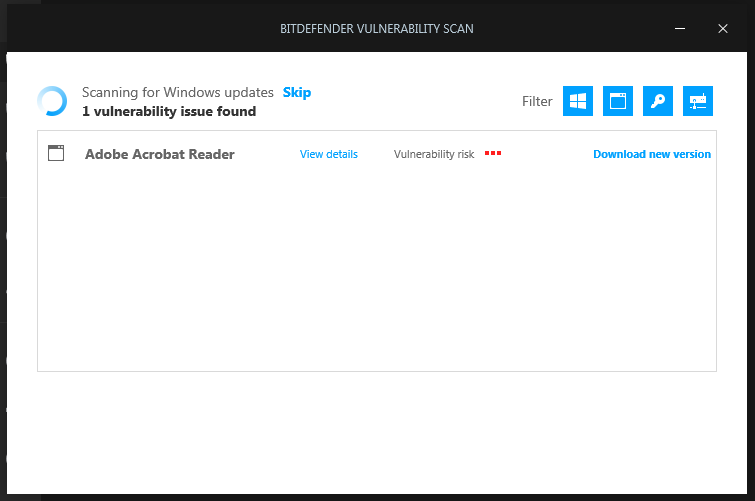 You can click on 'View Modules' to discover more options.
Firewall
Bitdefender Internet Security 2017 has an inbuilt firewall to provide extra protection to your network from any intruders trying to enter into your system through your network.
Go to Firewall settings and turn on the 'Block Port Scans in Network' option.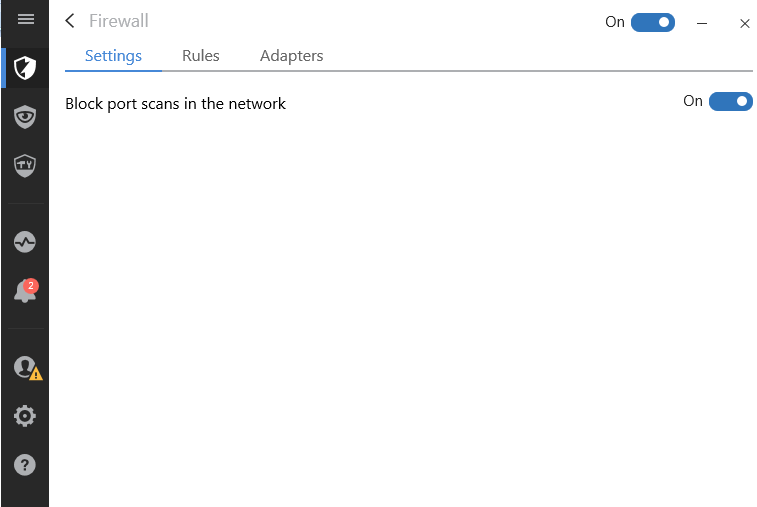 Go to 'Adapters' and turn on the Stealth Mode and Generic. This might slow down your internet speed a bit.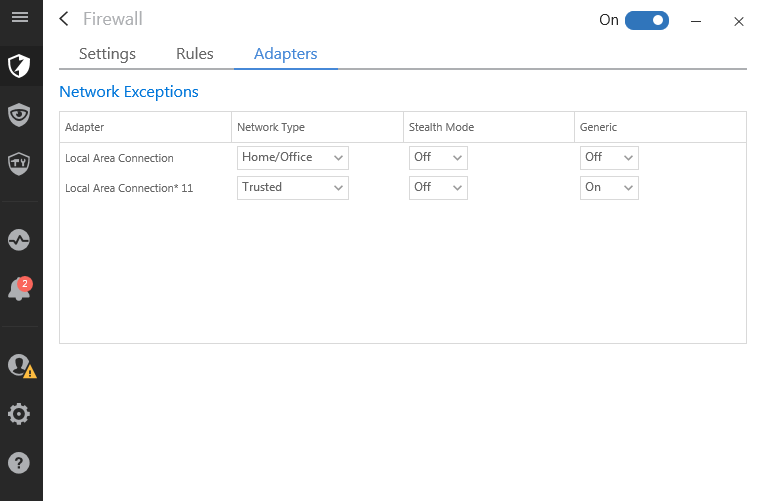 Antivirus
Bitdefender Internet Security 2017 has integrated the antivirus along it to provide an added protection to your device.
Click on 'Antivirus' option.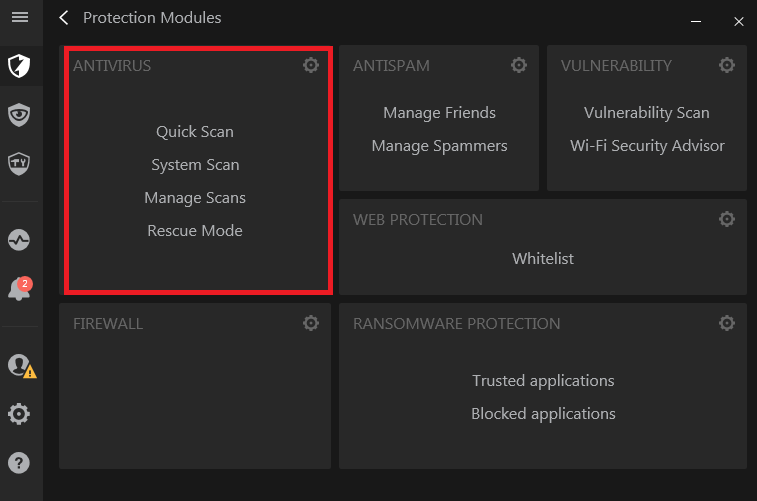 The on-access scanning and active threat control is switched to 'on' by default.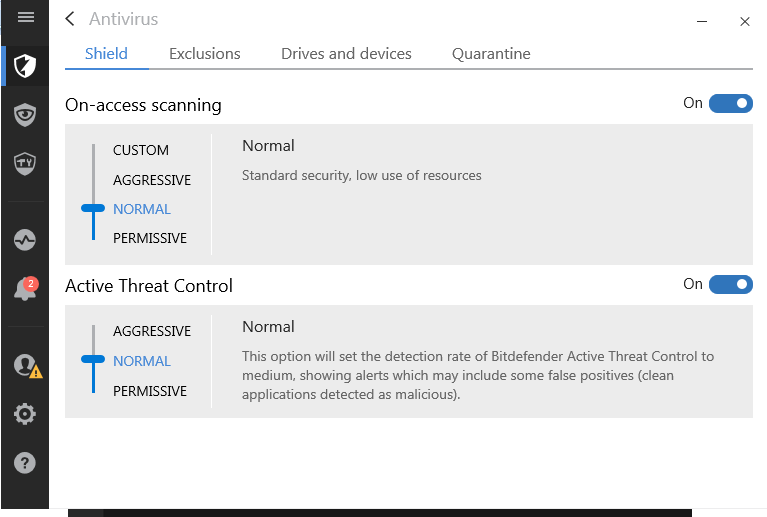 You can add the list of files and folders that you want to exclude from the scanning process in the 'Exclusions' option.
The 'Drives and Devices' option helps you to manage the scanning of CD/DVD devices, USB devices, and other devices mapped to your network drives.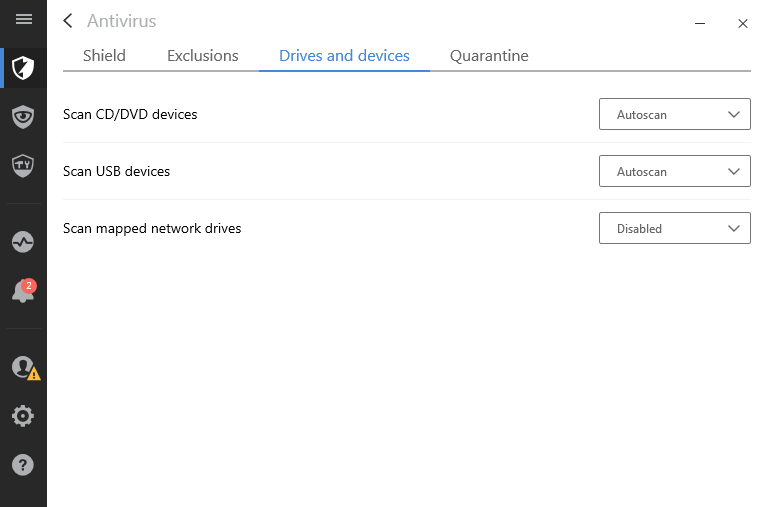 You can add the files/folders that you want to be rescanned after the virus definitions have been updated. Go to 'Quarantine' option and add the desired files/folders to it. Do not forget to turn on the option. Quarantined files can be resubmitted for further analysis.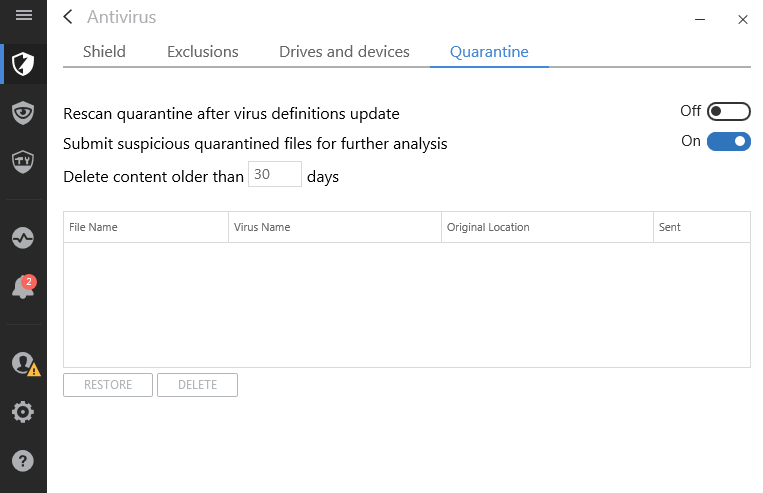 Ransomware Protection
The ransomware protection makes it easy to place your sensitive documents under a special protection from malicious encryption programs which may demand the ransom on the personal files.
Click on 'Ransomware Protection' option.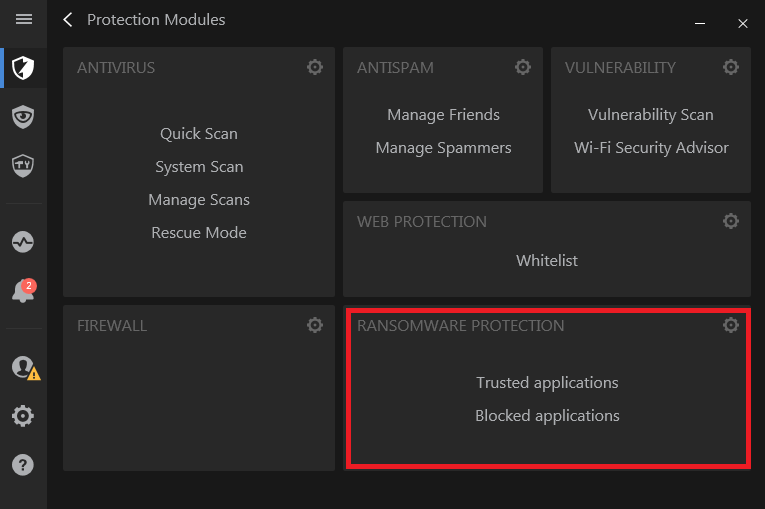 It is 'off' by default. You need to turn it on.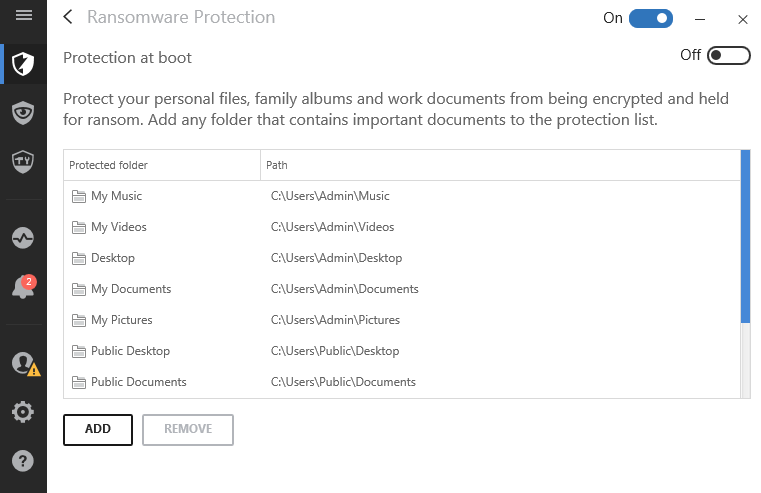 Now, you can choose to add or remove the files/folders from the list. In this way, you can easily protect the personal files from getting encrypted and held for the ransom.
Safepay & Parental Advisor
Bitdefender's secure Safepay browser is optimized to deliver a good browsing, shopping, and banking experience. Its password manager comes handy at times of filling the credit card details automatically.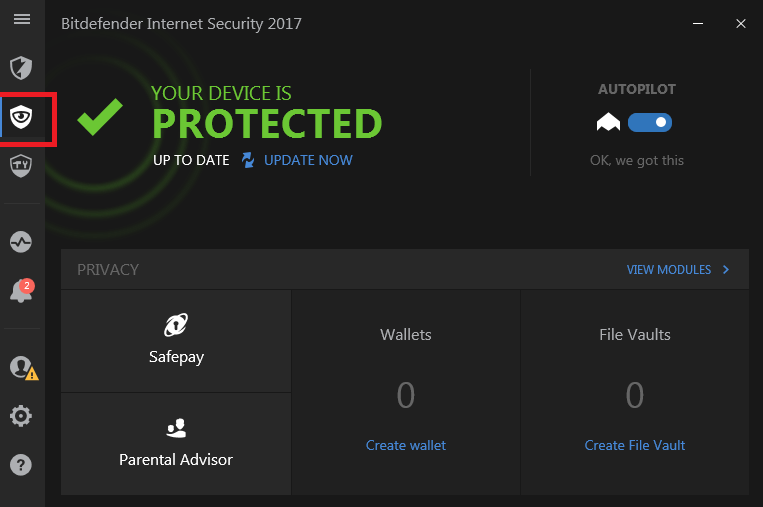 Click on 'Safepay' option to proceed with secure browsing.
The 'Parental Advisor' option is tailored for the parents who want to keep an eye over the activity of their kids.
Monitor the Activities on your Device
You can click on 'Activity' option to monitor the things happening on your device. Bitdefender will be activated as soon as you turn on your device and will keep a track of all the activities on your device, protecting it from malware and viruses.
You can click on 'Security report' to get the reports for whole week.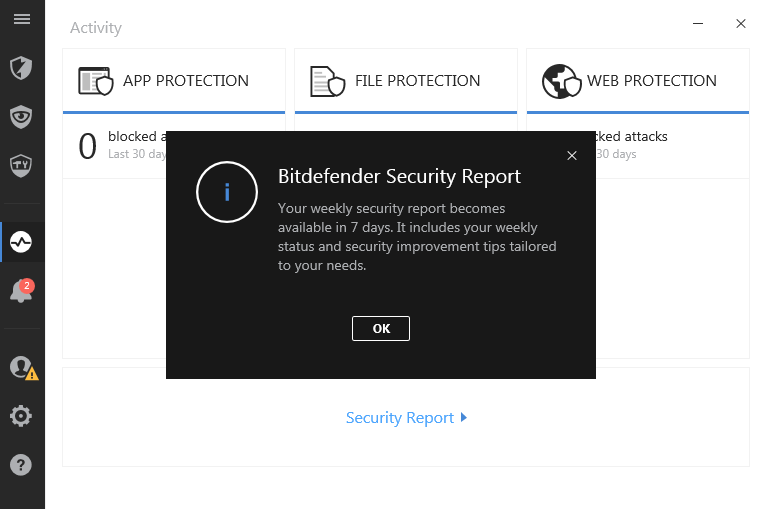 Pricing
Bitdefender Internet Security 2017 is the most affordable security suite that helps you to stay safe and keep your device malware free. You can use it simultaneously on 3 devices under one subscription plan.
Pros
Added Ransomware protection & in-built firewall
Low impact on the system
Affordable Pricing
Cons
The Bottom Line
Bitdefender Internet Security 2017 is surely the most secure and most powerful antivirus suite one can use for different devices. The effective malware protection, ransomware protection, secure-browsing, in-built firewall, and a number of exclusive features ensure that your devices and privacy are in good hands. You must try it today!