Best Free Android VPN Platform | Rocket VPN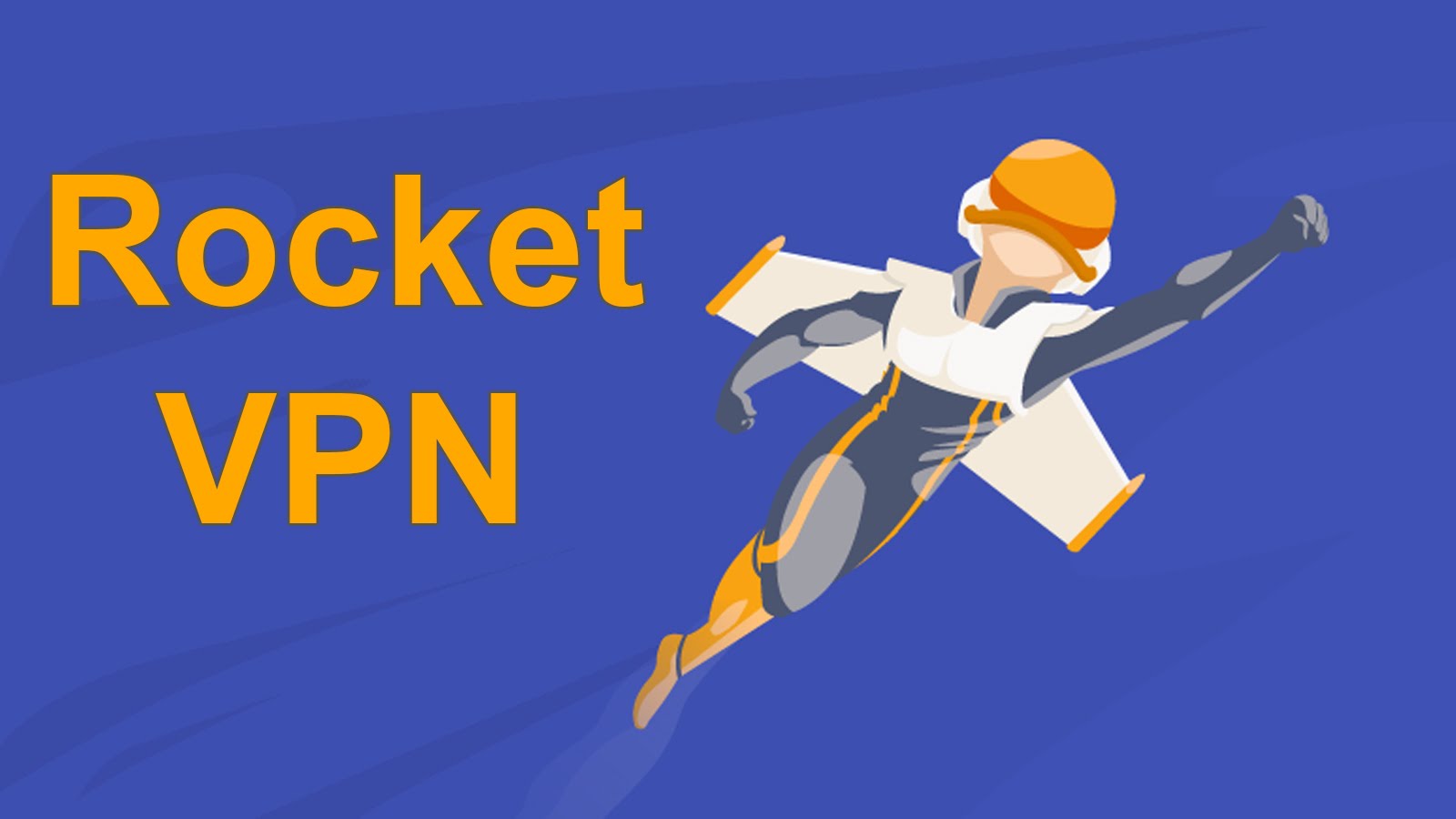 If you want to surf geographically blocked content, then you should use VPN and if you want to use the internet without exploring your identity then in that case also you should use Virtual Private Network. There are lots of free Android apps that provides nothing in the name of free VPN service most of these apps either serve ads or fewer usage data in the name of free service. But Rocket VPN is different from all other free VPN apps as it provides monthly 250 MBs of data without charging a single penny. Now let us explore more about it below part of the post.
Rocket VPN Introduction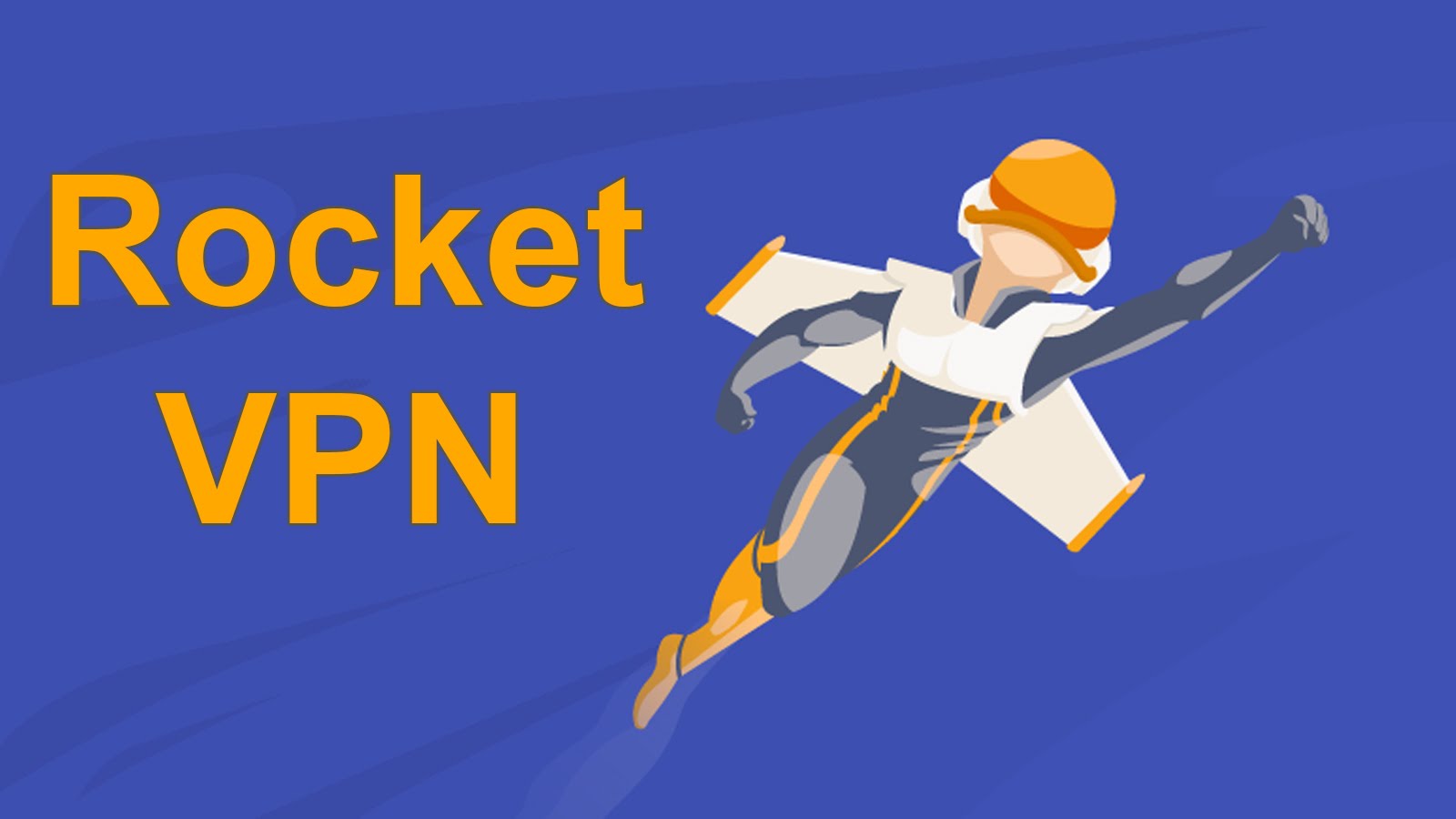 Rocket VPN is a free VPN platform which is developed by the Liquidum Limited, and it is available for both Android and iOS based devices. Rocket VPN is one of the most downloaded VPN app available in the PlayStore (more than 1 million downloads). Beside monthly free data limit, there are many things which make Rocket VPN so much famous among users and let us find out why it is so by reading some of its features have a look.
Quick Download Links
1) Basic VPN Features: Rocket VPN provides some basic and necessary VPN features like:
a) Data Encryption is done while sending and receiving data through Rocket VPN. This is done to provide full security and confidentiality to users private data. Data Encryption is very helpful for those who often use public Wi-Fi, etc. As the public Wifi are highly prone to the hackers.
b) Large numbers of servers are used in Rocket VPN so that users can easily access geographically blocked content by using servers from different countries all over the world.
c) Rocket VPN protects its users from any other type of tracking, or we can say spying agencies so that its users can access the internet with full freedom.
2) Inbuilt Secure Browser: Rocket VPN comes with more secure and reliable browser through which users can surf internet free without any fear of spying eyes.
3) Quick Launch: Rocket VPN makes its users access other apps directly from it. It allows its users to create a shortcut for each app with preferred location. Hence users can launch any app through it with selected location.
Introduction to the Interface
Let us give a quick introduction to the interface of the Rocket VPN Android app. We are providing some snaps which we took while using the app so that you can get a much better idea about the app.
1) Here is the home screen of the app. As you all can see we are not connected yet.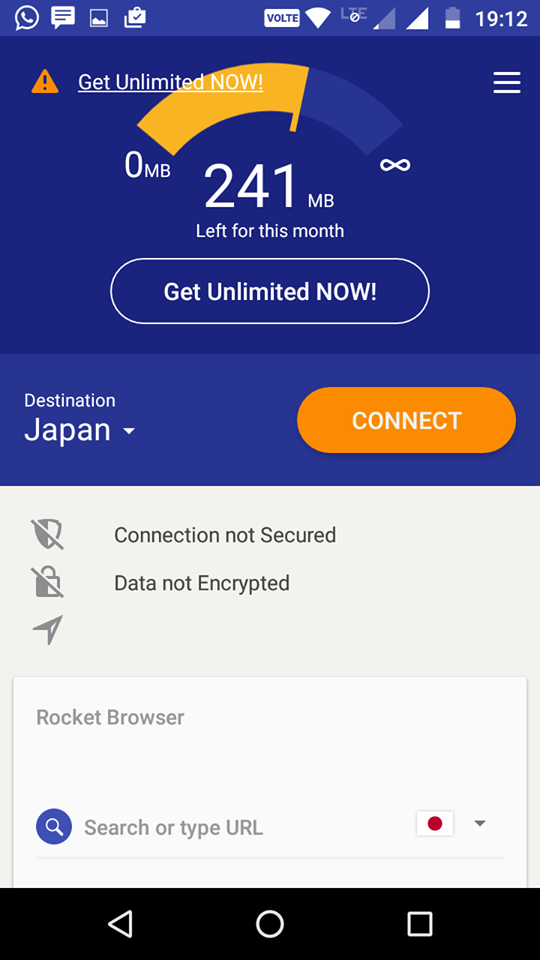 2) You can select the location from various available servers. Here is a snap of available servers in the free version.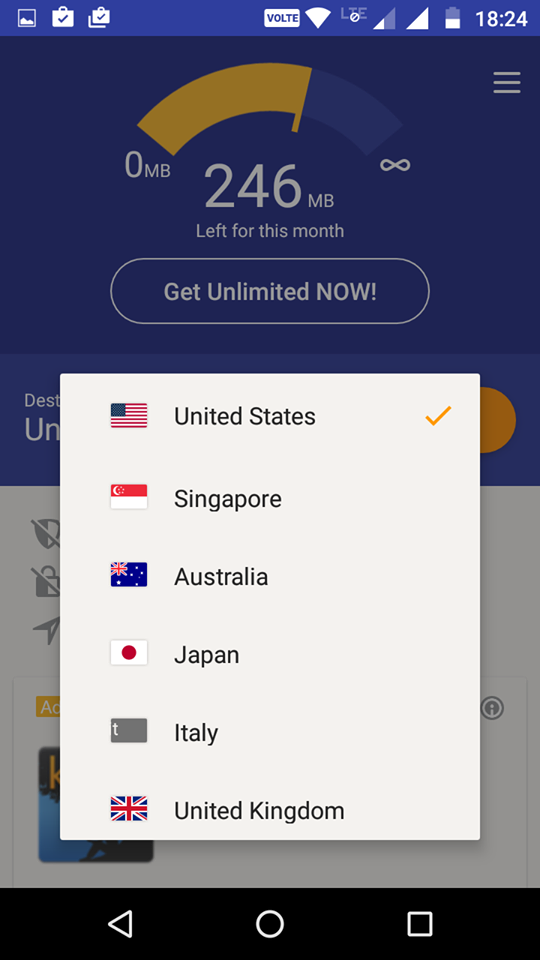 3) Rocket VPN comes with the inbuilt browser which can be to surf net more securely and as you can see we can securely connected to the internet.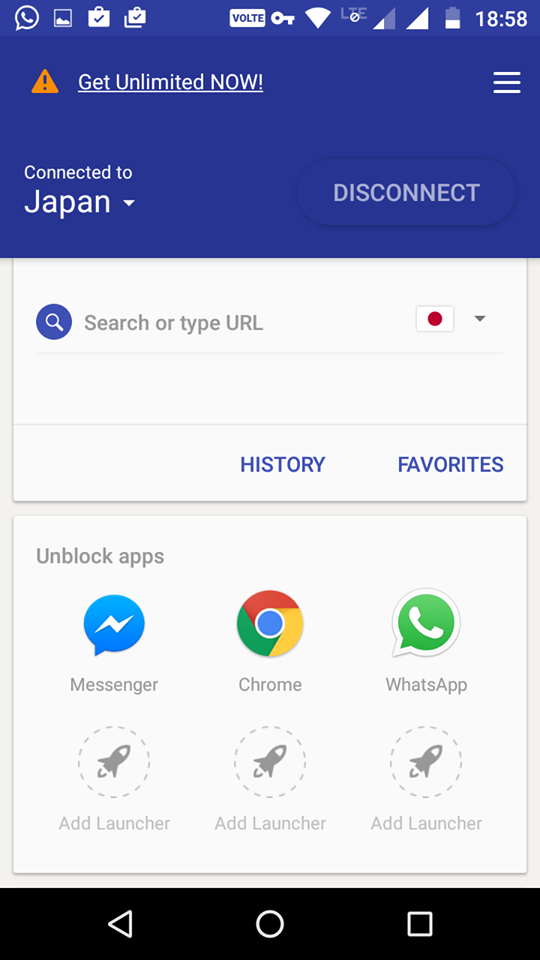 4) You can also access other apps directly from the Rocket VPN and can select the separate location for each. Here is a snap of screen in which we have to choose location.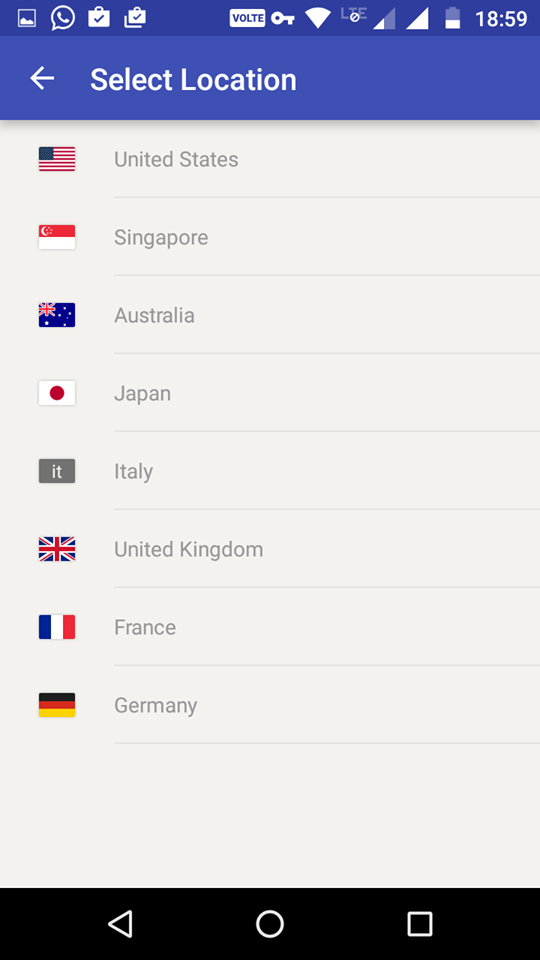 Final Words
We are wrapping up the post here only and before saying bye lets us highlight some positive and negative points about it so that our readers can take action accordingly.
Positive
1) Monthly free 250 MBs of data is very big plus point associated with Rocket VPN as most of the free VPN services providers provide one-time usable data.
2) The interface of the app is very attractive and features like apps shortcut, secure browsers are adding more feathers to the crown of the Rocket VPN.
3) The browsing speed is also very good. We didn't notice any buffering problem while watching online video through it. Also there are apps for both iOS and Android.
4) A Large number of servers are available even in the free version which is also very good.
Negative
This VPN app is free on the cost of ads and you can upgrade to remove those plus more bandwidth.
Final Thought
We hope you all have read all of the above points carefully and will take action accordingly. Go for Rocket VPN free version or go for paid, it all depends upon on your needs and budget. Try it share your valuable thoughts on it with like, comments and share.