How to Capture long Scrolling screenshot of chats in Android & MIUI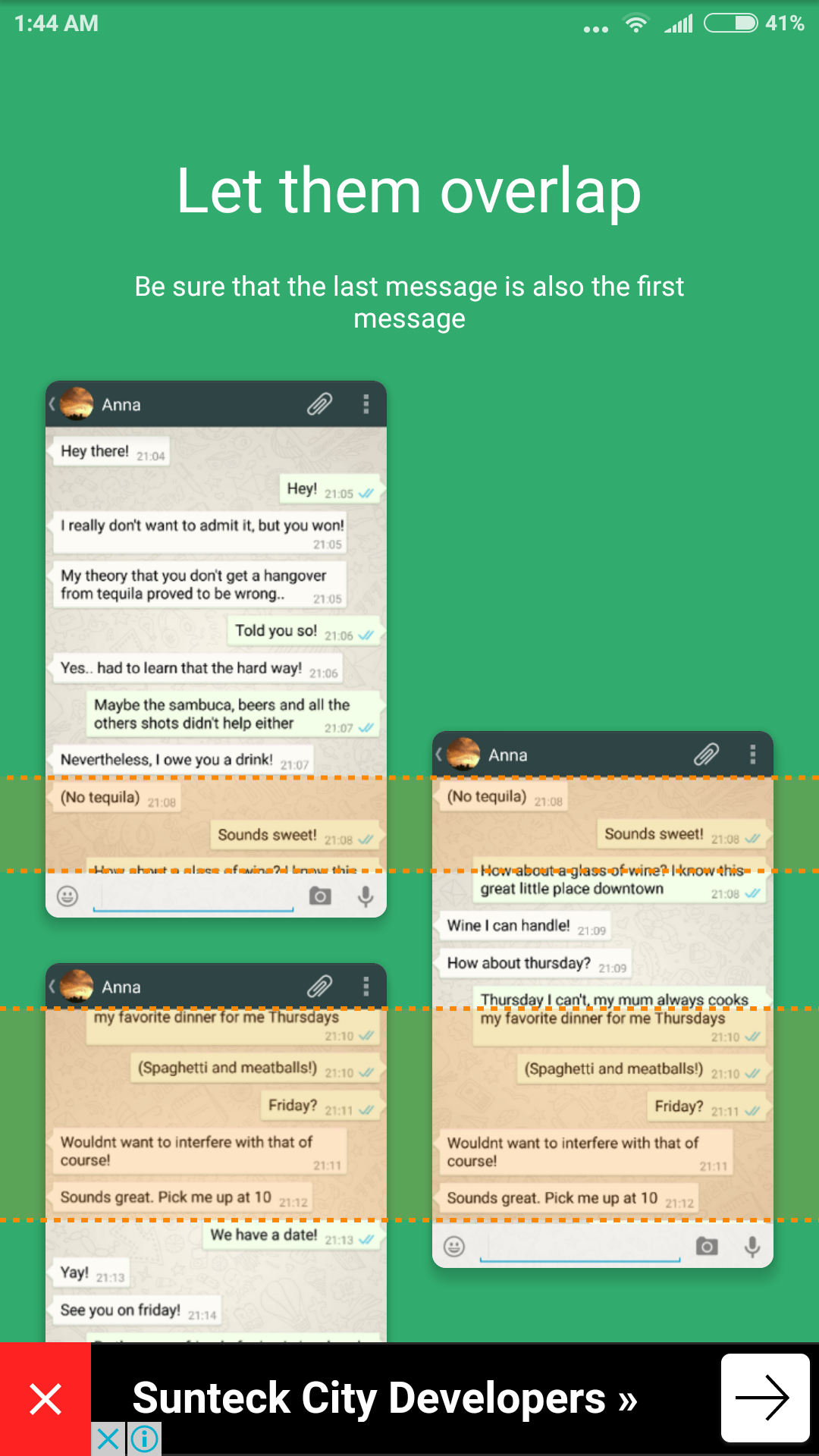 Recently I wanted to capture my WhatsApp chats with a friend, but unfortunately there was no option to capture complete chat at once as it didn't fit in a single screen. Now, to overcome I started looking for options and found one using "Stitch & Share" app. Read on below for the complete method on How to Capture long big scrolling screenshots in Android & MIUI . Besides this method works on all famous android versions such as 4.4 kitkat , 5.1 lollipop and 6.0 marshmallow too
Tutorial to capture Capture big & long scrolling screenshot of chats in Android –
In this tutorial we are going to "stitch" the captured screenshots , so first capture a sample screenshot which you want to start with
(Note – Incase you don't know the method to take a screenshot try the combination of volume down + power key simultaneously)

Now after you have captured your first screenshot, Please scroll down and take another screenshot.
Note – Please make sure the last message of the first screenshot is again repeated in your next screenshot. Thus overlapping the texts as shown in the example images below –

The last message of first screenshot is to be repeated as shown in the next image below –

Now using this message repetition technique capture as many screenshots you intend to stitch into a single one.

Now inorder to stitch them up, Download & install "Stitch and Share" screenshot app from Google Play from the link below –
Click here to Download Stitch & Share Screenshot app from Google Play Store.
Once you have installed the app it will now prompt you with two options as shown in the below image –

Now from the file gallery window which opens, select the most recent screenshots which you have taken and want to stitch and tap on OK.
Now in the preview window, tap on the "plus +" icon to append the next screenshot as shown in the image below –

Note – In MIUI , you will need to select screenshots one by one by tapping on OK to add one screenshot and again adding second by same method

The Screenshots you added will automatically be stitched! as shown in the below image –

That's it ! Thus all of your chat is now combined into a single long big screenshot. Tap on the Green arrow highlighted by "blue arrow in the above image" to export your chat!

That's it ! you have now saved your entire chat conversation into a single big long screenshot. Do let me know if you face any problems or encounter any issues.