How to Clone apps in Android to run multiple variants (Cloner) of same app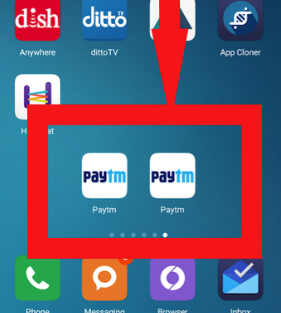 In our last article we covered installing multiple versions of any app to use multiple accounts using "Parallel Space". Now, Parallel space is sort of an qemu which will host the apps inside its own space & ram which may hamper performance on low-end Android phones. But there's a solution to this problem too – App Cloning! App cloning will let you clone apps present on your device & install them.. Thus, you can now use 2 versions of same app easily without even using space of external apps such as Parallel Space, 2 Accounts, 2 Face etc. Thus, enabling easier multiple accounts to apps like facebook, snapchat, paytm , freecharge etc that too without requiring root
How to Clone apps & install the second instance on Android –
First of all Normally download & install the app which you want to clone , and log-on to your first or primary account inside the app.
Now, Download & Install the App Cloner app from the Google Playstore link given below-
Click here to Download & install App Cloner from Google Play
After you install App Cloner, it will now show a list of all apps installed on your Android phone as shown below –
It will now show details about the app which will be cloned as shown below, Click on the "checkmark" as shown in below figure to start the cloning process –

Now tap on "OK" in the pop-up box which shows that existing app will be cloned.

It will now start cloning the app as shown in the following image –

Once the cloning process is finished it will execute the apk & ask you to install it.

Install the apk and voila you now have two versions of same app in your Android phone. Alternatively you can access your apk's from the "Cloned Apps" section once you open the Apk cloner app and even share the cloned apk's with your friends too! .
The cloned apk works perfectly same as the normal app and is accessible directly from the app drawer unlike in parallel space where its accessible via app.. Besides, being the original clone app it perfectly functions with all the functions as in the original app .

If you face any problems or encounter any issues feel free to comment.