Top 3 Free Finder alternative File Managers for Mac OS X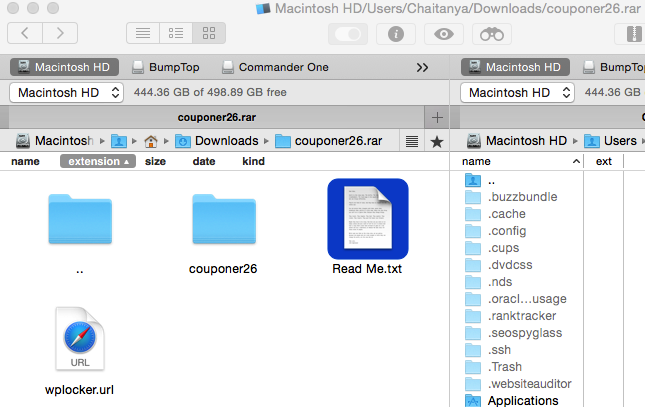 Finder is the default File Manager for Mac OS X , but we found some of the features inside finder a bit cumbersome such as automatic extraction of zip files while trying to open them, lack of rar files support. So here are the Top 3 Free Finder alternatives – File Browser and File Explorers for Mac OS X which will make your work easier and experience smoother .
Top 3 Free File Managers for Mac OS X –
File Manager # 1 –  Commander One
Commander One is one of the most powerful file explorer for Mac OS X and is a great alternative to Finder. Besides containing the essential features such as ability to browse files inside the Mac OS X , it also contains some salient features such as –
Dual Pane file navigation (Very useful features as you can browse two file paths simultaneously) in a single window.
Ability to preview the contents of zip files, so that unlike finder you can only extract the required content of zip file to a folder, thus saving Hard disk space.
Ability to Extract & Preview Rar archives.
Besides these Commander One even supports MTP file management & transfer which isn't supported by default by Mac OS X.
Thus, If you have an Android device you can easily browse and transfer files in MTP mode on Mac OS X using Commander One. This feature is even more essential for Windows Phones as well.
Also Commander One even supports cloud storage navigation such as Dropbox, Amazon S3 in its pro version but normal users are fine without that.
Works on Mac OS X El Capitan as well without any external dependencies required.
Click here to Download Commander One .dmg app for Mac OS X.
Please Click here For tutorial on How to Install .dmg files on Mac OS X
File Manager # 2 – Moroshka File Manager for Mac OS X
Moroshka file manager is another great alternative to finder or commander one. Infact we found Moroshka File Manger more user friendly than Commander One, and feature rich as well. Some of the features we liked the most are –
Dual Pane File Manager with a Chrome like tab interface so that you can navigate to multiple locations within a single window itself.
Besides these Moroshka File Manager also comes in with a rar archive extractor and previewer. (Green Box in alongside Image).
One of the most striking and powerful feature we liked about Moroshka File Manager is its "Quick Look" option.
The "Quick Look" option allows you to easily view Microsoft Office documents such as .pptx or .xls even without installing the Microsoft Office app.
Though, its not possible to edit the Microsoft Office files its ability to view them despite being only 4 mB in size in worth noting.
Click here to Download .dmg of Moroshka File Manager app for Mac OS X. 
Click here to Download & Install Moroshka File Manager from Mac App Store.
File Manager # 3 – Files Lite for Mac OS X
Files Lite is yet another easy to use File Explorer for Mac OS X. The best thing about Files Lite is it makes navigating to your files a much easier task due to its dual list view, We found it the most easiest of all apps we tested to browse and navigate through the files.
Besides this, the Quick View of excel spreadsheets and presentations already make it a great alternative to finder.
Some of the features such as Batch Rename, Calculate Checksum are limited to pro and not available in the lite version. But the lite version nevertheless will get the job done for most normal Mac OS X and MacBook Air & Pro users.
Click here to Download Files Lite app from iTunes Mac App Store.
So, These are the Top 3 Free Finder alternatives for Mac OS X or Alternative File explorers for Mac OS X, which are compatible even with the latest Mac OS X updates (Mountain Lion, Yosemite , Mavericks & El Capitan too). We didn't mention Total Commander as it provides a free trial only for first 30 days. If you face any problems while using them or face any issues feel free to comment.