How to Capture 3D Photos on iPhone & iPad by Fyuse App!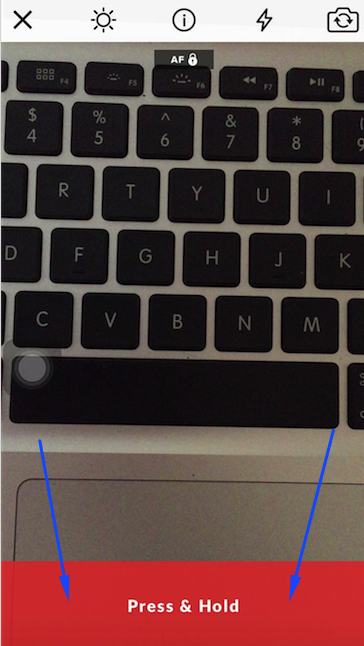 Now you can capture Spatial 3D Photos right on your iDevices – iPhone & iPad. Spatial 3D photos aren't those normal 3D photos which require 3D goggles to view them, but instead are VR Photos which depect details as you tilt your devices, and show the focussed object in great detail & views. So, here's how you can Capture Spatial 3D photos on your iPhone & iPad using Fyuse App.
Method to Capture Spatial 3D Photos using Fyuse App –
First of all Download & Install Fyuse 3D Photos app from the link below –
Click here to Download Fyuse App from iTunes App Store.

Now, Open the Fyuse App.
Once , you have opened the Fyuse App it will show you a "Press & Hold" screen as shown in the alongside image.
Let the object / Person whose Spatial photo you intend to capture be Stationary at a fixed position. You can even take a 3D Moving Selfie using your Front camera in Fyuse.
Now, "Press & Hold" the Red button and revolve your phone around the object whose spatial view you intend to capture. Make an arc around the object while pressing the button as shown below –

Release the Button when you have finished capturing.

Once you release the button, The app will now show you a preview of your created Fyuse – Spatial 3D Photo.
Now, tilt your 3D Spatial photo to watch it in real-time Virtual Reality on your Screen, tilt your phone to different angles to view more detail.
That's it! You have successfully captured your Spatial 3D Photo ! . You can now share your Fyuse onto the Fyuse Social network so as to let the Whole World! know about your creativity :).
Note – The Fyused 3D Photos require Fyuse app to view them and hence they won't be visible to non-Fyuse users.