4 Different Ways to Install Apps & Programs in Mac OS X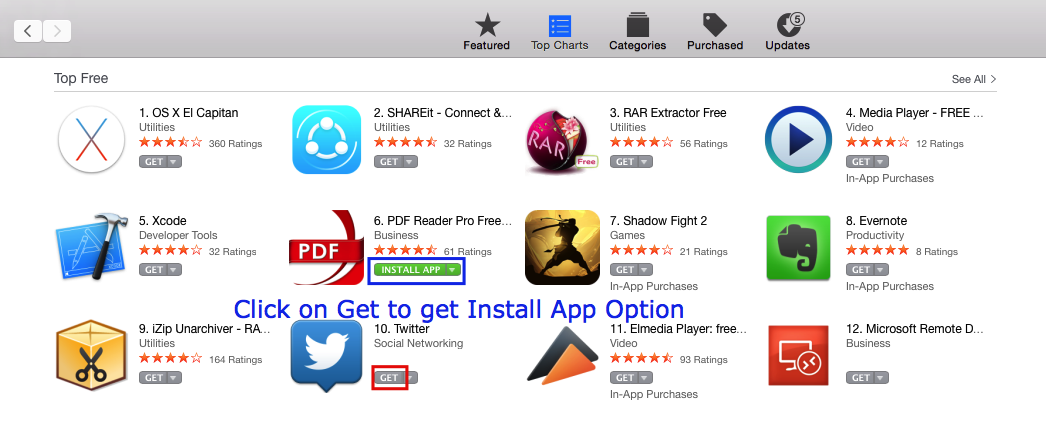 Installing apps on Mac OS X is different as compared to other Operating Systems such as Windows & Linux. Thus, users face a major query of How to Install apps on Mac OS X? . Installing Apps on a Mac OS X machine is completely Graphical input based process and terminal isn't mostly required. Also, Mac OS X Applications come under variety of packages – AppStore followed by .dmg app image files , .pkg installers or even single .app files . Thus, considering the different App packages available for Mac OS X we bring you 4 Ways & Methods to Install all types of applications & Programs in your Mac OS X .
Way / Method – 1 : By Mac AppStore 
This is perhaps the most simple & easiest method to install Apps on your Mac OS X. In addition to being simple & effective its perhaps the most Safest as well. Each app is verified by Apple before its being published on App Store  so you are assured of No Malware/Spying.
To Install Apps from Mac Store –
Launch the App Store from the bottom dock as shown in the image alongside.
Once, your AppStore is launched, log-in with your Apple ID if required (Register a new ID incase if you don't own one).
Inside the Mac Store you will be shown a big catalogue of Apps , Browse & Search for the app you want to Install.
Once, you find the listing of the App you want to Install , First Click on "Get" button besides the app as shown in the image below (highlighted by red color) –

Now once you tap on "Get" the button will change to green colored with the label "Install App".

Simply, Tap on the "Install App" button as highlighted by blue color in the above image to install your App! .
Now your App will be downloaded from the App Store, wait until the download finishes. Once the download is completed , just launch the app from the Launchpad or Applications folder in Finder.
Way / Method – 2 : By Installing .dmg files –
Apps present on App Store although secure lack a bit onto Vital OS functions & commands which are required for proper hardware usage and Speed. Hence, many developers distribute their applications .dmg files which are nothing but Disk Images of their apps. So, If you download any app for your Mac from the web most likely it would either be a .dmg or .pkg extension file. Installing .dmg files is pretty easy if you follow the below linked tutorial –
Click here to View tutorial to Install .dmg file Apps on Mac OS X.
Way / Method – 3 : By Installing .pkg files –
Sometimes Bigger application and programs require multiple directory access, and hence they make their own installers for Mac OS X as they are in Windows. These Mac OS X installers are packaged as .pkg files.
How to Install .pkg app on Mac OS X  –
Navigate to the .pkg app file in Finder.
Now, "press control key + mouse click" or "right mouse click" on the .pkg file as shown below –
Select "Open" . You will be shown a dialog box as with options, keep clicking on "Continue" to finish the installation process.
Congratulations! you have successfully installed a .pkg application installer on your Mac OS X. Open your application from launchpad or from "Applications" folder inside Finder to launch your App.
Way / Method – 4 : By Installing native .app files –
Small applications or single executable file apps for Mac OS X are packages as .app files. The Method of installing or Opening .app files app is similar to as that of executing .pkg files.
Install / Open .app files in Mac OS X –
"right mouse click" or "control+mouse click" on the .app file which you want to open / install.
Select the "Open" option from the drop down menu.
That's it your .app file will be executed successfully!.
You can even move your .app file to Applications folder using Finder to make it appear in your Launchpad.
That's it , these are the 4 ways or methods which will help you to install different applications on your Mac OS machine. If you know of any other method do let us know in comments, Thanks.