3 Best Ways to Download Instagram Photos on Android or PC – Computer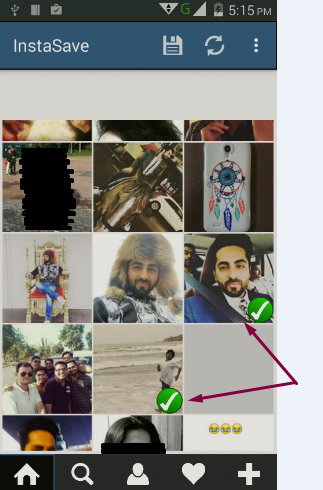 Instagram is a hub of  outstanding photos and video content, sometimes you might want to download and save a particular photo or video of Instagram so that you can view them later offline on your device. So, here are the 3 Best Ways to Download / save Instagram Photos  on Android or Computer. These methods can be used to Batch Downloads Instagram pics as well, particularly the app method hence we will be discussing the App method first, and then the PC Methods.
Method – 1 Using InstaSave app for Android
Tutorial to download Instagram pics InstaSave App on Android –
First of all, Install the InstaSave app for Android from below link –
Click here to download Insta Save app for Android from Google Play Store.
After, you have downloaded InstaSave app, log-in to your Instagram account from InstaSave app.
Once, you log-on to InstaSave app, it will show you a feed of your photos which you want to save , just tap on all the photos you want to save as shown in the alongside image. (It allows you to Batch download as well).
Now, once you've selected the images or photos which you want to download/save on your device , Click on the "Save" icon as highlighted by green color in the below figure – , It will prompt you with the location where the images are to be saved as shown –

Click on "Yes" and, you have now successfully downloaded Instagram Images on your Android device.
Method 2 – Download Instagram Photos on PC (Computer) Windows and Android by Instagrabbr.com
This method works on PC as well as on Android devices, and it doesn't requires Instagram login too, provided you know the Username of whose photo you want to download.

To download Using Instagrabbr, First of all Visit the Instagrabbr.com Website.
Now, In the text field enter the Instagram username of whose photos you need to download and click on "Search" as shown in alongside figure.
Once you click on search it will display all the public photos associated with the typed in Username as below –

Now, here in Click on any photo to Open it in full-sized window.

Here Scroll-down below to the bottom of Image, and Click on the "Save Image" button as shown alongside!. That's it you have successfully downloaded the Instagram Photos on PC (Windows – Google Chrome in screenshots) or Android.
Method – 3 Copying Instagram Share URL and downloading via Dinsta.com
This method requires you to have the Share URL of the Instagram pic you intend to download , you can get The Share URL of an image by simply –

Open the photo whose Share URL you want to copy inside the Instagram app, and now tap the 3 dots highlighted by green color in the alongside image, and then by touching the "Copy Share URL" highlighted by blue color in the same image.
That's it Your share URL is now copied, If you're using Instagram on PC or Computer, simply copy the Image URL from the Google Chrome/Mozilla Firefox address bar, once you open an Instagram.com photo by clicking it –

Now, once you have obtained the Sharing URL , Visit Dinsta.com  on your Android device / Windows PC.
On Dinsta, Enter Instagram URL eg. https://instagram.com/p/m7SaJFIhyB/ & Press Go..
You'll see a download button below the Image, click on it and start downloading!!
That's it these are the 3 Best Methods which you can use to Download Instagram photos on your Android Phone or PC .