Ola Cabs – Get your first Taxi / Auto-rickshaw rides for free! | Hurry Grab it before the offer ends!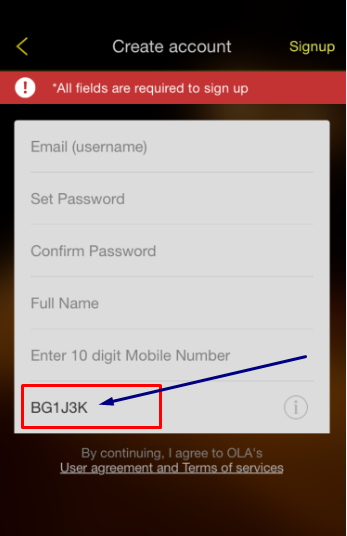 Online cab or taxi booking is currently red-hot in the Indian market, but as most of the cities didn't had their services we weren't aware of them. Ola cabs is one such online booking app , Ola cabs is one of the fastest expanding taxi and even auto-rickshaw providing apps in India and is expanding its presence in newer cities everyday! . Ola has been in India for more than a year now, and hence they've got a good name now in the market and are reducing the promotional benefits. So grab the following offers by Ola cabs referral code / promotional benefits like – Ola cabs First Taxi ride offer or Ola cabs first auto-rickshaw free ride or you can atleast grab the Free Ola Money (the wallet money associated with free rides) as soon as you can! , as even though if Ola isn't available in your city currently, we never know when the company might stop these promotional offers, and if incase that happens before they reach your city, you'll regret not having grabbed these offers early . Also Ola even provides paying through Ola money even for auto-rickshaws! , so why to pay for them if you can get it for free –
Steps to get your Ola First Free Taxi / Auto-Rickshaw ride 
First of all download and install the Ola cabs app from the following links –

Click here to download Ola cabs for Android.
Click here to download Ola cabs for iPhone / iOS.
Click here to download Ola cabs for Windows Phone (Lumia).

Now, Open the Ola cabs app, it will ask you to either sign-up or sign-in.
Now, comes the most important part, 

the first-free ride benefits are applicable only for referred users

–  hence , you can fill-up your name,e-mail ID's and use the referral code as shown in the alongside image or you can input the code as "BG1J3K" to get instant Rs.200!.
You might be tempted to think that its fine to not use Referral code while signing-up on the Ola cabs app, Yes, though its fine not to use refer code for sign-up on ola, BUT not entering any referral code simply won't give you free ride. Check the below screenshot for the offer proof – 
Now, after you've successfully signed-up you'll be having your free ride credits in the "Ola Money" section of ola app! , Enjoy your free ride.
How to use Ola cabs app for booking a ride ?
The procedure to book a cab or an auto-rickshaw through Ola cabs app is pretty simple, just select the type of cab or auto-rickshaw you want to book , and click on the "Ride Now" button (as shown in alongside image). Its that easy !, Ola uses GPS to automatically call the vehicle to your location, hence make sure your navigation is turned on when you use the Ola app.
Want more free rides from Ola ?
Its pretty easy to get some more free rides credits if you're interested ! . All you have to do is refer your friends to the Ola cabs app using the "Invite & Earn" option present in the top left-hand-side menu.
You either get extra free Ride or Rs.100 Ola Money for every friend referred! , we can also help you  by putting your referral code instead of ours – "BG1J3K" ,  so we all can benefit!
Click here to Download the Ola App from Google Play Store.
If you have any doubts/queries feel free to comment 🙂