How to – View Traffic Source/Medium of a single Blog Article – Post by Google Analytics for Free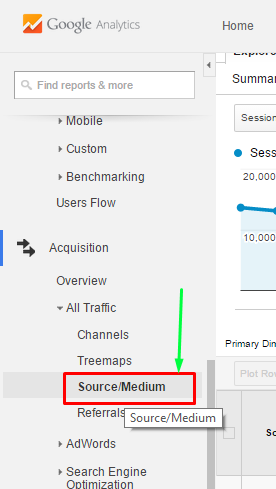 Recently one of our posts experienced a major spike in traffic and we wanted to check out the source/medium of that particular blog article. Neither the default WordPress stats by JetPack, nor any other stats manager were able to track it. And after the recent update Google hides the search keyword for most keywords and hence we were unable to distinguish the source of traffic generation of that particular article. We tried playing around in Google Analytics and finally succeeded in finding the below mentioned method on how to successfully track the incoming traffic source/medium of any article on your blog .
Method to track / finding out the traffic source or medium of any selected blog post/article using Google Analytics for free –
Pre-requisites –
Google Analytics to be integrated with your blog, there are tons of articles on the web which can guide on this, as well as a host of WordPress plugins.
Blogger users can easily integrate it by adding the google analytics gadget to their blog.
Method –
Log-in to your Google Analytics account, and open the Dashboard.
Now in the left hand side menu pane, click on the "Acquisitions" option, and select the option marked as "Source/Medium"  as shown in the alongside figure.
Now, you'll be presented with all the source/medium of traffic of your blog, now we need to filter it to fulfill our purpose . Now, in the tab option labelled "Primary Dimension" ,  click on "Other / the arrow mark" and type in & select "Landing Page" .(As shown in below figure)

Now, the traffic will be listed according to the landing page, but we need to know the source or the medium too for the traffic so now click on the "Secondary dimension" drop down box , and type-in to select the "Source or Source/Medium" option, as shown in the below figure –

Done, Now you can see your traffic report of your blog with urls of article and the referring source/medium to it. If incase the Article isn't visible you can increase the row size to 50,100,500 to show more articles and use "Ctrl+f" to find traffic details for your desired post.
This is a pretty useful trick for us to confirm whether our article is indexed and is receiving organic search traffic, however you can also use it to analyse which medium works more effectively for you so that you can target promoting on it even more.
If you face any problems or have any queries feel free to comment. This article is a testing article for blogging tips & tutorials section on TechApple as we want opinions of our readers whether should we start adding more blogging tips & tricks tutorials on TechApple! including SEO tips, or whether we should do it separately!