How to- Transfer files from Linux to iPhone / iPad by Feem over WiFi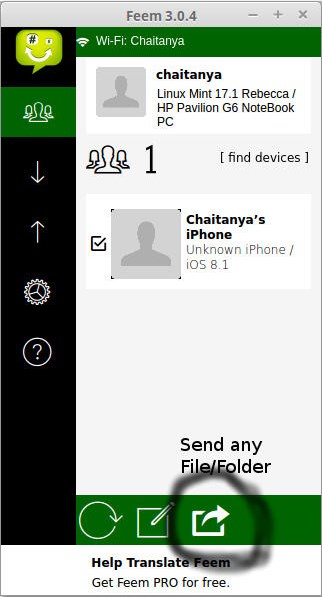 Transfering Files / Music from Linux distributions (Ubuntu / Linux Mint /Fedora) to iPhone/iPad or any other iOS devices isn't an easy task at all , atleast for beginners . Also , as iTunes isn't available for Linux OS the options are very limited too.. , here we present you one of the most easiest method , to transfer files between Linux and iPhone or any iOS device. I used this method to transfer files from Linux to iPhone .
Prerequisites –
Tutorial to transfer files from Linux to iPhone over WiFi by using Feem – 
First of all download and install Feem app on both devices, by downloading from above mentioned links.
Now, connect both the devices to a common/same WiFi network either to a single router or by creating Hotspot on a single device.
Open, Feem app on both the devices, now they'll automatically scan for devices on the same WiFi network which have Feem Running.
Now, as shown in alongside figure you will see your device in the list of devices, checkmark the device you want to send the file, and click on the send option (highlighted by spraypaint color in the same figure).
Now select the files/folder you want to transfer / send from Linux to iPhone ,and click on OK.
That's it your files will be transferred in a Flash! , with speed and also without using any data connection / NO Internet connection required! .
If you are not able to find your devices, click on the [find devices] option to scan for devices again.
Feem solved much of my prolems, while using Linux. If you encounter any problems or face any issues feel free to comment 🙂 , also we will be glad if you can suggest an app like Feem :).