3 Best Free Keyboard apps for iPhone / iPad [iOS] with Swipe input support | Free Keyboard replacement apps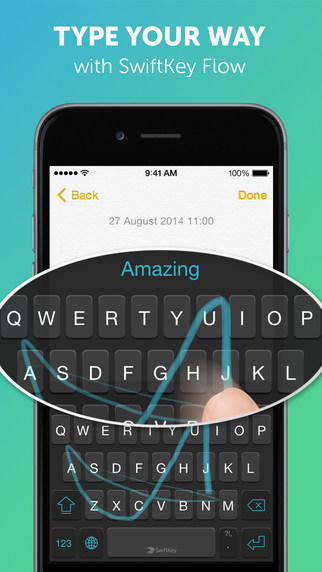 Recently, I had to type some message on an iPhone and it was just a trouble for me as the default iPhone keyboard doesn't support swipe input and the blunders committed by iPhone Keyboard's Auto-correct too are very common, there are lots of trolls covering the same. I did a quick search on the Apple App Store but found that the keyboard app which supported swipe input and endorsed by Apple was – Swype which wasn't free 🙁 . So, here are the 3 Free best Keyboard apps or Keyboard replacements for iPhone / iPad which will enable you to type quickly and correctly and will provide perhaps,even more functionality than Swype for iPhone.
App / Keyboard # 1 – SwiftKey (Swift Keyboard for iPhone / iPad)
This was the first app which came on my mind when i wanted to replace my default keyboard and it didn't disappoint me at all! . The installation, as well as configuration was smooth and so its user interface and functionality.[Configuration for all the 3 keyboards mentioned has been covered at the end of the article] I was able to give inputs by swiping my fingers,long-pressing keys and many more! . Here are some unique functions of SwiftKey –
Type Lesser – SwiftKey automatically learns your writing style and word usage , so you don't have to type much once you start using SwiftKey. You'll type lesser and convey more content as you go on using SwiftKey! . Moreover it automatically inserts spaces for you!
Type Correctly SwiftKey totally eliminates errors and typos caused due to autocorrect.
Type in up to two languages at once, without changing any settings.
You can even connect to cloud your facebook,twitter accounts so SwiftKey learns even more quickly!
Click here to download SwiftKey from Apple iTunes/App Store
App / Keyboard # 2 – TouchPal for iPhone / iPad
TouchPal is yet another alternative to Swype/SwiftKey for iOS and it too works flawlessly! . TouchPal as per their claim is the first Keyboard ever to support Swipe input on iOS. Here are some unique features of TouchPal –
Swipe-Input Supported.
Supports changing of Keyboard themes and colors.
800+ emojis are inbuilt in the keyboard so you'll never need to download a separate app for emoji if you've TouchPal installed on your device.
Click here to download TouchPal for iOS from Apple Store.
App /Keyboard # 3 – FancyKey for iOS/iPhone/iPad
FancyKey is not a complete Keyboard replacement unlike the previous two but nevertheless it adds functionalities to your existing Keyboard like never before! . Some, of the unique features of FancyKey are –
Allows changing of themes and colors to your existing Keyboard.
Advanced auto-correct by Adaptxt technology.
Upto 100+ Funkier Fonts are present in the KeyBoard so you can really style your texts!
No full-access required! and hence completely safe and secure!
Click here to Download FancyKey for iOS/iPhone & iPad from Apple iTunes Store.
Steps to configure 3rd-party / external Keyboards on iOS / iPhone / iPad –
1. Go to System Settings – > General – > Keyboard
2. Click ' SwiftKey or TouchPal Keyboard' depending upon your choice!
3. Congratulations & have fun!
If you encounter any issues or know of any such KeyBoard app feel free to comment 🙂